May
20
Sat
2023
Papermaking with Pulp with Natural Dyes and Pigment Workshop with Mary Milelzcik
May 20 @ 10:00 am – 2:30 pm
Join artist Mary Milelzcik for Painting with Pulp with Natural Dyes and Pigments workshop on Saturday, May 20, 2023 from 10 am to 2:30 pm at the Volcano Art Center in Volcano. No previous experience necessary.  $70/ $65 VAC Members plus $40 supplies.
Using shredded recycled paper, a household blender and various moulds and deckles, you'll make large sheets of paper to which you can imbed plant pulp on the still wet surface, and press to form a single sheet. Natural dyes or pigments can be added to the pulp or painted on the wet paper.
Selection, preparation, and process of working with local plant fibers, plant dyes, and earth pigments is discussed, and samples of plant materials and finished papers are shared with the class.   Plant fibers include wauke (paper mulberry), pineapple, banana, ginger, lemongrass, cane grass, etc. – depending on availability. Flowers and plants for dyes may include olena, spirulina, kukiui, rose, hibiscus, tea, mamake, avocado, marigold, etc.
To allow for more paper making time, the instructor will source, cook, and prepare plant materials for pulp and dyes/paints in advance. Participants are encouraged to bring dried plant materials to add to the pulp for coloring or to imbed in their paper. Students may contact the instructor in advance via email to discuss special projects. artsasylum@gmail.com

The Art of Astrology with Uldra Johnson
May 20 @ 10:00 am – 2:00 pm
The Art of Astrology with Uldra Johnson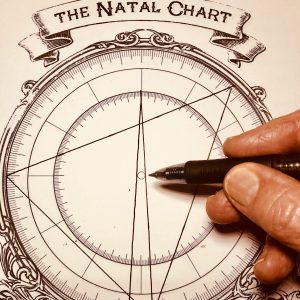 Astrology is a wonderful tool for self-discovery!  By exploring your own natal chart, the map of the heavens at the time you were born, you can gain insights into your character, potentials, and life events! Where are your strengths?  Your blocks?  How can you find the most meaning in your life?
 In this four-hour beginning astrology class, you will learn the fundamentals of astrology that will provide you all the knowledge you need to interpret your own chart, and that of others.  You will learn what a natal chart is, what an ephemeris is and how to read it, the symbols of astrology, the four basic components of reading a horoscope, the archetypal characteristics of the planets, and the meaning of the nodes—our guides to who we were and who we can become—our karmic path.
In addition to the basic language of astrology, Uldra will teach how we can use meditation to enhance our interpretive skill, which is what makes astrology an art!
Each student's astrology chart will be provided.  This class will be a fun, inter-active, knowledge-packed introduction to Western Astrology.  No previous study of astrology is necessary. The class will be held at the Niaulani Campus on Saturday, May 20, 2023, from 10am  – 2pm (with a 20minute lunch break), at Volcano Art Center Niaulani Campus in Volcano Village. The class fee is $80/$75 for VAC members.
Uldra Johnson has been a practicing astrologer for 38 years. Her mentor was the renowned astrologer, Alan Oken.   She is also a Buddhist teacher in the Mahayana tradition and a mixed-media artist.  For more information or to register call VAC at 808-967-8222

Jun
10
Sat
2023
Soft Pastel On-Site Landscape Painting with Patti Pease Johnson
Jun 10 @ 9:00 am – 12:30 pm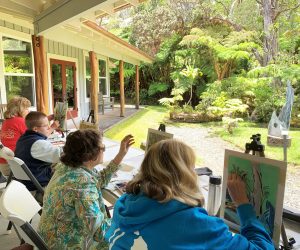 Enjoy the outdoors and take your painting beyond the four walls of a classroom in the Pastel On-Site Landscape Paintingworkshop with Patti Pease Johnson on Saturday, June 10, 2023, from 9am – 12:30pm at Volcano Art Center Niaulani Campus in Volcano Village.
You'll receive step by step instruction in a proven rotational method for success, starting with form and fill, moving to value of black and white, then color. Your own natural style is brought to the surface. All materials will be supplied along with guidance and inspiration for your creative journey.
Initial discussion includes pastels types, papers, fixing and mounting. Then, use newsprint to get the flow of arm movements to keep loose. Next, you'll form shapes, and move into colors on sanded pastel paper. Learn to exaggerate and be bold with colors, and the value of using the lightest lights and the darkest darks. Grow your knowledge of composition, color and correcting problems.
Students will complete one 9×12" project. Weather permitting, the workshop will take place outdoors at Niaulani. Otherwise, the workshop will be held indoors with a reference photo.
Cost for the workshop is $75 and $70 for VAC Members plus a $15 supply fee.  Beginner and intermediate artists are welcome. For more information or to register call VAC at 808-967-8222
Patti Pease Johnson's artwork can be found at galleries and shops across the State and in collections around the world.

Jul
8
Sat
2023
Poured Watercolor Floral Contrast Workshop with Patti Pease Johnson
Jul 8 @ 9:00 am – 12:30 pm
Poured Watercolor Floral Contrast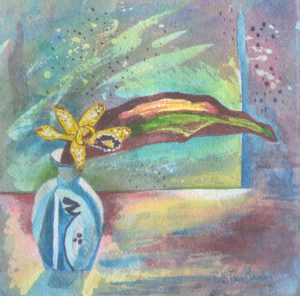 In this workshop, you'll draw, mask, pour, mask, and pour again, then detail with specific watercolor techniques of gradation, drybrush, negative painting, stencil lifting. Students create an 8 x 10" painting on cold press 140 lb. watercolor paper, by working from light to dark in 4 stages.
A still life floral photo is provided in color and gray tones to show values patterns of light, midtones, and dark. Completion of each stage will be done step by step together with the instructor.
Big Island artist and instructor Patti Pease Johnson says, "It's about being both free with yourself for the pours, which are always a surprise, then disciplined for the details of the main flower, followed by abstraction qualities to complete the background. I think the final painting is complemented by the contrasts."
This workshop will be held on Saturday, July 8, 2023, at the Volcano Art Center, Niaulani Campus. Beginner and intermediate artists welcome. Patti supplies all materials along with focused guidance and inspiration for this process along with some handy tips for your creative journey. Cost for the workshop is $75/$70 for VAC Members plus a $15 supply fee per person.  For more information or to register call VAC at 808-967-8222