Volcano Art Center's 2019 Exhibition Schedule 
July 10th – September 15th, 2019
Nani Ka ʻIkena by Jesse Tunison
Location: Volcano Art Center Gallery in Hawai'i Volcanoes National Park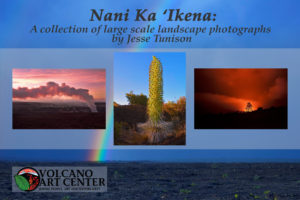 The Volcano Art Center proudly presents an exhibit of photography titled "Nani Ka ʻIkena" by Jesse Tunison at its gallery in Hawai`i Volcanoes National Park from August 10ththrough September 15th, 2019.  The exhibit will be open to the public from 9am to 5pm daily.  However, on opening day, Saturday, August 10tha special reception with the artist takes place from 5-7pm.
                  The title "Nani Ka ʻIkena" references beautiful sights and visuals and translates more literally to "that which is seen is beautiful" which poetically explains the collection of large scale photography on display.   The exhibit features vibrant colors and crisp wide vistas which highlight the character and drama of Hawaiʻi Island's landscape.  The collection of ten photographs were captured over the past decade by Tunison and also document the dynamic changes which have occurred in such a short period of time.  While the landscape has changed the beauty has endured.
            Jesse Tunison was raised in the creative town of Volcano, Hawaiʻi where he was surrounded by artists.  While there were many creative influences, his mother Dina Kageler an experienced photographer and artist provided Jesse the use of her old equipment.  While Jesse grew up around many professional artists most had no experience in digital photography.  Because of this, Jesse considers himself a self-taught artist. His highly technical approach blended with a unique stylization of his images blends perfectly with filmmaking and professional portrait photography.  In 2008, Tunison founded Toxikc Color Visuals, a studio that provides photography, sound and cinematography services.  Today he is known as a professional fine art and commercial photographer, cinematographer, director, and producer.
"While the Volcano Art Center has been displaying Jesse's fine art photography for years this is his first solo exhibition", states Gallery Manager Emily C. Weiss.  "We enjoy supporting young artists and their artistic endeavors and we invite the community to do the same by viewing the exhibition."  While the exhibit is free please note that park entrance fees apply.
---
November 22nd – December 31st, 2019
Christmas in the Country, featuring the Annual Wreath Exhibition
Location: Volcano Art Center Gallery in Hawai'i Volcanoes National Park
 With warmest winter wishes and happiest of holiday greetings, Volcano Art Center  welcomes you to the Annual Christmas in the Country celebration starts Friday, November 22, 2019.  Featuring the Annual Invitational Wreath Exhibit that continues through December 31, this year's Christmas in the Country promises an abundance of art and aloha to kick start your holiday season. On display at the Volcano Art Center Gallery in Hawai'i Volcanoes National Park, 9am to 5 pm daily, the exhibition is free to the public though park entrance fees apply.  Contact (808) 967-7565 for more information.