Volcano Art Center's 2019 Exhibition Schedule 
Now – June 16th, 2019
Hulihia: The Hawaiʻi Nei Invitational Exhibition
Location: Volcano Art Center Gallery in Hawai'i Volcanoes National Park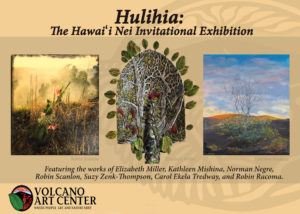 Volcano Art Center is proud to announce the exhibition titled Hulihia: The Hawaiʻi Nei Invitational Exhibition on display 9am – 5pm, daily from May 11th until June 16th, 2019 at Volcano Art Center Gallery in Hawai'i Volcanoes National Park.  The multi-media exhibition showcases seven outstanding artists who were selected by members of the VAC Board of Directors from the 2018 Hawai'i Nei Exhibition.  The selected artists include Elizabeth Miller, Kathleen Mishina, Norman Negre, Robin Scanlon, Suzy Zenk-Thompson, Carol Ekela Tredway, and Robin Racoma were asked to explore the theme Hulihia, meaning "complete change".   The resulting body of work honors the extraordinary events of 2018 which created new landscapes of our beloved Hawaiʻi Nei.
"We are looking forward to displaying this diverse collection of artworks" states Gallery Manager Emily C. Weiss. "It was an amazing time to be a witness to the changes occurring to the island of Hawai'i during 2018.  The Kīlauea lava eruption began the altering events in early May, followed by the threatening fires at Keauhou Ranch, Pohakuloa and Waikoloa.  Not long after that Hurricane Lane, arrived dropping record rainfall which severely flooded rivers and roads.  All that was occurring while what seemed like clockwork rumbles and shakes from thousands of earthquakes occurred while the magma repositioned within and the aina settled. To say 2018 was extreme is an understatement," claims Weiss.  Seeing how this group of talented artists processed those events, then created objects of art through their chosen media has reminded us all of the power of transformation and creativity. VAC invites all to visit this unique exhibition, and extends a special invitation to those who experienced any or all of these events personally.  The collection of art on display is a testament to the process of transformation."
Shop the exhibit online by clicking here!
---
June 22nd – August 4th
The Joy Of The Brush: Paintings by Linda J. Varez
Location: Volcano Art Center Gallery in Hawai'i Volcanoes National Park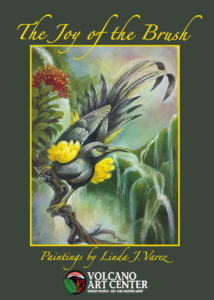 Volcano Art Center Gallery is honored to present a unique collection of original paintings by Linda J. Varez in an exhibition titled "The Joy Of The Brush."  The exhibit will open to the public on Saturday, June 22nd and will continue through Sunday, August 4th, 2019 at Volcano Art Center Gallery in Hawai`i Volcanoes National Park.  A special reception with the artist will be held on Saturday, June 22nd from 2-4pm.
Linda J. Varez was born in San Luis Obispo, California and graduated from Cal Poly (California Polytechnic State University) with a degree in agriculture.  Soon after graduation, Linda moved to Ventura, CA. where she was surrounded by professional artists showing their works in Los Angeles.  She began attending evening art classes at Ventura College and credits Art Student League teacher Barney Dietz with "excellent art instruction and guidance."
Linda came to Hawai'i in 1960 to surf in the annual surfing competition held at Makaha on the west side of Oahu, known then as the unofficial world surf championship.  She placed sixth in the women's division.  Soon after that she began working at Maui Divers, carving coral rings and eventually began designing jewelry.  In 1965 she met her soon to be husband, Dietrich Varez, now one of Hawai'i's most recognized artists, best known for his extensive collection of linoleum-block and screen printed images.
After their marriage the young couple had one son and began to desire the peace and tranquility of the natural environment over the hustle and bustle of Honolulu.  In 1969 they purchased the largest, secluded lot they could afford on Hawai'i Island, sight-unseen.  The only known detail at the time was that the three acre plot was forested by flowering ohia trees.  "That was enough for us," states Linda.  The remote rain forest setting became the inspiration for both artists' works for decades to follow.  As Dietrich's block prints and paintings gained in popularity Linda become his biggest supporter and consultant. Dietrich Varez passed away last year, Linda continues to paint.
"This special exhibition will display both older and new original paintings by Linda Varez,"states gallery manager Emily C. Weiss.  "Although not as well-known as her famous husband's work, Linda's painting are just as delightful."  The collection includes oil paintings created between 1980-1996 and more recent original watercolor images. The Volcano Art Center invites all to come experience the lesser know artworks of Linda J. Varez.  The exhibition and reception are both free to attend; however, park entrance fees apply.  The VAC staff would like to note the opening reception is from 2-4pm which varies from traditional evening reception times.  Please don't miss this special event.
---
November 15th – December 31st, 2019
Christmas in the Country, featuring the Annual Wreath Exhibition
Location: Volcano Art Center Gallery in Hawai'i Volcanoes National Park
 With warmest winter wishes and happiest of holiday greetings, Volcano Art Center  welcomes you to the Annual Christmas in the Country celebration starts Friday, November 15, 2019.  Featuring the Annual Invitational Wreath Exhibit that continues through December 31, this year's Christmas in the Country promises an abundance of art and aloha to kick start your holiday season. On display at the Volcano Art Center Gallery in Hawai'i Volcanoes National Park, 9am to 5 pm daily, the exhibition is free to the public though park entrance fees apply.  Contact (808) 967-7565 for more information.