Art & Anarchy
September 11th – October 1st, 2021
The Volcano Art Center proudly announces a new exhibition, Art & Anarchy, at the Niaulani Campus in Volcano Village.  The Exhibition is sponsored by The University of Hawaiʻi at Hilo Departments of Philosophy and Art in conjunction with the Pacific Association for the Continental Tradition (PACT) philosophy conference focusing on the theme of Anarchy. Opening to the public on Saturday, September 11th and continuing through Saturday, October 1st, the show may be viewed in person Wednesday – Sunday, 10 am – 4 pm at the Volcano Art Center's Niaulani Campus (19-4074 Old Volcano Rd.)   The exhibit will also be featured online at www.volcanoartcenter.org.
The three-week event features invited artists from the US mainland and Hawaiʻi Island,who were asked to submit works of art which engage the theme of anarchy.  Since its origins in 19th century Paris,
anarchism has influenced the visual arts in diverse ways and continues to do so as demonstrated by thiscollectionof one-of-a-kind works which provide visual and intellectual stimulation on the subject.
As stated by Tim Freeman, Teacher of Philosophy at UH Hilo, "anarchism, as a philosophy and political movement developing in Paris in the mid 19th century, was never really advocating a descent into disorder and chaos, but rather the liberation of humanity from the oppressive order imposed by religion, capitalist economics, and the state as it then existed.  What the anarchist philosophers were advocating was a new kind of order."   As Pierre-Joseph Proudhon, the first modern political philosopher to declare himself an anarchist, and considered the "father of anarchism," once wrote: "Anarchy is order without power."  The American anarchist Emma Goldman later states: "Anarchism stands for a social order based on the free grouping of individuals for the purpose of producing real social wealth, an order that will guarantee to every human being free access to the earth and full enjoyment of the necessities of life, according to individual desires, tastes, and inclinations."
The mixed media exhibition features original paintings, prints, sculptures, and ceramics by both professional, amateur and student artists who continue to investigate the same issues that motivated the original anarchist movement and in many ways are even more critical today. The Art & Anarchy exhibition can be viewed in Dietrich Varez Hall in the Hale Hoʻomana building at VAC's Niaulani Campus.  VAC is currently following all CDC guidelines and social distancing protocol. Be prepared to wear a mask and keep a safe 6 ft. distance from others within the gallery. Additionally, VAC gallery is mandating a max. occupancy of 10 people within the gallery at one time (you may be asked to wait outside if the gallery is full), the use of hand sanitizer at the entrance, and regular cleaning of highly touched surfaces by VAC staff and volunteers. For those that prefer to view the exhibition virtually it will be online at www.volcanoartcenter.org
Volcano Art Center is a 501(c) 3 nonprofit organization created in 1974 whose mission is to promote, develop and perpetuate the artistic, cultural and environmental heritage of Hawaiʻi through arts and education. Please visit www.volcanoartcenter.org for more information, orcontact Emily C. Weiss at gallery@volcanoartcenter.org.
______________________________________________________________________________________________________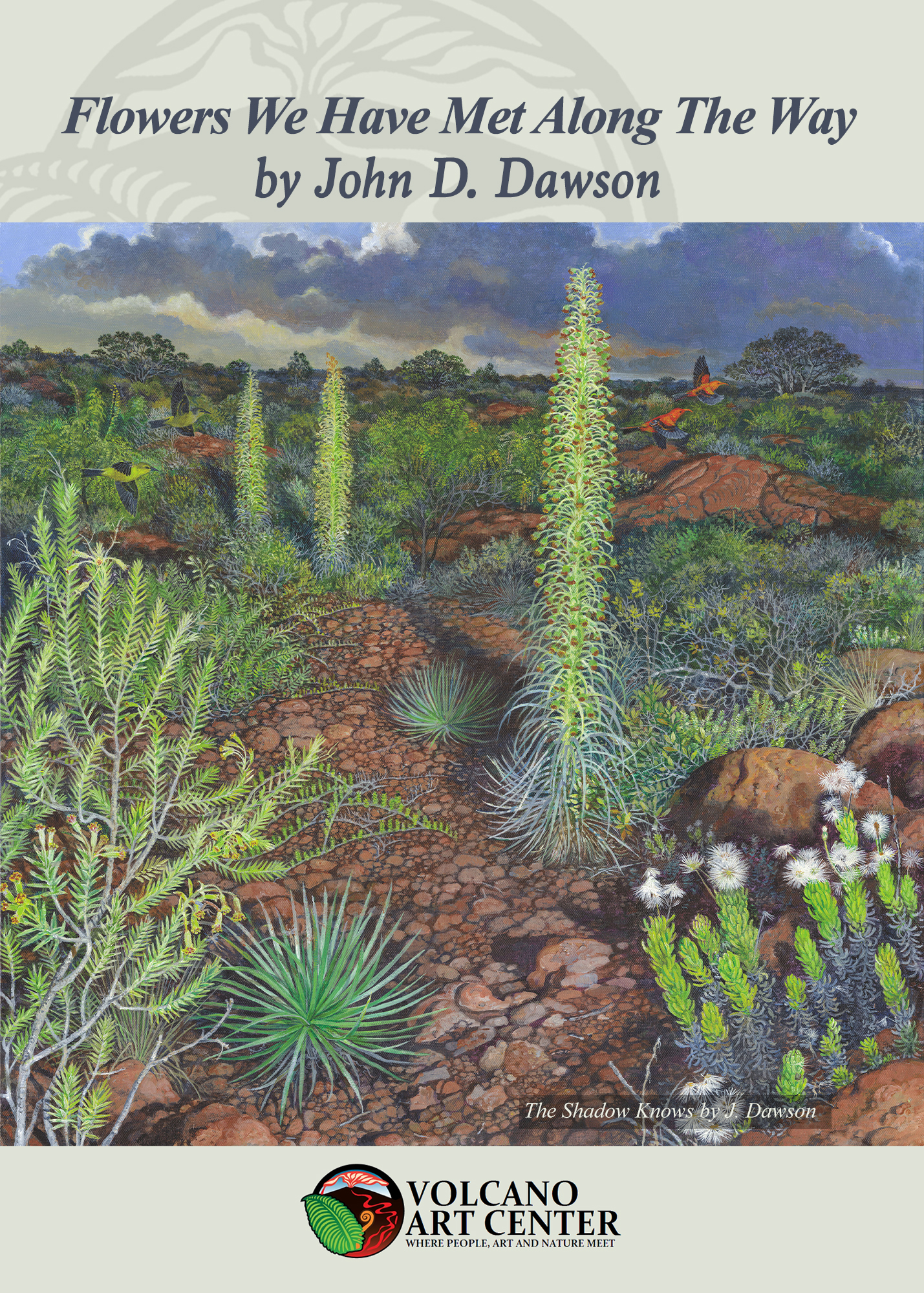 Flowers We Have Met Along The Way
by John Dawson
August 21st – September 26th, 2021
The Volcano Art Center will soon be displaying new paintings by Hawaiʻi Island's wildlife artist John D. Dawson. The exhibit titled Flowers We Have Met Along The Way  features twenty new acrylic paintings of scenes John encountered while working with Hawaiʻi Volcanoes National Park from 1990 -2020. The exhibition will open to the public on Saturday, August 21st and continue through Sunday, September 26th, 9 am – 5pm daily at the Volcano Art Center Gallery in Hawaiʻi Volcanoes National Park.   The exhibition will also be available online at www.volcanoartcenter.org
John D. Dawson was born and raised in San Diego, California.  With the support of his parents John was encouraged to follow his dreams of a career in art. John graduated from the Art Center School in Los Angeles, California which is now The Art Center College of Art and Design. John served in the Army Reserves while beginning his art career. Detroit, Michigan and automobile art kept him occupied for a year after college when he returned to San Diego and entered the world of advertising.  John's gift of illustration offered him full-time employment for sixteen years while completing free-lance illustration jobs on the side.
Today one can find Dawson's artwork included within the maps provided to visitors to Hawaiʻi Volcanoes National Park as well as the stunning educational display inside the Kilauea Visitor Center.  One of Dawson's proudest accomplishments is the Nature in America stamp series which includes a lush depiction of The Hawaiian Rainforest created for the United States Postal Service.  Dawson's resume  includes many major assignments for the National Geographic Society, National Wildlife Federation, Audubon Society, United Nations and the 'Imiloa Astronomy Center, and has appeared in additional national publications.  With decades of experience, Dawson's work continues to captivate audiences.
"The collection of paintings on display for the Flowers We Have Met Along The Way exhibition is inspired by a decade of immersion within the dynamic landscapes found within Hawai'i Volcanoes National Park," states gallery manager, Emily C. Weiss.  "Excursions provided by park researchers and staff deepened John's appreciation and  knowledge of Hawai'i's native flora and fauna which he freely shares through his art for us all to enjoy."  He credits Linda W. Pratt and park ranger Jay Robinson, since retired,  for a decade of sharing their expertise and time with he and his wife Kathie on numerous hikes to locations both near and far in search of ideal specimens to observe in their natural environment.
John Dawson will be present at VAC gallery on opening day, Saturday, August 21st from 11am -1pm.  He will also be there on Sunday, Aug. 29th, Sept. 5th, 12th 19th and 26th. Those wishing to meet the artist are welcome to VAC gallery for the special opportunity to talk story with the artist from 11am -1pm those days.
For more information, visit www.volcanoartcenter.org or contact VAC Gallery Manager Emily C. Weiss at (808) 967-8222 or gallery@volcanoartcenter.org.