Volcano Art Center's 2021 Exhibition Schedule 
Humble Beginnings: A Kapa Journey by Dalani Tanahy
& Pahūpahū: Ritual Drums of Hula by Kapua Kaʻauʻa
April 3rd – May 16th, 2021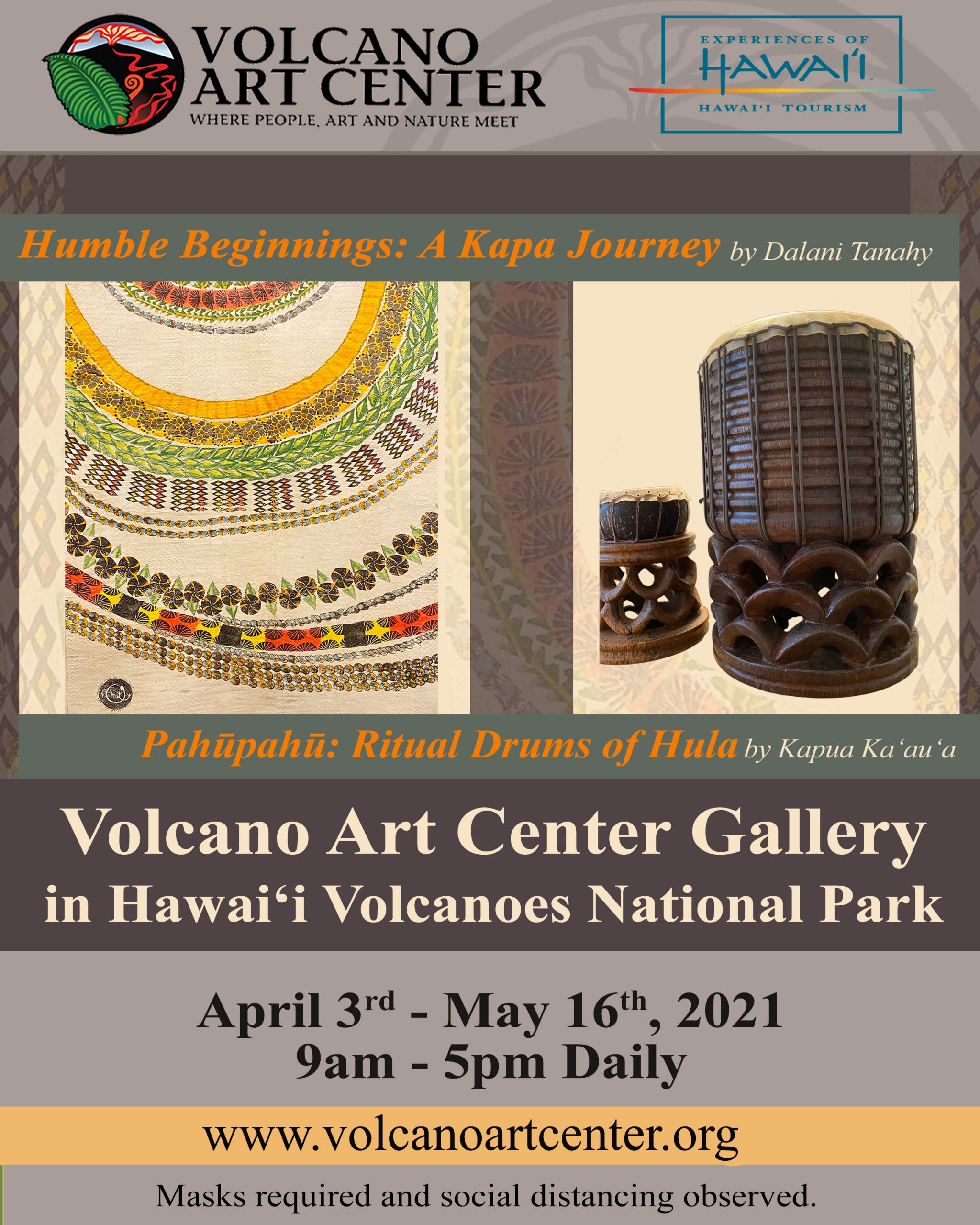 The Volcano Art Center is proud to present Humble Beginnings: A Kapa Journey by Dalani Tanahy as well as Pahūpahū: Ritual Drums of Hula by Kapa Kaʻauʻa.  The artwork on display demonstrates sacred indiginous art forms unique to the Hawaiian culture. The exhibit opens to the public on April 3rd and continues through May 16th, 2021, 9am – 5pm, daily at the Volcano Art Center Gallery in Hawaiʻi Volcanoes National Park.  While admission is free, park entrance fees apply.
The two women show presents the personal journeys of each artist as they practice traditions of their ancestors. Both women have nurtured and developed their abilities in these labor intensive arts as true labors of love and dedication, not only to the art itself, but to the hands of those who did it before.   Their creation of these beautiful works provide viewers an opportunity to fully appreciate the complex art forms which were customary to ancient Hawaiian lifestyle and rituals. Both artists not only create but also share their practice through teaching.
Dalani Tanahy is a native of San Diego California with roots in Maui and Oʻahu.  Her maternal grandparents are Edward Bailey and Emily Kane of Wailuku, Maui.  Her paternal grandparents are Emily and Arthur Enos of Laʻie, Oʻahu.  She grew up spending her summers in Laʻie and knew she would return to live in Hawaiʻi one day.  As a child, she enjoyed the slow tedious work involved in crocheting, knitting, embroidering and quilting.  Dalani made her first i`e kuku and hohoa beaters over sixteen years ago through the help of Kawai Aona-Ueoka.  Her first experience teaching kapa started at the Cultural Learning Center at Kaʻala in Waiʻanae.  She found the perfect marriage of art and education through creating and sharing the art of kapa and was inspired to start Kapa Hawaii.  Kapa Hawaii teaches people about the types of Polynesian bark cloth collectively known as 'tapa' with a special emphasis on the tapa or 'kapa' made in the Hawaiian Islands.
"As a life-long artist, I am attracted to the many disciplines involved with kapa such as: tool making, horticulture, graphic design, natural dye production, education, research, and the meditative rhythms of the beating itself.  Through crafting my own tools, I was able to work with precious and wonderful natural elements such as smooth warm woods, hand-picked basalt pohaku, and opihi shells." Delani states "I became a scientist in the kitchen laboratory boiling up the bark, petals, leaves, and roots that would become the brilliant blues, greens, yellows, and an unbelievable rainbow of colors that our kupuna loved to place on their kapa." For those intrested in meeting Delani and viewing her Kapa works she will be at the Volcano Art Center Gallery from 2-5pm on Friday, April 16th.  Delani will also be instructing an Arts Of Hawaiian Kapa Workshop on April 17th at VAC's Niaulani Campus in Volcano Village. The class will introduce participants to the activities involved in making a piece of kapa including stripping and beating a piece of wauke bark using traditional tools and learning about Hawaiian design and how it changed over time while  printing your own canvas tote. Register for the workshop here.
Born in Hilo, Hawaiʻi, Kapuaokalani Kaʻauʻa was raised in the ʻahupuaʻa of Kalaoa mauka on the cliffs of Hilo Pali Kū. Kapua is a native Hawaiian cultural practitioner with over twenty-five years of experience in a traditional hālau setting. After eight years of formal hula training under the tutelage of Taupōuri Tangarō, she went through her ʻūniki rite of passage and earned the title of kumu hula in 2014.  Kapua graduated from Ka Haka ʻUla o Keʻelikōlani School of Hawaiian Language at the University of Hawaiʻi at Hilo with a Bachelor of Arts in Hawaiian Studies in 2017. She teaches hula and Hawaiian language at Ka ʻUmeke Kāʻeo Hawaiian Immersion Public Charter School in Keaukaha where she is affectionately known as Kumu ʻAuʻa. Kapua founded hālau hula Unuokeahi in 2017, and since then Unuokeahi has promoted Hawaiian culture through hula, indigenous leadership, and environmental stewardship for its learners and the community. She created Oʻahu-a-Lua, her hālau on Oʻahu, and Papahana Unuiti at Ka ʻUmeke Kāʻeo PCS. Her teaching also spans globally with workshops and classes in Japan and Hawaiʻi.
Carving is a family tradition for Kapua's ʻohana. She credits her tūtū, James Kahoʻoilihala Sr., a traditional canoe carver, for leading her to her present vocation. Kapua is a vocal advocate for her people and passionately calls upon others to honor their ancestors through commitment to excellence and understanding of their tradition.  Those interested in meeting Kumu Kapua Kaʻauʻa are welcome to VAC gallery in Hawaiʻi Volcanoes National Park on Saturday, April 24th from 2 -5pm.  She will be sharing Hawaiian cordage and knotting techniques for those that are interested in participating.
For more information contact VAC Gallery Manager Emily C. Weiss at (808) 967-8222 or gallery@volcanoartcenter.org.
_____________________________________________________________________________
Nā Makana
A Collection of Ceramics by Kainoa Makua and Digital Painting Giclees by Nelson Makua
May 22nd – June 27th, 2021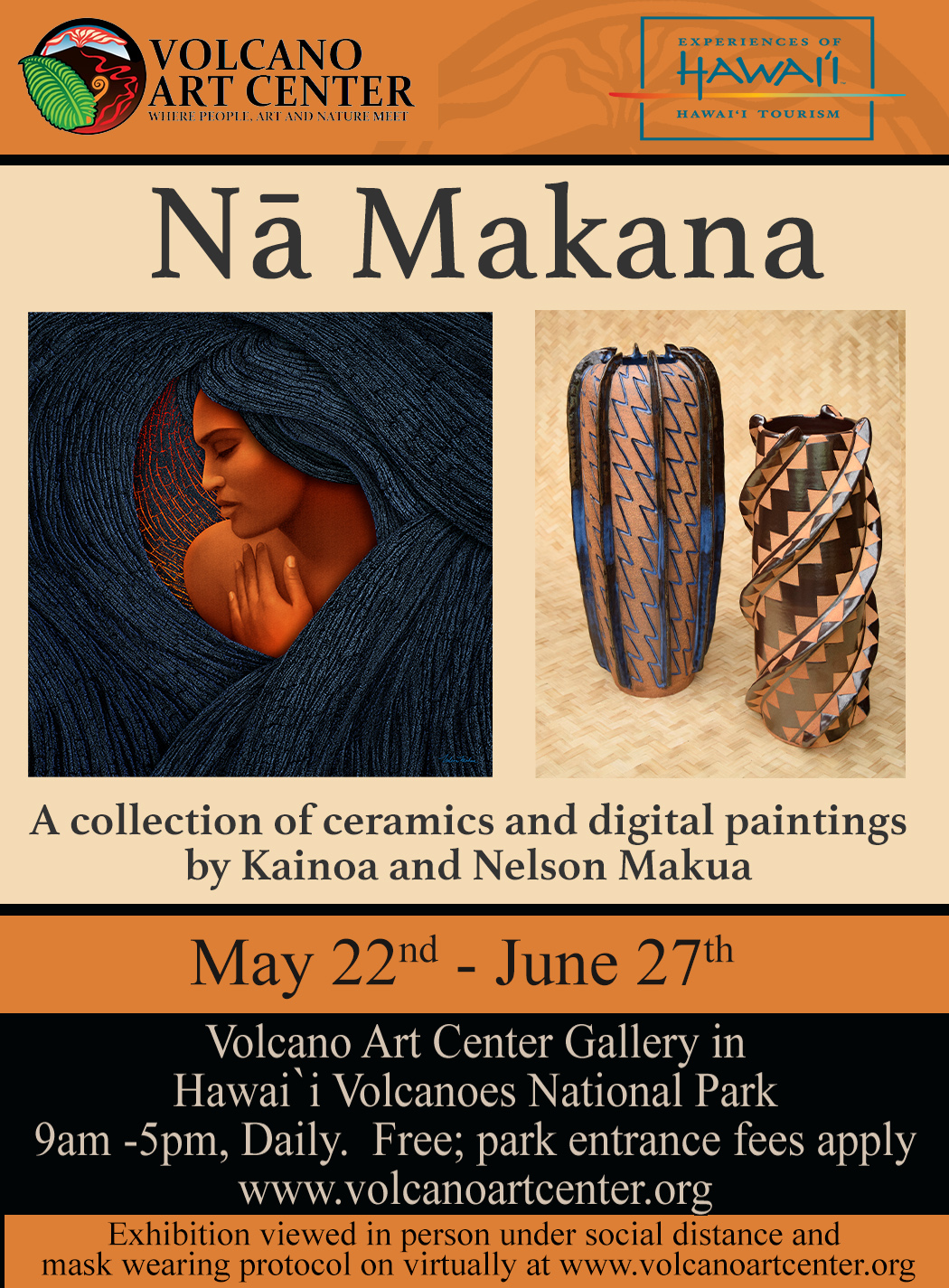 The Volcano Art Center is proud to present Nā Makana, a mixed media exhibition featuring the artwork of Nelson and Kainoa Makua from May 22nd – June 27th, 2021. This father and son duo may be best recognized as the brand Nā Makua Original Hawaiian Designs, a casual clothing line they established in 1999. However, this exhibition highlights the fine artwork created by this talented family. Nelson will be displaying digital paintings while Kainoa will exhibit ceramic work. Both artists incorporating contemporary graphic design with traditional Hawaiian motif in their art work. The exhibition will be on display daily from 9am – 5pm at the Volcano Art Center Gallery in Hawaiʻi Volcanoes National Park under social distancing and mask wearing protocol. While admission is free, park entrance fees apply. The exhibit can also be viewed virtually at volcanoartcenter.org.
Nelson Makua has been an artist and designer on the Big Island for over 40 years. Born and raised in Kailua, Oahu, he and his 'ohana moved to the Big Island in 1975, where they reside in Puna, the original home of the Makua ohana. "My ancestors were part of the migration from Tahiti to Hawaiʻi who settled in Kalapana in the district of Puna. For me, moving to the Big Island was like coming home."
Nelson is well known as a graphic designer throughout Hawai'i, Japan and the US mainland. He is a two time Na Hoku Hanohano award winner for graphic design. He is the only artist to have created 8 years of Merrie Monarch Festival posters with his limited edition "Pele" series. His first 2003 poster is now a collectors item and his 2008 Merrie Monarch poster received the prestigious Pele Award for best illustration by the Hawaiʻi Advertising Federation. In 2016, Nelson was honored as a MAMo Awardee in recognition of his artistic contribution as a Native Hawaiian artist.
Nelson began his artistic journey honing his skills in drawing, painting and photography using traditional methods. Then 30 years ago he discovered the digital world which is how he now exclusively creates his art. "The digital age has opened up a whole new world of creating for the artist, with endless possibilities." Blending his artistic skills of traditional and digital allows Nelson to explore new ways to interpret his art. Nelson does not concern himself with a "style" to his art but loves exploring many different styles that best interprets his vision for that individual piece. "Guided by my küpuna before me and influenced by my own life experiences, I view myself as a Hawaiian artist who is living in my own time, creating images that reflect that time and place."
Kainoa Makua grew up in the Puna district of the Island of Hawai'i. He is a graduate of Kamehameha Schools and earned his B.A. in fine arts from UH-Hilo. It was while he was at Kamehameha Schools, after exploring various art mediums, that he discovered his passion for ceramics. This continued throughout his college years at UH- Hilo under the guidance of Professor Gordon Lee.
It is in the medium of the 'aina that he is able to express himself. His pieces can be functional as a platter or a pot, but they are uniquely his and express a Hawaiian point of view. Kainoa's ceramic pieces have been featured at the Bishop Museum, Viewpoints Gallery on Maui and in art exhibitions throughout the state. Kainoa's clay creations reflect the duality of the modern Hawaiian artist and traditional values of kanaka maoli.
Kainoa grew up working with his father in his graphic design business. This prepared him well for his role as a designer and co-owner of Nā Mākua Original Hawaiian
Designs which focuses on their Hawaiian heritage. Nelson shares that "Nā Mākua gives us another artistic medium and a visual voice to express our cultural views as native Hawaiians through our images." Their designs are bold, personal and very distinctive. "Our images often create strong emotional feelings in Hawaiians and we are often told how proud our designs make them feel," states Kainoa. Together Nelson and Kainoa also produce various Big Island events such as the annual MANA Invitational Art Show, The Merrie Monarch Invitational Hawaiian Arts Fair and the Nā Makua Christmas Gift fair.
For more information about the exhibition or artists visit www.volcanoartcenter.org or contact VAC Gallery Manager, Emily C. Weiss at (808) 967-8222 or gallery@volcanoartcenter.org.
_________________________________________________________________________________
Calling All Woodworkers: Volcano Wood Show Exhibition 2021
July 16 – August 8, 2021
Calling all woodworkers in Hawai'i! Volcano Art Center invites all woodworkers to participate in its inaugural biennial juried wood show, Volcano Wood Show Exhibition. The show opens on Friday, July 16, 2021, and continues through August 8, 2021. The show is open to the public Wednesday – Sunday, 10 am – 4 pm at Volcano Art Center Niaulani Campus in Volcano Village.
The exhibition in the Dietrich Varez Hall at Hale Ho'omana at Niaulani will feature furniture, sculptures, and wood art by local island artisans. Funds generated from the show will contribute to the development of Volcano Art Center's "Art Van Go" project, a mobile classroom, and a woodshop.
During the show, the wood artists will be on hand to share their work and stories. "We look forward to welcoming visitors and artists showcasing the many talents within our community from chopsticks to furniture," states Volcano Art Center CEO, Mike Nelson.
Volcano Wood Show Exhibition is open to all full-time and part-time residents of Hawai'i, whether they are amateur or professional woodworkers. Online registration is open now and the deadline to register is June 18, 2021.
For more information, please contact Mike Nelson at (808) 967-8222 or email mnelson@volcanoartcenter.org. Volcano Art Center Niaulani Campus is located at 19-4074 Old Volcano Road in Volcano Village.