Volcano Art Center's 2021 Exhibition Schedule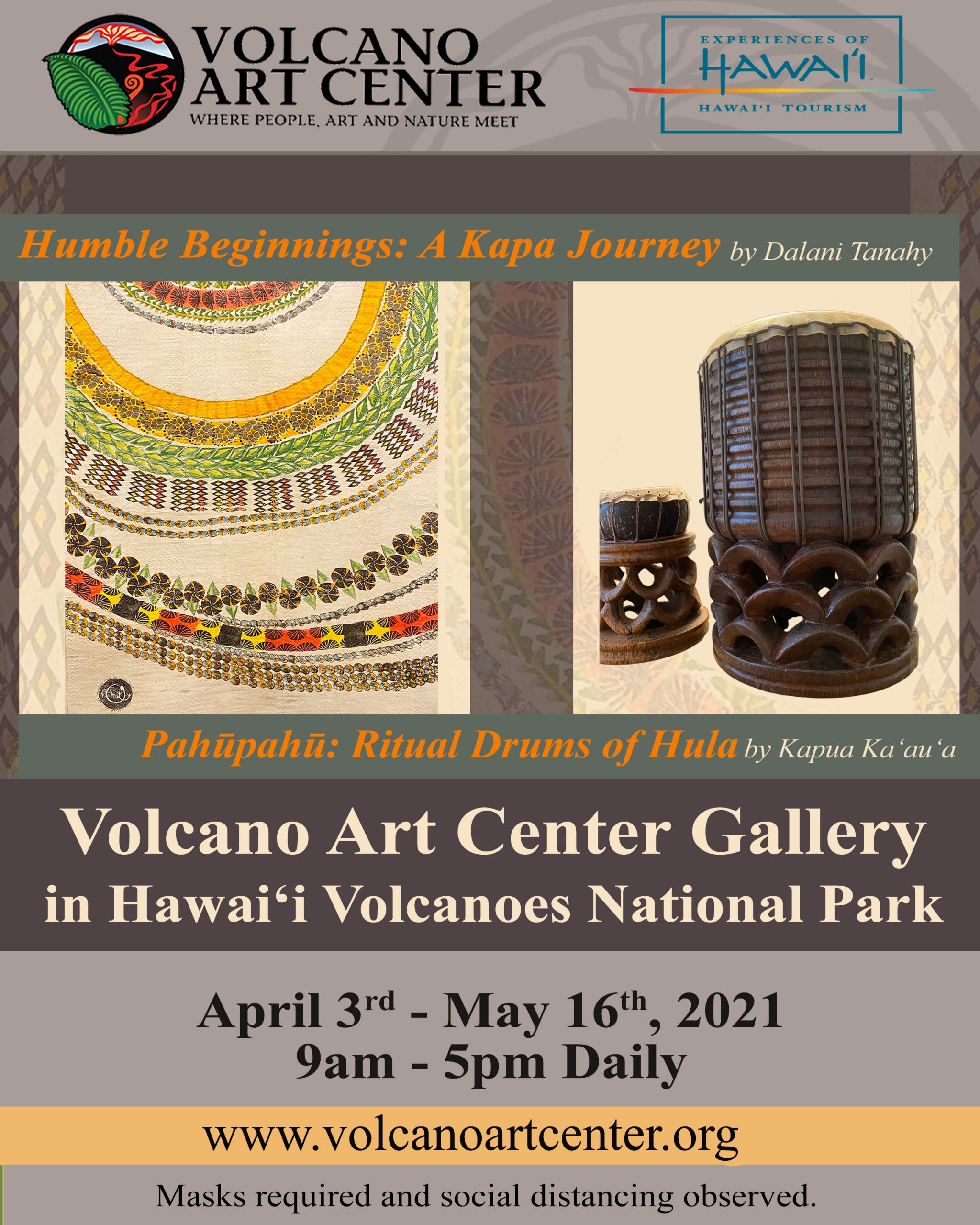 Humble Beginnings: A Kapa Journey by Dalani Tanahy
& Pahūpahū: Ritual Drums of Hula by Kapua Kaʻauʻa
April 3rd – May 16th, 2021
The Volcano Art Center is proud to present Humble Beginnings: A Kapa Journey by Dalani Tanahy as well as Pahūpahū: Ritual Drums of Hula by Kapa Kaʻauʻa.  The artwork on display demonstrates sacred indiginous art forms unique to the Hawaiian culture. The exhibit opens to the public on April 3rd and continues through May 16th, 2021, 9am – 5pm, daily at the Volcano Art Center Gallery in Hawaiʻi Volcanoes National Park.  While admission is free, park entrance fees apply.
The two women show presents the personal journeys of each artist as they practice traditions of their ancestors. Both women have nurtured and developed their abilities in these labor intensive arts as true labors of love and dedication, not only to the art itself, but to the hands of those who did it before.   Their creation of these beautiful works provide viewers an opportunity to fully appreciate the complex art forms which were customary to ancient Hawaiian lifestyle and rituals. Both artists not only create but also share their practice through teaching.
Dalani Tanahy is a native of San Diego California with roots in Maui and Oʻahu.  Her maternal grandparents are Edward Bailey and Emily Kane of Wailuku, Maui.  Her paternal grandparents are Emily and Arthur Enos of Laʻie, Oʻahu.  She grew up spending her summers in Laʻie and knew she would return to live in Hawaiʻi one day.  As a child, she enjoyed the slow tedious work involved in crocheting, knitting, embroidering and quilting.  Dalani made her first i`e kuku and hohoa beaters over sixteen years ago through the help of Kawai Aona-Ueoka.  Her first experience teaching kapa started at the Cultural Learning Center at Kaʻala in Waiʻanae.  She found the perfect marriage of art and education through creating and sharing the art of kapa and was inspired to start Kapa Hawaii.  Kapa Hawaii teaches people about the types of Polynesian bark cloth collectively known as 'tapa' with a special emphasis on the tapa or 'kapa' made in the Hawaiian Islands.
"As a life-long artist, I am attracted to the many disciplines involved with kapa such as: tool making, horticulture, graphic design, natural dye production, education, research, and the meditative rhythms of the beating itself.  Through crafting my own tools, I was able to work with precious and wonderful natural elements such as smooth warm woods, hand-picked basalt pohaku, and opihi shells." Delani states "I became a scientist in the kitchen laboratory boiling up the bark, petals, leaves, and roots that would become the brilliant blues, greens, yellows, and an unbelievable rainbow of colors that our kupuna loved to place on their kapa." For those intrested in meeting Delani and viewing her Kapa works she will be at the Volcano Art Center Gallery from 2-5pm on Friday, April 16th.  Delani will also be instructing an Arts Of Hawaiian Kapa Workshop on April 17th at VAC's Niaulani Campus in Volcano Village. The class will introduce participants to the activities involved in making a piece of kapa including stripping and beating a piece of wauke bark using traditional tools and learning about Hawaiian design and how it changed over time while  printing your own canvas tote. Register for the workshop here.
Born in Hilo, Hawaiʻi, Kapuaokalani Kaʻauʻa was raised in the ʻahupuaʻa of Kalaoa mauka on the cliffs of Hilo Pali Kū. Kapua is a native Hawaiian cultural practitioner with over twenty-five years of experience in a traditional hālau setting. After eight years of formal hula training under the tutelage of Taupōuri Tangarō, she went through her ʻūniki rite of passage and earned the title of kumu hula in 2014.  Kapua graduated from Ka Haka ʻUla o Keʻelikōlani School of Hawaiian Language at the University of Hawaiʻi at Hilo with a Bachelor of Arts in Hawaiian Studies in 2017. She teaches hula and Hawaiian language at Ka ʻUmeke Kāʻeo Hawaiian Immersion Public Charter School in Keaukaha where she is affectionately known as Kumu ʻAuʻa. Kapua founded hālau hula Unuokeahi in 2017, and since then Unuokeahi has promoted Hawaiian culture through hula, indigenous leadership, and environmental stewardship for its learners and the community. She created Oʻahu-a-Lua, her hālau on Oʻahu, and Papahana Unuiti at Ka ʻUmeke Kāʻeo PCS. Her teaching also spans globally with workshops and classes in Japan and Hawaiʻi.
Carving is a family tradition for Kapua's ʻohana. She credits her tūtū, James Kahoʻoilihala Sr., a traditional canoe carver, for leading her to her present vocation. Kapua is a vocal advocate for her people and passionately calls upon others to honor their ancestors through commitment to excellence and understanding of their tradition.  Those interested in meeting Kumu Kapua Kaʻauʻa are welcome to VAC gallery in Hawaiʻi Volcanoes National Park on Saturday, April 24th from 2 -5pm.  She will be sharing Hawaiian cordage and knotting techniques for those that are interested in participating.
For more information contact VAC Gallery Manager Emily C. Weiss at (808) 967-8222 or gallery@volcanoartcenter.org.
_____________________________________________________________________________
Please check back as more details are added to the upcoming exhibitions