Current Classes & Workshops
---
Volcano Art Center's Cancellation and Refund Policy
If for any reason you need to cancel, please call 72 hours before class begins for a full refund. Office hours are Monday through Friday, 10am – 4pm, (808) 967-8222. No refunds will be issued for cancellations made less than 72 hours prior to the start of class. If the class is canceled due to insufficient enrollment or unforeseen circumstances, you will receive a full refund.
---
Ongoing Classes & Workshops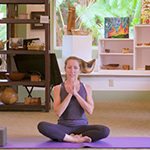 Yoga with Emily Catey Weiss ***No yoga July 12 – 23, 2021
Pre-register in advance for Yoga with Emily on Wednesday afternoon at 4:30 pm at Volcano Art Center Niaulani Campus in Volcano Village. Class size is limited to 10 participants due to social distancing. Please bring your own mat as community mats are no longer available for use.
Relax your body and rejuvenate your soul in this gentle and peaceful class. The focus is on stretching and releasing both physical and mental tension. Open to both beginning and intermediate students, classes meet at VAC's Niaulani Campus in the Varez Hall, unless otherwise noted.  For more information please contact emilycatey@hotmail.com

August 2021
Soft Pastel Still Life with Patti Pease Johnson  8/28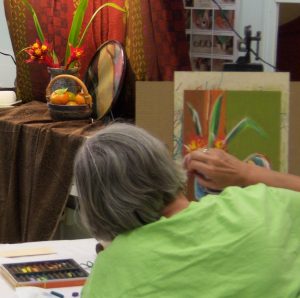 Exaggerate!  Be bold with colors and yourself using lights and darks and enjoy the marks you make on paper using a proven signature rotational method for success with soft pastels.
Now Big Island artist and instructor Patti Pease Johnson can help you gain the confidence and techniques of this centuries old medium. Patti supplies the instruction and all materials along with guidance and inspiration for this process along with some handy tips for your creative journey.
Grow your knowledge of composition, color and correcting problems!
Learn about the different types of pastels, different papers, fixing and mounting paper and on backing. Then use newsprint to get the flow of arm movements to keep loose. Next, you'll begin forming shapes and move into colors on pastel paper from close observation of the setup still life. Students will complete a 9×12 inch project.
The Soft Pastel Still Life Workshop will be held on Saturday, August 28, 2021, from 9am – 12:30pm at Volcano Art Center Niaulani Campus in Volcano Village. Cost for the workshop is $50 and $45 for VAC Members plus a $15 fee, inclusive of supplies. Beginner and intermediate artists are welcome.
Patti Pease Johnson's artwork can be found at galleries and shops across the State and in collections around the world.

September 2021