Current Classes & Workshops
---
Volcano Art Center's Cancellation and Refund Policy
If for any reason you need to cancel, please call 72 hours before class begins for a full refund. Office hours are Monday through Friday, 10am – 4pm, (808) 967-8222. No refunds will be issued for cancellations made less than 72 hours prior to the start of class. If the class is canceled due to insufficient enrollment or unforeseen circumstances, you will receive a full refund.
---
Ongoing Classes & Workshops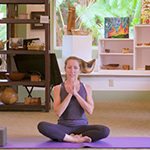 Yoga with Emily Catey Weiss
Pre-register in advance for Yoga with Emily on Wednesday afternoon at 4:30 pm at Volcano Art Center Niaulani Campus in Volcano Village. Class size is limited to 10 participants due to social distancing. Please bring your own mat as community mats are no longer available for use.
Relax your body and rejuvenate your soul in this gentle and peaceful class. The focus is on stretching and releasing both physical and mental tension. Open to both beginning and intermediate students, classes meet at VAC's Niaulani Campus in the Varez Hall, unless otherwise noted.  For more information please contact emilycatey@hotmail.com

March 2021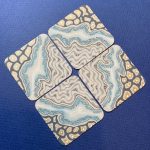 Zentangle® Wailoa: The Long River Runs 3/13
with Dina Kageler, Certified Zentangle Teacher
Saturday, March 13, 2021
10 AM-1 PM
Zentangle® is a meditative art form based on simple repeating curves, lines, and dots.  Its simplicity and freedom of expression allow success to everyone whether a beginning or experienced artist.  In continuing a Zentangle practice, the artist discovers avenues into peaceful, mindful contemplation from these simple repetitive patterns. In our class Wailoa: The Long River, we will step beyond the basic black pen and white tiles to explore shades of grey, gold, blue, and white on small grey Bijou tiles.  We will introduce tangles Diva Dance and Indyrella to create a river-like motif in our work.  All supplies will be provided, although returning tanglers are invited to bring their favorite pens.
This class is open to all levels, no Zentangle or art experience necessary.
Cost is $35/$30 VAC Members plus a $15 fee, inclusive of supplies. Due to social distancing guidelines, class size will be limited to 10 and CDC recommended face coverings must be worn during class. Pre-registration is required. Please bring your own refreshments. If you wish to share, please provide snacks in single-serve packaging.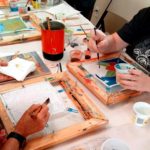 Silk Painting with Wax Resist Workshop 3/13
Wax resist dyeing of fabric is an ancient art form. Indonesian batik made on the island of Java has a long history of diverse patterns influenced by a variety of cultures and is very developed in terms of pattern, technique, and quality of workmanship. In 2009, UNESCO designated Indonesian batik as a Masterpiece of Oral and Intangible Heritage of Humanity. 
This class combines batik methods with the art of Serti silk painting, coined in France meaning 'fence' or closing', introduced there in the 20th century. It is a colorful, and popular art form practiced worldwide. The Crusades brought silk from areas surrounding the Indonesian Islands to Europe and eventually the industrial revolution made silk production available internationally.
In the Silk Painting with Wax Resist workshop, you'll use the wax/dye method to create a representational piece of art, such as a wall hanging. Color theory and composition will be discussed. First, you'll use a 5×8" China silk sampler to get the feel of the wax tool and using the dyes and to work out color or composition details for the larger 12×16" piece you will get to design.
All colors will be mixed with the four process colors. Students are asked to bring a design concept in mind from an original photo, plant material, or objects for an idea. You can also prepare a 12×16" sketch before class.
Big Island artist and instructor Patti Pease Johnson can help you gain the confidence and techniques of working in this medium. Patti supplies the instruction and materials along with guidance and inspiration for this process along with some handy tips for your creative journey.
The Silk Painting with Wax Resist workshop will be held on Saturday, March 13, 2021, from 9 am – 12 pm at Volcano Art Center Niaulani Campus. The cost for the workshop is $50 and $45 for VAC Members plus a $15 supply fee per person. Includes a 3-page handout. Beginner and intermediate artists are welcome.
Patti Pease Johnson's artwork can be found at galleries and shops across the State and in collections around the world.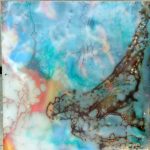 Beginning and Intermediate Mixed Media Encaustic Workshop 3/20
Join artist Mary Milelzcik for the "Mixed Media Encaustic" workshop on Saturday, March 20, 2021, from 10 am – 2 pm at Volcano Art Center Niaulani Campus in Volcano Village. Encaustic is a mixture of beeswax, damar resin, and pigment, which is applied to a solid absorbent surface.
Each time a new layer is applied, it must be fused. The layers can be enhanced by carving with tools or drawing with pigment, oil sticks, etc. Photographs can be transferred and other materials embedded to create a variety of amazing results with depth.
Mixed Media Encaustic is a hands-on workshop, where you'll learn safe studio practices, all the encaustic painting basics, and how to make your own medium. Encaustic techniques, photo transfer, along with wet and dry shellac burns will be demonstrated. After instruction and experimenting, you will have the opportunity to create two encaustic paintings to take home with you.
Mary will provide encaustic paints, panels, and handmade paper to use as substrates and an assortment of marking tools and brushes and interesting papers, photographs, minerals, fibers, and other natural and found materials for students to incorporate into their paintings. Students are encouraged to bring other items they'd like to use. Advanced students may consult with the instructor in advance regarding specific projects. The class fee is $65/$60 for VAC members plus a $35 supply fee. To register, call Volcano Art Center at 808-967-8222 or visit www.volcanoartcenter.org.  Wearing masks and social distancing is required. Space is limited.

Livestream Zoom Workshop: Strategies to Jump-Start Your Writing, 3/27
March 27, 2021
9:00 AM – 12:00 PM HST with an additional hour for those who want to stay and share their writing with a partner.
How long has writing been on your bucket list? Are you ready to make 2021 the year you finally get started or restarted? This class is perfect for beginning writers seeking new inspiration and strategies. Join us for a stimulating morning via a live stream Zoom workshop.
This class will have three main parts: methods to expand a moment in your story, strategies to select just the right words to express your ideas, and a structure to design a story for maximum impact. After a brief introduction, students will have time to practice the implementation of the strategies. At the end of the class, students will be invited to submit up to 2,500 words for feedback from the teachers.
The cost of this workshop is $35/$30 VAC Members. Those who register online through Volcano Art Center's website will be sent an email with instructions on how to join the live stream workshop online via Zoom. Jacquolyn and Kristin have been writing together since 2000 and are avid students of the craft of writing. They have taught several adult writing classes including Jump Start Your Writing 2020. This is their second class for Volcano Art Center.

Soft Pastel Still Life Workshop 3/27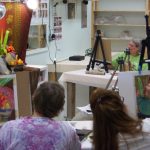 Exaggerate! Be bold with colors and yourself using lights and darks and enjoy the marks you make on paper using a proven signature rotational method for success with soft pastels.
Now Big Island artist and instructor Patti Pease Johnson can help you gain the confidence and techniques of this centuries-old medium. Patti supplies the instruction and all materials along with guidance and inspiration for this process along with some handy tips for your creative journey.
Grow your knowledge of composition, color, and correcting problems!
Learn about the different types of pastels, different papers, fixing and mounting paper, and backing. Then use newsprint to get the flow of arm movements to keep loose. Next, you'll begin forming shapes and move into colors on pastel paper from close observation of the setup still life. Students will complete a 9×12 inch project.
The Soft Pastel Still Life Workshop will be held on Saturday, March 27, 2021, from 9 am – 12:30 pm at Volcano Art Center. The cost for the workshop is $50 and $45 for VAC Members plus a $15 fee, inclusive of supplies. Beginner and intermediate artists are welcome. Due to social distancing measures, the class size will be limited. Students must wear a CDC-recommended face covering during class and are required to use the provided cleaning supplies after class. For more information or to register call VAC at 808-967-8222 or visit online at www.volcanoartcenter.org