Current Classes & Workshops
---
Volcano Art Center's Cancellation and Refund Policy
If for any reason you need to cancel, please call 72 hours before class begins for a full refund. Office hours are Monday through Friday, 10am – 4pm, (808) 967-8222. No refunds will be issued for cancellations made less than 72 hours prior to the start of class. If class is canceled due to insufficient enrollment or unforeseen circumstances, you will receive a full refund.
---
Ongoing Classes & Workshops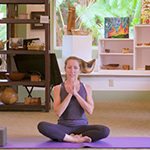 Yoga with Emily Catey Weiss
Pre-register in advance for Yoga with Emily on either Monday or Friday mornings from 8am – 9am at Volcano Art Center Niaulani Campus in Volcano Village. Class size is limited to 10 participants due to social distancing. Please bring your own mat as community mats are no longer available for use.
Relax your body and rejuvenate your soul in this gentle and peaceful class. The focus is on stretching and releasing both physical and mental tension. Open to both beginning and intermediate students, classes meet at VAC's Niaulani Campus in the Varez Hall, unless otherwise noted.  For more information please contact emilycatey@hotmail.com

August 2020
Writing for Inner Exploration and Life Reflection with Tom Peek, 8/15 
A day of discovery with Award-winning novelist and teacher Tom Peek
Have you ever wondered how the place you come from influenced who you are? Or what memories you carry from your ancestors? Or how your personal history impacts your view of the world? Take a day out of your busy life to explore your deeper self and ponder the life you've lived so far.
Big Island author Tom Peek encourages you to "Discover the magic power of writing to stimulate the creative regions of your mind and unearth your meatiest memories, highest aspirations, zaniest ideas, and most incandescent insights."
Join Tom Peek for "Writing for Inner Exploration and Life Reflection" on Saturday, August 15, 2020, from 9:30am to 4pm at Volcano Art Center Niaulani Campus in Volcano Village. Workshop cost is $80/$70 for VAC Members. To register contact the Volcano Art Center at 967-8222 or visit www. volcanoartcenter.org. Students are asked to bring a lunch and some pictures of your parents—at least one of each parent (unless you come from a single-parent family, in which case bring some pictures of your one parent).
Peek's workshop includes fun, offbeat, and provocative "wild mind" exercises that provide participants with exploration tools to use in class and on one's own. This workshop is perfect for journal keepers, bloggers, autobiographers, spiritual seekers, memoir and family history writers, and anyone who simply enjoys writing. No previous writing experience is necessary, just the desire to explore!
Attendees always give Peek's workshops high marks. "I experienced a restarting of my fire for writing," said one past participant. "This workshop will change my life," said another.
Thought-provoking exercises include topics such as: "What passions guide your life?" "What mottos do you live by–or wish you did?", "What's the weirdest thing that ever happened to you?"
Peek, an award-winning novelist, has taught his popular Hawai'i workshops since 1991, encouraging hundreds of islanders to write their own journals, blogs, family histories, stories, poems, novels, and essays.

September 2020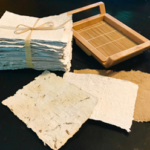 Introduction to Paper Making with Mary Milelzcik, 9/12
Join artist Mary Milelzcik for the "Introduction to Papermaking" workshop on Saturday, September 12, 2020, from 10am – 3pm at Volcano Art Center Niaulani Campus in Volcano Village.
Learn the basics of making your own paper, and recycle at the same time! This papermaking workshop, using a household blender, will introduce you to papermaking using recycled papers with various additives, including cotton linters, and local plant materials. Students will use a postcard-sized Japanese suketa to make several sheets of paper and move on to using larger sized moulds and deckles and alternative screens to create larger pieces. You are encouraged to bring dried plant material, colored papers, and other items to add to the pulp or imbed in their paper. You will leave with a basic knowledge of papermaking, a variety of papers, your mould and deckle, tub, felts, shredded papers, resource list, and instructions on how to make paper at home using an old blender or drill attachment paint mixer. Bring lunch! An hour will be for a lunch break, critique, and Q &A.
The class fee is $60/$55 for VAC members plus a $38 fee, inclusive of supplies.
Advanced Papermaking workshops (TBD) will be held at Arts Asylum studio in Pahoa for participants who have basic papermaking experience. The focus will be papermaking using local fibers, and cover the selection and preparation of fibers, to making paper. Plant fibers will include pineapple, banana leaf, fruit & pseudo stalk, and lemongrass. A variety of larger sized traditional and alternative moulds and deckles will be available for use.
Mary Milelzcik has a B.A. degree from Sonoma State University's School of Expressive Arts, a radical two-year upper division interdisciplinary experimental program, where you worked with a mentor, and chose your own path in upper-division art. Printmaking and papermaking were her focus. This transformative experience set the path for an interesting career as a mixed media artist and photographer; as the Curator at Highways Performance Space and Gallery in Santa Monica CA for ten years; and as an instructor of mixed media encaustic art, papermaking and printmaking. Currently, she is exploring the integration of hand-ground local pigments and organic materials into her handmade paper from local plants, and mixed media encaustic work. Her artwork has been shown internationally. Workshops are held at her Arts Asylum studio in Pahoa by appointment.