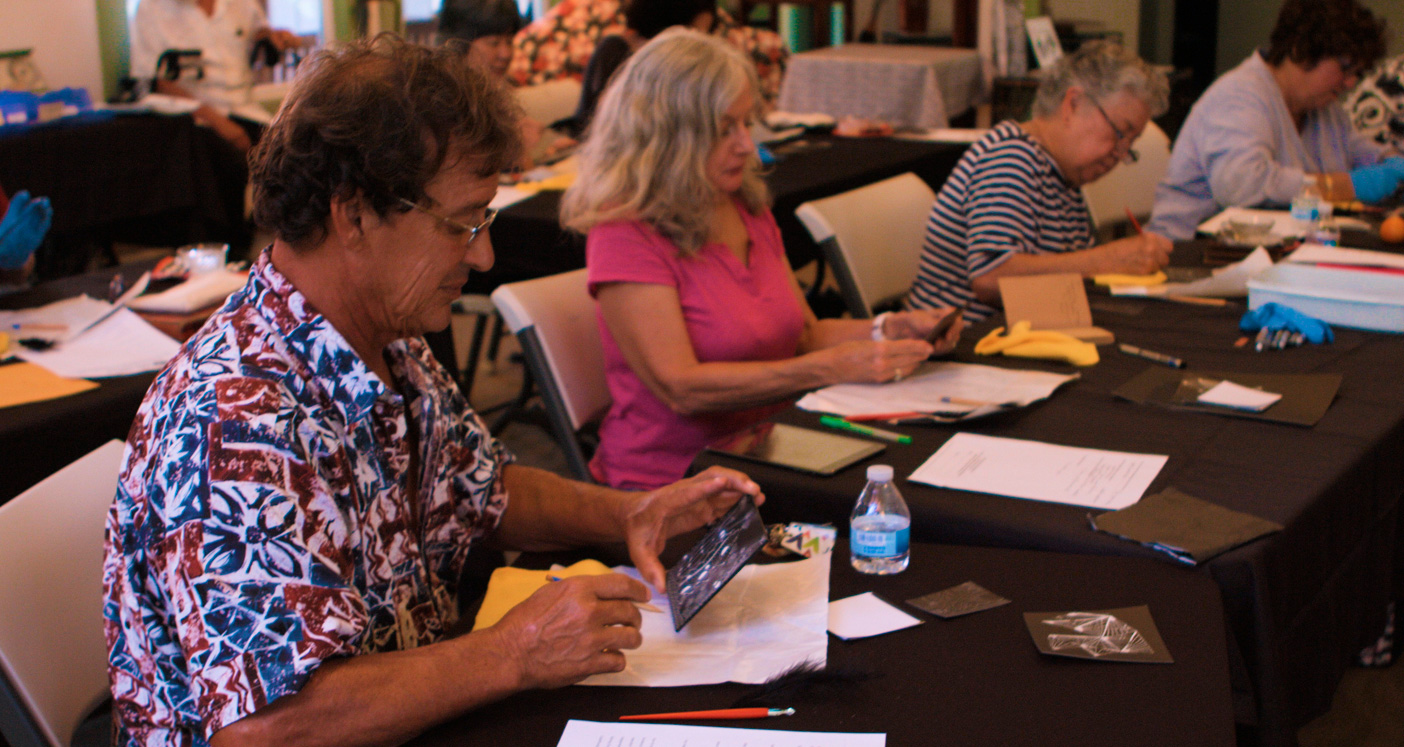 Current Classes & Workshops
---
Volcano Art Center's Cancellation and Refund Policy
If for any reason you need to cancel, please call 72 hours before class begins for a full refund. Office hours are Monday through Friday, 9am – 5pm, (808) 967-8222. No refunds will be issued for cancellations made less than 72 hours prior to the start of class. If class is cancelled due to insufficient enrollment or unforeseen circumstances, you will receive a full refund.
---
Ongoing Classes & Workshops
Stained Glass Open Studio
Volcano Art Center is pleased to offer stained glass open studio sessions on Monday evenings from 6pm – 9pm. Studio drop-ins are available for artists with some experience in Copper Foil Stained Glass who wish to use the equipment, hand tools and facilities independently. There will be a resource person for project help and questions. Fees are $10 per session or $40 for four sessions which includes a grinder bit. All other materials and supplies are not included in the fee. If special project help is required, please notify VAC prior to Open Studio. Pre-registration is required.

July 2019
Beginner & Intermediate Mixed Media Encaustic, 7/20 
Join artist Mary Milelzcik for the Mixed Media Encaustic workshop on Saturday, July 20, 2019, from 10 am – 2 pm at Volcano Art Center Ni'aulani Campus in Volcano Village. Encaustic is a mixture of beeswax, damar resin and pigment, which is applied to a solid absorbent surface. Each time a new layer is applied, it must be fused. The layers can be enhanced by carving with tools or drawing with pigment, oil sticks etc. Photographs can be transferred and other materials imbedded to create a variety of amazing results with depth.
Mixed Media Encaustic is a hands-on workshop, where you'll learn safe studio practices, all the encaustic painting basics, and how to make your own medium.  Encaustic techniques along with wet and dry shellac burns will be demonstrated. After instruction and experimenting, you will have the opportunity to create two encaustic paintings to take home with you.
Mary will provide panels and handmade paper to use as substrates and an assortment marking tools and brushes, and interesting papers, photographs, minerals, fibers, and other natural and found materials for students to incorporate into their paintings. Students are encouraged to bring other items they'd like to use. Advanced students can consult with the instructor in advance regarding specific projects. The class fee is $60/$55 for VAC members plus a $25 supply fee.
Mary Milelzcik has a B.A. degree from Sonoma State University's School of Expressive Arts, a radical two-year upper division interdisciplinary experimental program that existed for several years in the 70's. This transformative educational experience set the path for an interesting career as a mixed media artist and photographer; as the Curator at Highways Performance Space and Gallery in Santa Monica CA; and teaching experimental mixed media art and printmaking. Photography is an important tool in her creative and documentary projects as well as for capturing images to use as a base for mixed media encaustic paintings and prints.  She also gathers pigments and organic materials to incorporate into her work. Her artwork has been shown internationally. In her spare time, she provides strategic consultation and grant writing for small to medium sized nonprofits in Hawaii and California. She has a studio in Pahoa and specializes in mixed media art and printmaking. She experiments with local minerals and plants in her encaustic paintings.

Arts & Tea Culture Workshop Series – A Pre-event for A Taste of Tea and Pottery Fundraiser
 The Volcano Art Center (VAC) announces the third annual A Taste of Tea & Pottery event to be held on Sunday, August 25th, from 12noon – 4pm at VAC's Niaulani Campus in Volcano Village.
New to this year's A Taste of Tea & Pottery fundraiser is the addition of a pre-event workshop series focusing on the role of the arts in tea culture and community.  The Arts & Tea Culture Workshops are designed to be attended as a series, providing participants a glimpse into the long history and cultural significance of a handmade tea bowl while highlighting locally produced teas which have become a unique agricultural product for the state of Hawaiʻi.
The Series is open to anyone interested in learning about the relationship between tea, arts and agriculture.  No experience is necessary.
Arts & Tea Culture Workshop #3 on July 27th from 1- 4pm
Participants will collect their previously glazed bowls (new attendees will receive a new one to use) for the enjoyment of participating in a Japanese Tea Ceremony. It will be performed by artist and Chado practitioner Philippe Nault, along with an introduction to its origin, its evolution and its philosophical development as a "transformative practice". A discussion on green tea, a brief review of Hawai`i green tea cultivation and production will follow.
Individual workshops can be attended for $25 each. Registration is limited, call 967-8222 to register today! To purchase tickets, enroll for the workshops, or get more information about our August 25th A Taste of Tea & Pottery event call Volcano Art Center at 808-967-8222.
Proceeds from these special events will be used to help support the "Fire Arts" Program at VAC which includes ongoing ceramics and glass classes and workshops at the Volcano Art Center. The Volcano Art Center is dedicated to offering these programs which, in part thanks to funds raised, are now expanding and include high-fire pottery, flame-worked glass, and stained glass, and ceramic classes for students of the nearby Volcano School of Arts and Sciences.
A Taste of Tea & Pottery event is co-sponsored by the State of Hawaiʻi Department of Agriculture.

August 2019
Edible Landscaping for Backyards and Beyond!, 8/3
Transform your lanai and lawn, your field and fence, into an abundant oasis of edible and multifunctional plants. Join instructor Zach Mermel of Ola Design Group  for the workshop, "Edible Landscaping for Backyards and Beyond!"
Attendees will explore a range of edible plants that can grow mauka to makai. A packet of practical readings and resources for further learning is included. Participants will get to take home a number of edible plants at the conclusion of the workshop.
The workshop will be held Saturday, August 3, 2019, from 9am – 2:30pm with a break for lunch. Course fees are $40/$30 for VAC members and plus a $15 materials fee.
How akamai are you about environmentally friendly landscaping and gardening? Have you ever considered methods for rapidly expanding the plant biodiversity for your garden? What are some of the most nutritious plants that you and your family can grow easily? If you're saying, "yes, yes and (well) I have no idea!" then consider signing up for this workshop.

Ti Leaf Lei Making Workshop with Jelena Clay, 8/10
Learn the art of Ti Leaf Lei making in this fun, hands-on workshop with Jelena Clay. Jelena will teach you how to make a basic ti rope, how to twist a ti leaf rose and how to add ti leaf inserts to create full leafy beautiful lei!
A ti leaf lei is appropriate for any and all occasions and is traditionally thought to bring good luck. This lei is a thoughtful way to send off a loved one going on a journey or beginning a new career or other life change. A ti leaf lei symbolizes admiration, appreciation and respect. A ti leaf lei is often used as a gift for weddings, graduations, anniversaries and memorials.
The class fee is $15/$10 for VAC members. Please bring 15 – 20 ti leaves. If you are unable to acquire your own ti leaves, they will be provided for an additional $5 supply fee.Pre-registration is required.
Jelena Clay is a master fiber artist and nationally recognized gourd and fiber artist who has produced an ever-increasing variety of contemporary and traditional work in every natural fiber she can find. She currently teaches workshops around the United States and Hawai'i.

Zentangle® Inspired Labyrinth Shrines, 8/10
with Lois and Earl Stokes, Certified Zentangle Teachers
Saturday, August 10, 2019
10AM-1PM
Shrines attract the practice of pilgrimage…a mindful and creative journey that will bring us fully into the present moment when we can become aware…of the sacred. Set aside a morning to Breathe, Relax, Create and Heal. Join us in walking this sacred path…Zentangle style…one step at a time…where anything is possible.
Both Labyrinths and Zentangle can be practiced as a healing art, a mindful meditation or simply viewed as the creation of beautiful art. Zentangle is an easy-to-learn, relaxing and fun way to create beautiful images by drawing structured patterns. It is the repetitive nature of these patterns that brings us into a state of relaxed focus that some call meditation
In this class you will adorn your shrines with Zentangle patterns as you practice embossing labyrinths on
36 gauge aluminum
metal tape
vellum
fine artists' paper
All art supplies will be provided (returning students are encouraged to bring their favorite supplies). Everyone is welcome. No prior knowledge of the Zentangle Method is necessary. This is a potluck so please feel free to bring some food to share. Cost is $35/$30 VAC Members plus a $10 supply fee.

Taking the Pamphlet Stitch on a Romp – A bookbinding workshop with Charlene Asato, 8/17
Saturday, August 17, 2019 | 9am – 12pm
You don't need special equipment to make books. You can make wonderful books with most items found around your home. This workshop is an excellent start for those with no bookbinding experience. For those with some experience, you will expand the possibilities of the pamphlet stitch. The pamphlet stitch is a most versatile binding style and leads to structures named "French doors" and "dos-a-dos."
Join instructor Charlene Asato for the "Taking the Pamphlet Stitch on a Romp" workshop at Volcano Art Center on Saturday, August 17, 2019, from 9am – 12pm. Cost for this workshop is $35 or $32 for VAC members plus a $10 supply fee.
Tools to bring: X-acto knife with fresh #11 blade or similar tool, cutting mat or dense cardboard, metal-edged ruler, pencil, eraser, glue stick, scissors, discarded catalog or magazine for gluing surface.
Optional, only if you have on hand: bone folder or non-serrated butter knife, bookbinding awl, colored pencils or markers, watercolor, photographs for collaging, scraps of decorative paper, portable paper trimmer, scoring board, paper punches, rubber stamps.
Asato avidly pursues book arts, paper arts, photography, calligraphy and doll arts. Her work has been included in many juried shows locally and nationally.  In 2012, she had a solo exhibition of her books at East Hawaii Cultural Center.


Food From Wood: Growing Edible & Medicinal Mushrooms on Logs, Stumps, and Wood Chips, 8/31
It's back! Instructor Zach Mermel will teach the basics of mushroom cultivation in the "Food From Wood: Growing Edible & Medicinal Mushrooms on Logs, Stumps, and Wood Chips" workshop on Saturday, August 31, 2019, from 9am – 2:30pm at Volcano Art Center Niaulani Campus in Volcano Village.
Wondering what to do with those undesirable exotic trees on the Back Forty? By teaming with certain fungi, you can turn that pesky plant problem into an edible solution. A wonder drug or just darn tasty, the humble mushroom belongs to a kingdom seldom explored. Mushrooms are an excellent source of vegetarian protein and nutrition with the added bonus of "easy to grow". Their health benefits are well known and their ecological advantages are just now being fully realized.
Now you can learn basic fungal biology and how fungal mycelium colonizes different materials, particularly wooden logs, stumps, and wood chips. You'll also discover the health benefits of different edible and medicinal fungi in Hawai'i.
Course fees are $50 for VAC members and $55 for non-members. Pre-registration is required. Each participant will depart with a shiitake mushroom log kit, as well as a King Stropharia mushroom kit. Participants will meet at VAC's Niaulani Campus in Volcano Village for a slideshow lecture, then drive to Shaka Forest Farms on Wright Road in Volcano Village for the hands-on segment of the workshop. Participants will meet at VAC's Niaulani Campus in Volcano Village for a slideshow lecture, then drive to Shaka Forest Farms on Wright Road in Volcano Village for the hands-on segment of the workshop.
If you're an eager epicurean, avid horticulturalist or just interested in mushrooms, Zach encourages you along with farmers, gardeners, and homeowners seeking to incorporate the growing of gourmet and medicinal mushrooms into their lives and livelihoods to attend.

Healing Through Words with Dr. Heather Rivera, 8/31
Have you always wanted to write a book but don't know where to start?  Is fear holding you back? Do you wonder where you'll get the time to write?  You know the story needs to be told—your voice wants to be heard. You feel it deep in your soul. Don't let uncertainty hold you back.
Join Dr. Heather Rivera for the 1 ½ hour creative writing workshop, "Healing Through Words" on Saturday, August 31 from 10am – 11:30am at Volcano Art Center Ni'aulani Campus. She will use imagery, visualization, and prompts to help you tap into your creative muse and discover the healing power of writing. You will also have the opportunity to share your writing in a safe supportive environment, if you choose.
Amazon best-selling Author, Heather Rivera, found healing while writing her first novel and has been sharing the power of writing in workshops. Find your voice and let the words flow. Class fee is $35/$30 VAC Members.
Dr. Heather Friedman Rivera obtained her Ph.D. in Parapsychic Science in 2011, her Doctorate in Law in 2002 and is a Certified Clinical Hypnotherapist specializing in Past-life Regression. She trained with Dr. Brian Weiss at The Weiss Institute. Heather is also a retired Registered Nurse with over 25 years of experience. She is the author of nine books, contributing author in seven books, and author of numerous articles. She serves as an editor for the International Journal of Regression Therapy. Heather has been featured in print, radio, and web television. Heather holds workshops and retreats on writing and past life regression, and coaches writers from dream to book-in-hand.


September 2019
The Business of Art Workshop with Ira Ono, 9/7
Volcano Art Center is pleased to offer the popular "Business of Art" workshop by Volcano artist Ira Ono. He will help you navigate basic business principles in this one-day intensive workshop. From the initial pros and cons of being your own boss to copyright basics to branding your product, you'll discover what's right for you and your art. This is a wonderful opportunity for fine artists and crafts people to gain unique insights resulting in profitable solutions.
Sponsored by the Volcano Art Center, the workshop will be held Saturday, September 7, 2019, from 9:00am – 4pm at Volcano Art Center Niaulani Campus in Volcano Village. Cost for the full day workshop is $55 or $50 for VAC Members.  Participants are encouraged to bring samples of their own art work for Ira to review.
Class topics covered include:
Pricing your artwork for profit
Creating presentations that focus on gallery buyers, gift shops, and department stores
What to look for in hiring trustworthy associates
Internet marketing, catalog sales, trade shows
Visual merchandising, and affordable display techniques
Packaging and presentation for wholesale, retail and fine art galleries
Creating multiples for increased sales
Internet marketing and getting free publicity
Ira Ono is an internationally known artist. His works are featured in the Hawai'i State Art Museum and private collections in the U.S., Europe and Japan. He is the founder of annual Trash Art Shows throughout the state and well versed in every aspect of marketing fine arts and crafts here in Hawai'i and beyond. Ira is also the owner and director of Volcano Garden Arts gallery in Volcano, Hawai'i where he exhibits his personal works along with over 100 local artists from across the state. Visit Ira's website here!