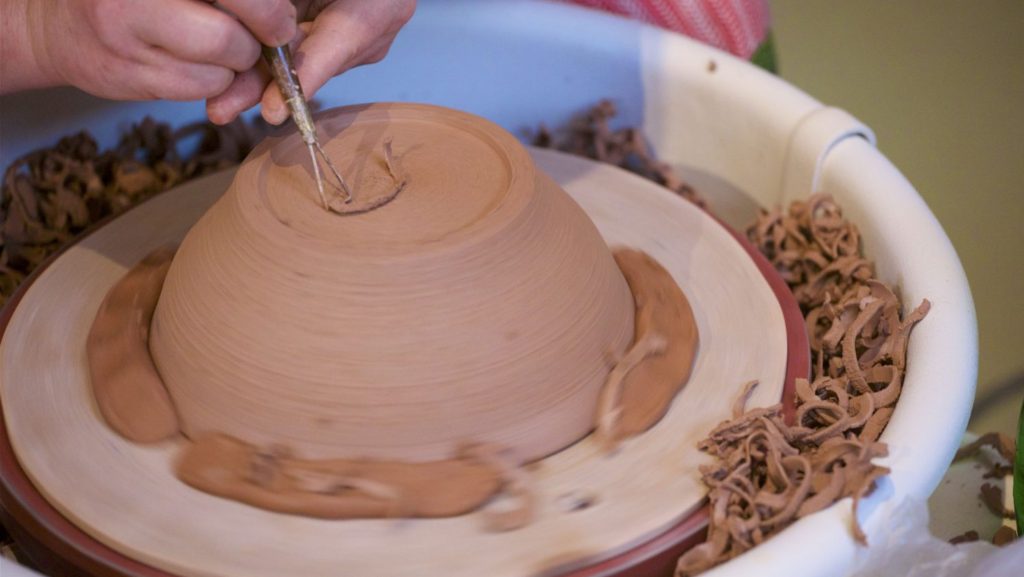 Current Classes & Workshops
---
Volcano Art Center's Cancellation and Refund Policy
If for any reason you need to cancel, please call 72 hours before class begins for a full refund. Office hours are Monday through Friday, 9am – 5pm, (808) 967-8222. No refunds will be issued for cancellations made less than 72 hours prior to the start of class. If class is cancelled due to insufficient enrollment or unforeseen circumstances, you will receive a full refund.
---
Ongoing Classes & Workshops
Stained Glass Open Studio ***POSTPONED
Volcano Art Center is pleased to offer stained glass open studio sessions on Monday evenings from 2pm – 5pm. Studio drop-ins are available for artists with some experience in Copper Foil Stained Glass who wish to use the equipment, hand tools and facilities independently. There will be a resource person for project help and questions. Fees are $10 per session or $40 for four sessions which includes a grinder bit. All other materials and supplies are not included in the fee. If special project help is required, please notify VAC prior to Open Studio. Pre-registration is required.

In an effort to keep our staff and community safe and healthy during this time, and in compliance with the statewide stay-at-home order until April 30, 2020, Volcano Art Center Gallery in Hawaiʻi Volcanoes National Park and the Niaulani Rainforest Gallery/Administrative Offices in Volcano Village remains temporarily closed until further notice. Please find schedule changes to the following programs below:
March 2020
Writing for Inner Exploration and Life Reflection with Tom Peek, 3/21 ***RESCHEDULED TO SATURDAY, JUNE 20, 2020
A day of discovery with Award-winning novelist and teacher Tom Peek
Have you ever wondered how the place you come from influenced who you are? Or what memories you carry from your ancestors? Or how your personal history impacts your view of the world? Take a day out of your busy life to explore your deeper self and ponder the life you've lived so far.
Big Island author Tom Peek encourages you to "Discover the magic power of writing to stimulate the creative regions of your mind and unearth your meatiest memories, highest aspirations, zaniest ideas, and most incandescent insights."
Join Tom Peek for "Writing for Inner Exploration and Life Reflection" on Saturday, March 21 from 9:30am to 4pm at Volcano Art Center Ni'aulani Campus in Volcano Village. Workshop cost is $80/$70 for VAC Members. To register contact the Volcano Art Center at 967-8222 or visit www. volcanoartcenter.org. Students are asked to bring a lunch and some pictures of your parents—at least one of each parent (unless you come from a single-parent family, in which case bring some pictures of your one parent).
Peek's workshop includes fun, offbeat, and provocative "wild mind" exercises that provide participants with exploration tools to use in class and on one's own. This workshop is perfect for journal keepers, bloggers, autobiographers, spiritual seekers, memoir and family history writers, and anyone who simply enjoys writing. No previous writing experience is necessary, just the desire to explore!
Attendees always give Peek's workshops high marks. "I experienced a restarting of my fire for writing," said one past participant. "This workshop will change my life," said another.
Thought-provoking exercises include topics such as: "What passions guide your life?" "What mottos do you live by–or wish you did?", "What's the weirdest thing that ever happened to you?"
Peek, an award-winning novelist, has taught his popular Hawai'i workshops since 1991, encouraging hundreds of islanders to write their own journals, blogs, family histories, stories, poems, novels, and essays.

Fabulous Fabric Fun, 3/28 ***RESCHEDULED TO SATURDAY, MAY 2, 2020
Enjoy a full day of textile fun with three creative textile artists and quilters in the "Fabulous Fabric Fun" workshop on Saturday, March 28, 2020, from 9am – 3:30pm at Volcano Art Center's Niaulani Campus in Volcano Village.
Glorianne Garza will guide you to explore different foiling techniques to apply foil to fabric, using fusibles, glue, stencils and more. Learn English Paper Piecing with Lisa Louise Adams and make a fabric bowl. Make a fabric landscape collage with Kona quilter Catherine Wynne.
The cost for the full-day workshop is $80/$75 VAC Members – all materials are included. Bring your hand-sewing kit, including a thimble, fabric scissors, and neutral thread. All fabrics are supplied though you have the option to bring landscape fabric to share. No machines are needed during this workshop. Please bring a brown bag lunch.

April 2020
Contemporary Painting with Cold Wax with Darcy Gray, 4/4 ***RESCHEDULED TO SATURDAY, JUNE 27, 2020
Join Darcy Gray for a day of "Contemporary Painting with Cold Wax" on Saturday, April 4, 2020, from 10am – 1pm at Volcano Art Center Niaulani Campus in Volcano Village. This workshop is a wonderful introduction to the cold wax medium. No experience is necessary and all supplies will be provided.
Artists of all levels will be introduced to various methods of working in oil and cold wax medium through an intuitive process utilizing various non-traditional mark-making tools. Cold wax (a mix of beeswax, resin, and odorless mineral spirits) is combined with oil paint to a thick creamy consistency which can be applied to Arches Oil Paper layer by layer. The wax additive lends translucency to the layers of oil paint. Unlike encaustic, no heat is used.
We will work with brayers, scrapers, pencils, and other mark-making materials to under-paint and add design to the layers of color and texture as we build our design. Mediums/Additives will be demonstrated, specifically the use of Gamblin Gamsol (odorless mineral spirit) and Gamblin Galkyd (fast drying painting medium).
The class fee is $50/$45 VAC members plus a $15 supply fee. Students will receive 4 sheets of 9"x12" Arches Oil Paper and a 4-ounce jar of cold wax medium. Bring an apron and any oil paints you may have, and a snack if you wish. Advance registration is required and this workshop will be limited to 8 adults.
Darcy Gray holds a B.A. in 3-dimensional design from the City of Birmingham University in England. Her work has been featured in multiple exhibitions throughout Hawai'i and California, in both solo and group shows. In 2016, she received awards from the Hawai'i State Foundation on Culture and the Arts, Hawai'i Island Art Alliance, and Honorable Mention in the 2018 Wailoa Center show, Jan Ken Po. For more information on Darcy and her work, visit www.darcygrayfineart.com.


Hands-On Fermented Foods Workshop: Sauerkraut and Kombucha/Jun with Jasmine Silverstein of HeartBeet Foods, 4/11 ***RESCHEDULED TO SATURDAY, OCTOBER 17, 2020
Saturday, April 11, 2020 | 10am – 1pm
Our digestive system is home to a complex diversity of living microorganisms, which are impacted by what we eat and drink. These microorganisms, which include probiotics, directly influence our own health; from aiding digestion to clearing skin, to boosting our energy. We can nurture the health of these internal microorganisms by eating probiotic-rich, fermented foods.
Fermented foods have been a part of every ancient culture throughout history. Sauerkraut, kimchi, kombucha, pickles, and yogurt are a few of the many traditional live-cultured, fermented foods. These foods developed out of the need to preserve food before refrigeration was possible.
Join Jasmine Silverstein of HeartBeet Foods in this hands-on "Sauerkraut & Kombucha/Jun" workshop on Saturday, April 11, 2020, from 10am – 1pm at Volcano Art Center Niaulani Campus in Volcano Village. Learn the basics of culturing cabbage and various vegetables into probiotic-rich Sauerkraut, as well as how to make your own Kombucha. Each participant will take home their own finished products. This informative and engaging workshop will leave you prepared to make your own ferments at home!
Cost for the workshop is $60 and $55 for VAC members plus a $15 fee, inclusive of supplies. All supplies and Organic ingredients will be provided. Pre-registration is required. No cooking skills necessary, just an interest in real, whole food. Fermentation is an Art not a Science… It's flexible and fun, not rigid or difficult.
Jasmine is a holistic chef and retreat caterer on the Big Island. She began experimenting in the world of fermentation in 2011, shortly after being diagnosed with a severe autoimmune condition. The benefits she has received from discovering and engaging in the world of microbes has proven to be invaluable. She hopes to share her experience and inspire others to cultivate their own health. Find more information about Jasmine and her services at www.heartbeetfoods.com.

Zentangle® Check Yourself, a Date with Knightsbridge, 4/11 ***POSTPONED
with Lydia Meneses, Certified Zentangle Teacher
Saturday, April 11, 2020 | 10AM-1PM
This class was inspired by a whimsical home company, MacKenzie-Child located on the East coast.  Their unique designs are full of bold colors and at times accented with black and white checks as seen in a checkerboard grid very much like Zentangle's beloved Knightsbridge pattern. Plans are to keep this session classic by creating with black and white, BUT because we know life isn't always just black and white, we'll be open to a dash of color. Students will be guided in a playful study as we gently warp various grids which allow the checkerboard to a have a feeling of movement.
All materials with be provided. Student kits will include Zentangle tiles and selected pens from Sakura of America that meet the needs of this class.
Class will be guided with Zentangle's traditional ceremony and methods of:
Gratitude
Appreciation
Relaxation
Mindfulness & Awareness
This class is open to all levels, no Zentangle or art experience necessary.  A brief overview of the Zentangle art method will be introduced for those new to Zentangle art. This is a potluck so please feel free to bring some food to share. Cost is $35/$30 VAC Members plus a $15 fee, inclusive of supplies.

Experimental Watercolors, 4/18 ***RESCHEDULED TO SATURDAY, SEPTEMBER 19 , 2020
Imagine glass being shattered. The random shapes and patterns are totally unpredictable. Now take these haphazard glass pieces and marry them with watercolors; then add your own playful attitude. This is Experimental Watercolors! Like music on paper, colors flow in delicate waves.
Each student will create three to five separate 8×8 inch watercolor paintings on cold press watercolor paper using pre-broken glass as a catalyst to spark creativity. Students will also be taught theories of good composition, along with color theory and color wheel use. Abstract qualities are the focus in this workshop using three – four paints right out of the tube with the glass. After the first drying and glass removal, each piece is brought to further expressiveness by using detailed watercolor techniques of washes, spatters, lifting, value gradations, dry brush and more.
Join Big Island artist, Patti Pease Johnson for the Experimental Watercolors workshop on Saturday, April 18, 2020, from 9am – 12:30pm at Volcano Art Center. Cost for the workshop is $50 and $45 for VAC Members plus a $15 fee, inclusive of supplies. Beginner and intermediate artists are welcome.
When asked to describe the experience Patti explained, "You can't help but wonder what is going to happen after your first piece of glass is put on watercolor paper. In painting, the more chances you take, the more you will stretch the limits of your understanding, and in turn the more you will grow as an artist."
Patti Pease Johnson's artwork can be found at galleries and shops across the State and in collections around the world.

Food From Wood: Growing Edible & Medicinal Mushrooms on Logs, Stumps, and Wood Chips, 4/18 ***POSTPONED
It's back! Instructor Zach Mermel will teach the basics of mushroom cultivation in the "Food From Wood: Growing Edible & Medicinal Mushrooms on Logs, Stumps, and Wood Chips" workshop on Saturday, April 18, 2020, from 9am – 2:30pm at Volcano Art Center Niaulani Campus in Volcano Village.
 Wondering what to do with those undesirable exotic trees on the Back Forty? By teaming with certain fungi, you can turn that pesky plant problem into an edible solution. A wonder drug or just darn tasty, the humble mushroom belongs to a kingdom seldom explored. Mushrooms are an excellent source of vegetarian protein and nutrition with the added bonus of "easy to grow". Their health benefits are well known and their ecological advantages are just now being fully realized.
  Now you can learn basic fungal biology and how fungal mycelium colonizes different materials, particularly wooden logs, stumps, and wood chips. You'll also discover the health benefits of different edible and medicinal fungi in Hawai'i.
 Course fees are $55/$50 VAC members plus a $15 fee, inclusive of supplies. Pre-registration is required. Each participant will depart with a shiitake mushroom log kit, as well as a King Stropharia mushroom kit. Participants will meet at VAC's Niaulani Campus in Volcano Village for a slideshow lecture, then drive to Shaka Forest Farms on Wright Road in Volcano Village for the hands-on segment of the workshop.
If you're an eager epicurean, avid horticulturalist or just interested in mushrooms, Zach encourages you along with farmers, gardeners, and homeowners seeking to incorporate the growing of gourmet and medicinal mushrooms into their lives and livelihoods to attend.

Edible Wild Plants: A Hands-On Foray for Foragers and Foodies, 4/25 ***POSTPONED
Ever hear the phrase "the world is my oyster?" There are some individuals, who you may know, that can go outside and will never be hungry. The world is just an open cupboard (or fridge) to them!
Hawai'i's year-round growing season offers a wide array of wild food options for intrepid localvores. From seeds to leaves, stems to fruits: you can learn what is edible and what is not in the Edible Wild Plants workshop. In this workshop, participants will interact first-hand with many of these underappreciated edibles. This is discovery only – no picking!
In this popular workshop, learn about wild edibles like plantain/laukahi, sow thistle, cat's ear, and dandelion, among many others.
This is hands-on immersion for foragers & foodies!
Join instructor Zach Mermel of Ola Design Group for the Edible Wild Plants workshop on Saturday, April 25, 2020, from 9am – 3pm at VAC's Niaulani Campus in Volcano Village.
Cost: $45/ $35 VAC Members plus a $15 transportation fee.
Class size is limited so register early.  Attendees will meet at VAC's Niaulani Campus. Transportation will be provided.
Remember: Never eat anything from the wild without first consulting an expert! Please forage responsibly. Educate yourself, and have fun.