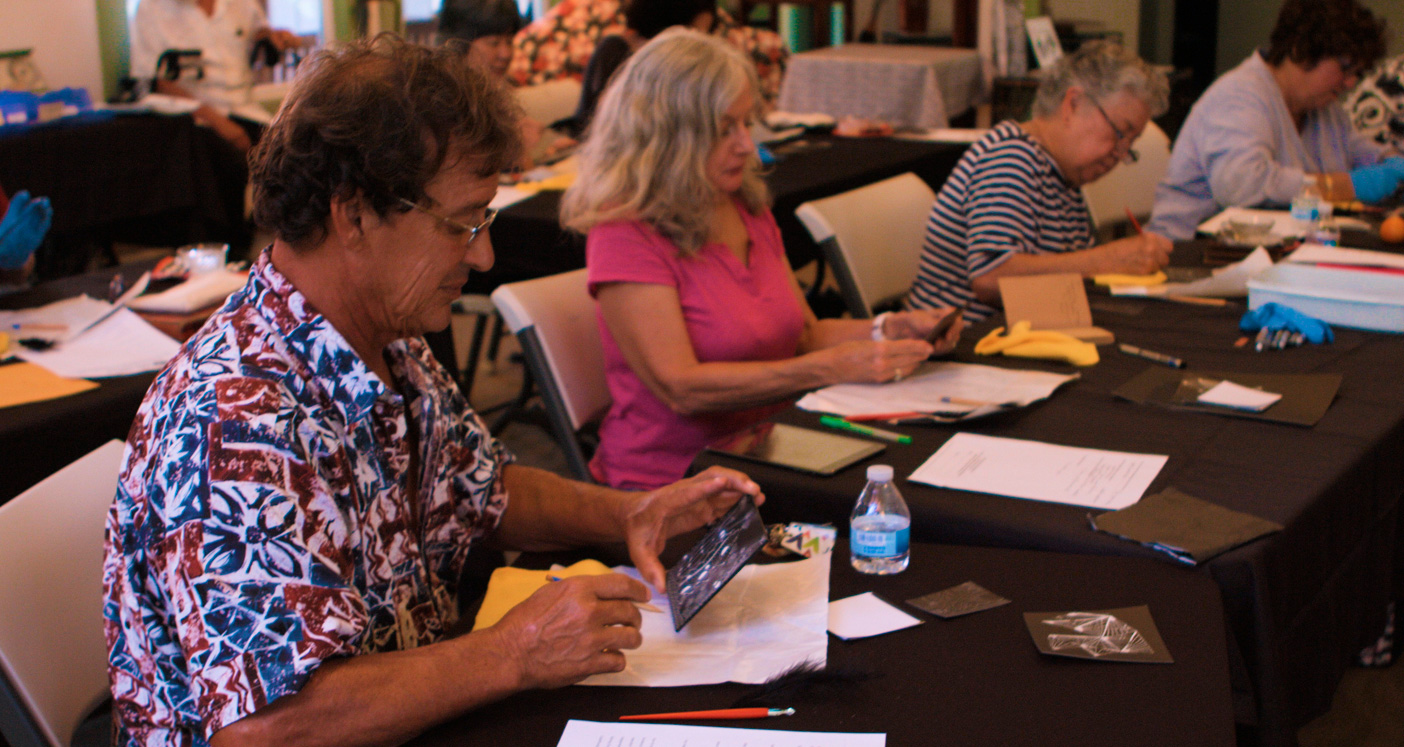 Current Classes & Workshops
---
Volcano Art Center's Cancellation and Refund Policy
If for any reason you need to cancel, please call 72 hours before class begins for a full refund. Office hours are Monday through Friday, 9am – 5pm, (808) 967-8222. No refunds will be issued for cancellations made less than 72 hours prior to the start of class. If class is cancelled due to insufficient enrollment or unforeseen circumstances, you will receive a full refund.
---
Ongoing Classes & Workshops
Stained Glass Open Studio
Volcano Art Center is pleased to offer stained glass open studio sessions on Monday evenings from 6pm – 9pm. Studio drop-ins are available for artists with some experience in Copper Foil Stained Glass who wish to use the equipment, hand tools and facilities independently. There will be a resource person for project help and questions. Fees are $10 per session or $40 for four sessions which includes a grinder bit. All other materials and supplies are not included in the fee. If special project help is required, please notify VAC prior to Open Studio. Pre-registration is required.

June 2019
Edible Wild Plants: A Hands-On Foray for Foragers and Foodies, 6/1
Ever hear the phrase "the world is my oyster?" There are some individuals, who you may know, that can go outside and will never be hungry. The world is just an open cupboard (or fridge) to them!
Hawai'i's year-round growing season offers a wide array of wild food options for intrepid localvores. From seeds to leaves, stems to fruits: you can learn what is edible and what is not in the Edible Wild Plants workshop. In this workshop, participants will interact first-hand with many of these underappreciated edibles. This is discovery only – no picking!
In this popular workshop, learn about wild edibles like plantain/laukahi, sow thistle, cat's ear, and dandelion, among many others.
This is hands-on immersion for foragers & foodies!
Join instructor Zach Mermel of Ola Design Group for the Edible Wild Plants workshop on Saturday, June 1, 2019, 9am – 3pm at VAC's Niaulani Campus in Volcano Village. Cost: $40/ $30 VAC Members plus a $15 transportation fee.
Class size is limited so register early.  Attendees will meet at VAC's Niaulani Campus. Transportation will be provided.
Remember: Never eat anything from the wild without first consulting an expert! Please forage responsibly. Educate yourself, and have fun.

Stained Glass Basics II: Baubles, Bevels and other Embellishments with Claudia McCall, 6/8
In this workshop, you will create your own customized stained glass light catcher and learn how to apply various embellishments to your piece. "Stained Glass Basics II: Baubles, Bevels and other Embellishments" taught by Claudia McCall, will be offered on June 8, 9, 15, 16, 2019: Saturday and Sunday from 9am – 12pm.
Claudia will provide several patterns from which to choose, though students are welcome to bring their own ideas. Topics covered include pattern design and project help. The finished project will include some type of fun additional embellishments such as slices of agate, bevels and nuggets. You will complete this 4-session workshop with a finished stained glass project, and the knowledge and experience of the basic skills involved to continue working with stained glass.
Class fee is $100/$90 VAC members plus a $30 supply fee. Anyone with prior copper foil stained glass experience is welcome to enroll.
Attendees are asked to wear long pants, snug fitting gloves, covered shoes and safety glasses. Please bring a glass cutter and soldering iron if you have them. Advance registration is required and this workshop will be limited to 6 adults.
Claudia McCall started working in stained glass in 2006, when a friend gifted her with a piece. She loved the way the sunlight played through the different types of glass, and wanted to explore the possibilities of interpreting the natural world, and interest spurred by her mother's love of art and her grandmother's love of birding. Her goal is to interpret Hawai'i's unique environment through the stylized lens of stained glass.

Zentangle® Ulana: Appreciations of Weaving, 6/8 
with Dina Wood Kageler
Saturday, June 8, 2019
10AM-1PM
Ulana is the Hawaiian word for weaving, plaiting, braiding or knitting.  Join us in celebrating these textural inspirations through our Zentangle practice of gratitude and appreciation, repeating lines and restful minds. Our class will explore several traditional Zentangle patterns, fragments and reticula which can, with some creative shading, take on the look of 3-D woven textures such as those found in lau hala (pandanas) and niu (coconut frond) plaiting. As a special bonus, students will receive a complimentary copy of  Useful Tangles Book V, Ulana featuring 20 woven-esque patterns and step-outs. 
Cost is $35/$30 VAC members plus a $10 supply fee. Students are invited to bring snacks to share.
Returning tanglers are encouraged to bring your pencil and 01 pen and other tools of your choice. Loaner pens, pencils and watercolor shadings will be available.  Tangle experience helpful but not required.

Drawing Mandalas as Meditation with Lisa Maria Martin, 6/15
Learn the creative and meditative process of drawing mandalas with Lisa Maria Martin on Saturday, June 15, 2019, from 11am – 2pm at Volcano Art Center Niaulani Campus in Volcano Village.
Drawing mandalas is a great exercise in letting go of perfectionism, listening to your intuition, and finding the calm within. Mandala is Sanskrit for "circle" and leaves the shape as our only guideline. Volcano artist Lisa Maria will guide and share her personal tips and tricks for drawing these mandalas making this an easy, relaxing and fun morning. Participants will have the opportunity to create as many mandala drawings as they wish.
Class fee is $35/$30 VAC members plus a $10 supply fee. All supplies will be provided. This workshop is open to all levels. No art or meditation experience is needed.
Lisa Maria Martin is a painter born and raised in New England and newly moved to Hawaii from Maine. Lisa Maria's unique and whimsical style has developed through her 25 years and is a wonderful match for the aloha spirit! Imaginative portraiture and works from nature are among her specialties.


A-Mazing Triangles – A bookbinding workshop with Charlene Asato, 6/22
Saturday,  June 22, 2019 | 9am – 12pm
Can a book be more than pages full of words? With imagination and some triangle know how you can create an A-Mazing Triangle book. After all, isn't any good picture or book worth a thousand words?
Attendees of the "A-Mazing Triangle Workshop" will spend the morning creating triangular books. They'll also learn different ways to turn a single piece of paper into triangular pages. Students will also get to explore various maze patterns that result in remarkable sculpture books. Bookbinding experience is not necessary.
Join instructor Charlene Asato for this wonderful three-hour workshop at Volcano Art Center on Saturday, June 22, 2019, from 9am – 12pm. Cost for this workshop is $35 or $32 for VAC members plus a $10 supply fee.
Tools to bring: X-acto knife with fresh #11 blade, cutting mat, scissors, pencil, metal edge ruler, bone folder or butter knife, glue stick, old magazine or catalog for gluing.
Optional: any art supplies such as colored pencils, crayons, photographs for collaging, scraps of paper, scoring board, portable paper trimmer, punches, rubber stamps or stencils, etc.
Asato avidly pursues book arts, paper arts, photography, calligraphy and doll arts. Her work has been included in many juried shows locally and nationally.  In 2012, she had a solo exhibition of her books at East Hawaii Cultural Center.


Abstract Collaging Workshop with Darcy Gray, 6/22
Join Darcy Gray for a day of Abstract Collaging on Saturday, June 22, 2019, from 10am – 2:30pm at Volcano Art Center Niaulani Campus in Volcano Village. No experience is necessary and all supplies will be provided.
Give collage a try in this one-day workshop where we will learn to "mix it up" with different types of papers, stencils, spray paint, stamps, inks and paint. The class will use 9" x 12" heavy watercolor paper which has been gessoed. Darcy will show you how to apply your own unique designs on to the collage paper.
In the morning session we will gather and create decorative papers, work on our basic layout, then in the afternoon bring all these elements together to create our own unique artworks. Embellish as you wish, add texture and color, bring in personal touches along the way, tell a story, or just dive in and have fun creating spontaneous expressive collages. Work at your own pace.
Basic acrylics paints, pencils, markers, brushes, stencils, papers, stamps, spray paint, and glue, will be provided in class, but students can bring their own supplies if they choose. Bringing an apron is suggested. Students will each get (5) 9" x12" gessoed heavy paper sheet to work on. Students may bring their own canvas, paper, or panels to work on if they wish, no larger than 9" x 12". Bring a snack.
Class fee is $90/$85 VAC members plus a $20 supply fee. Advance registration is required and this workshop will be limited to 10 adults.
Darcy Gray holds a B.A. in 3 dimensional design from the City of Birmingham University in England. Her work has been featured in multiple exhibitions throughout Hawai'i and California, in both solo and group shows. In 2016, she received awards from the Hawai'i State Foundation on Culture and the Arts, Hawai'i Island Art Alliance, and Honorable Mention in the 2018 Wailoa Center show, Jan Ken Po. For more information on Darcy and her work, visit www.darcygrayfineart.com.


Paint Your Own Silk Scarf with Patti Pease Johnson, 6/29
Open up your creativity and challenge yourself by learning this fun technique. It's guaranteed to change the way you look at color.
In this workshop, you'll paint your own 8" x 53" scarf using three colors of your choice, which will create many more colors on the silk. Pick a main color, then, choose the other two after learning about color theory. You'll then be ready to mix your desired colors, achieved by pre-mixing the four process colors of dye (cyan, magenta, yellow, and black). Students from previous classes have been amazed by what they refer to as "happy color accidents."
Big Island artist and instructor Patti Pease Johnson will tell you, "It's all about playing with colors. I supply all materials and guidance, you create. The fun time is your art journey for a few hours." Beginner and intermediate artists are welcome.
Join her for the Paint Your Own Silk Scarf workshop on Saturday, June 29, 2019, from 9:00am-12:30pm at Volcano Art Center. Cost is $50 and $45 for VAC members plus a $10 supply fee per person. For more information or to register call VAC at 808-967-8222 or visit www.volcanoartcenter.org.
In the final hour, students will use hot wax with the tjanting tool on Habotai silk to outline your more representational design and create a resist line for the dyes. Then you will paint and mix colors on the 10" x 10" silk artwork.
Patti Pease Johnson's artwork can be found at galleries and shops across the State and in collections around the world. Patti has a designer's ability to distill natural subjects into their most essential forms and to rearrange them in her paintings. Her artworks include sculpture, mobiles, fashions, soft pastels, and clay objects in abstract and expressionist styles.

Arts & Tea Culture Workshop Series – A Pre-event for A Taste of Tea and Pottery Fundraiser
 The Volcano Art Center (VAC) announces the third annual A Taste of Tea & Pottery event to be held on Sunday, August 25th, from 12noon – 4pm at VAC's Niaulani Campus in Volcano Village.
New to this year's A Taste of Tea & Pottery fundraiser is the addition of a pre-event workshop series focusing on the role of the arts in tea culture and community.  The Arts & Tea Culture Workshops are designed to be attended as a series, providing participants a glimpse into the long history and cultural significance of a handmade tea bowl while highlighting locally produced teas which have become a unique agricultural product for the state of Hawaiʻi.
The Series is open to anyone interested in learning about the relationship between tea, arts and agriculture.  No experience is necessary. The three afternoon workshops are scheduled for Saturdays, May 18th 12noon – 5pm, June 29th 1- 4pm and July 27th 1- 4pm at the Volcano Art Center's Niaulani Campus in Volcano Village. ***All workshops require a minimum of 6 participants to be held. Reserve your space today!
Arts & Tea Culture Workshop #2 on June 29th from 1- 4pm
Students who attended workshop #1 will receive their bisque fired tea bowls from the previous session to glaze for high fire completion. In addition, a focused cupping and tasting of locally produced black teas with a brief discussion and demonstration on tea cultivar propagation for attendees to start a few tea plants on their own.
Arts & Tea Culture Workshop #3 on July 27th from 1- 4pm
Participants will collect their previously glazed bowls (new attendees will receive a new one to use) for the enjoyment of participating in a Japanese Tea Ceremony. It will be performed by artist and Chado practitioner Philippe Nault, along with an introduction to its origin, its evolution and its philosophical development as a "transformative practice". A discussion on green tea, a brief review of Hawai`i green tea cultivation and production will follow.
The series can be attended for $60 (VAC members) or $75 for non-VAC members.  Individual workshops can be can be attended for $25 each. The first twenty members to register for all three workshops receive A Taste of Tea & Pottery ticket on Aug 25th for half price!  Registration is limited, call 967-8222 to register today! To purchase tickets, enroll for the workshops, or get more information about our August 25th A Taste of Tea & Pottery event call Volcano Art Center at 808-967-8222.
Proceeds from these special events will be used to help support the "Fire Arts" Program at VAC which includes ongoing ceramics and glass classes and workshops at the Volcano Art Center. The Volcano Art Center is dedicated to offering these programs which, in part thanks to funds raised, are now expanding and include high-fire pottery, flame-worked glass, and stained glass, and ceramic classes for students of the nearby Volcano School of Arts and Sciences.