Join us! Volcano Art Center is now seeking Board Members. See details and information on how to apply below:
Scope/Responsibility
The scope of responsibilities will be determined based upon experience but will likely include:
Regularly attend Board meetings, which are usually held monthly and last about two hours.
Chair a committee and/or actively serve on at least one committee.
Take an active role in reviewing VAC's operating and capital budgets, monitoring budget execution through monthly financial statements, and reviewing the annual audit.
Actively participate in the planning process by identifying and clarifying specific organizational goals and actions needed to achieve these goals.
Be active in personally contacting donors in major fundraising campaigns.
Make a yearly cash donation beyond annual membership dues according to the member's means.
Attend a one-day Board retreat each Spring.
If possible, volunteer to participate in at least two Volcano Art Center activities each year.
Attend, observe and provide feedback on at least two additional Volcano Art Center activities each year.
Provide adequate resources and support to the Executive Director to carry out the day-to-day operations of the organization.
Assess whether you meet your Board responsibilities during the year.
Click here for the downloadable application form! Please email the completed form to director@volcanoartcenter.org.
Volcano Art Center Board of Directors
William Hamilton, President, was born in 1947 and grew up in the Portland, Oregon area. He was drafted in the U.S. Army in 1966 and spent several years as an Engineer Company Commander with duty rotations in Vietnam, various locations in the Pacific, and a tour in Iraq. After release from active duty, Bill remained in the military reserve while operating his own construction business on Maui. As business slowed he turned to woodworking, furniture making, restorations and a variety of wood crafts. While on Maui, Bill was an active members of the Chamber of Commerce, Maui Historical Society and Maui Visitors Bureau. Bill is an active member in Volcano Rotary and VFW along with volunteering at Cooper Center.
Anne Marie LaRosa, Vice President, a retired from the US Fish and Wildlife Service and has been a member of Volcano Art Center for over 10 years. Now that she is retired, she would like to help the board. A lover of art, she has extensive management and organizational skills which will greatly benefit VAC as a whole. Active community member served on Fundraising Committee for Volcano School of Arts and Science 2004- 2008, Kodiak Bear Trust, Trustee 2014 – 2016.
Barbara E. Dunn, Treasurer is a retired director and librarian of the Hawaiian Historical Society, with years of experience serving on non-profit boards. Her areas of interest while serving on Volcano Art Center's board include grant writing, finance, and accounting.
Hugh Jenkins, Former Board Chair, was introduced to glass blowing in 1969 in Honolulu. Hugh went on to introduce glass to the Punahou art department in 1972, taught jewelry arts there for 26 years and served for 6 years as Punahou's dean of students. He came to the Big Island in 1999 as part of an art and science education program and settled in Honoka'a, establishing a glass blowing studio and gallery with his wife. They have had 3 exhibits at VAC and participated in many other activities with demonstrations and donations. Over the years Hugh has taught classes at Penland School of Crafts. He is a founding member of Bioglass, a non-profit research and information group dedicated to energy efficiency in the fire arts. He has been a presenter at Glass Art Society conferences and given presentations in Australia and Canada at professional glass meetings. For the last 3 years he has represented the Big Island on the board of Hawaii Craftsmen. He would bring technical and organizational experience to teaching programs, facility management, and communication with statewide and national craft organizations. He has committed his professional life to education and the arts.
Hugh has been chairman and guiding force providing guidance and stability at the Volcano Art Center through a turbulent time.  Hugh will be remaining an active member of the board continuing support for facilty improvements and increased programs.
Julie Williams, Secretary, received a B.S. in biology from Temple University in Philadelphia and an M.S. in botany from UH Manoa. Following a decade of fieldwork in Hawai'i's forests, Julie became the director Keakealani Outdoor Education Center in Volcano, providing environmental education programs for students statewide for 18 years. Her board service includes Friends of Hawai'i Volcanoes National Park, Volcano School of Arts and Sciences and six terms for Volcano Art Center. She presently serves as coordinator for the Niaulani Sculpture Garden, on the forest committee, programs committee, and volunteer coordinator.
Ken Charon was born in New York in 1954 and traveled to Europe with his family at an early age. There, he studied art at the Academie Julian in Paris, as well as in Switzerland and at CCAC in California. Since moving to Hawaii in 1984, Ken's paintings have been exhibited throughout the state and especially on the Big Island where he has won many awards. Ken enjoys working with Hawaii's children and has done so since 1986 with the Artists in the Schools Program, as well as in private lessons and summer camps. He has also worked with the developmentally and physically disabled with VSA arts. Ken lives and works at the Art Farm near Kurtistown. His distinct style illustrates a variety of images, including portraits, Hawaiian landscapes, endangered species, and thought-provoking dreams in minute and  colorful detail. His work has been exhibited internationally and is in private collections in the United States and Europe including that of past Vice President Al Gore and President Barack Obama.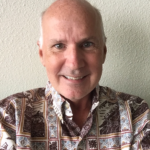 Jeff Davis has lived in Hawaii on and off since 1981, spending the "off" years in California but is originally from Texas. Jeff knew he wanted to live in Volcano from the first time he visited in 1989 and is familiar with the area already from frequent visits over the past 30 years. Jeff has worked with the Honolulu Symphony, Hawaii International, and Palm Springs Film Festivals in Development roles, the San Francisco Symphony as External Affairs Manager and was the Director of Events at the Honolulu Museum of Arts. Currently, he is on the Honolulu Printmakers Board of Directors and a past member of the Aloha Festivals Board.  He possesses a solid background in the areas of Development, Community Relations, and Administration. In his free time, Jeff enjoys documentary and independent films, art openings, photography, architecture and design, hiking, bicycling, the outdoors, all types of local food, travel, reading, and social groups.
Joan McDonald is a retired professional educator and past CEO of Girl Scouts of Maine and Central California. Ms. McDonald brings to VAC a strong background with specific non-profit organizational education from Harvard Business School in accounting, volunteers, and fundraising.  Ms. McDonald is also active in our Volcano community as a member of the Volcano School of Arts & Science board of directors.
Philippe Nault was born in France in 1948 and is an abstract painter whose work is internationally represented. His paintings essentially address the perception of nature and the world in general as a landscape of self, a core concept in his personal research. Mr. Nault has also produced a number of large scale works and acts periodically as a consultant for architectural projects involving cultural coordination and interpretation of public art.  He says, "I believe that art has a role, to stimulate the expansion of the observer's consciousness beyond the limits of an ordinary perception of the world and of self."
Ted Pirsig has acted as our accounting manager for over two years and has been active in the operations and management of charter schools on Oahu and Hawaii. After retiring from a commercial neon sign business Mr. Pirsig has focused his energies in accounting working with the state agency overseeing charter schools in Honolulu.  Mr. Pirsig is also a member of the Volcano School of Arts and Science board of directors.
Tad Sewell is a retired businesswoman and former Judge for the Garden Club of America, where she taught and entered shows all over the United States and Europe. She was previously a member of the Board of Directors and served as Chair of the Board for several years. She is also a golfer and former president of the Noe Noe Gold Club. Tad was a Trustee for the Kapiolani Hospital and Pali Momi Hospital on O'ahu for eleven years and was on the steering committee for Iolani School. She is still a Board member of the Kline Welsh Treatment Center on O'ahu. Tad is also a jewelry artist and is known for her colorful and intricate beaded necklaces; some of her work is on display at the Volcano Art Center Gallery. After taking a break, she rejoined VAC's board in 2014.
Jesse Tunison is a photographer, cinematographer, and producer based on the Big Island of Hawai'i. In 2008. Jesse began working as a professional photographer and producer. By June of that year Jesse also began to produce his first independent full-length film entitled, "Rx." Rx was released two years later in 2010. Since 2010, Jesse has worked on an array of small projects from creating advertising campaigns for small businesses in Hawai'i to photographing for large corporate companies in the U.S. mainland and creating magazine content. Jesse has also worked alongside Hawai'i's recording artists from traveling on the road with the artists to creating album covers and has worked with our VAC website development team for photography and our online gallery and promotional materials.
Doug Wilson spent over 45 years in the trust business. He was a senior vice president in First Hawaiian Bank's Trust & Investments Division until his retirement in 2004 when he moved to Volcano. Doug currently provides consulting services to executors and trustees through his firm, Trustee Consulting, LLC. He received his MBA from Pepperdine University and a BA in economics from the University of Hawaii. He participated in the advanced program Leadership and Decision – Making in Organizations through the Yale School of Organization and Management – Advanced Management Studies at Yale University, and is a graduate of the Pacific Coast Banking School (Trust) at the University of Washington. He received his certification as a financial planner (CFP) from the College for Financial Planning in 1985 and is a Certified Trust and Financial Advisor (CTFA), a designation conferred by the Institute of Certified Bankers. Doug currently serves as President of the Hawaii Tax Institute Foundation, is Treasurer of the Pacific Health Research & Education Institute, and is the Incident Commander under the Volcano Emergency Response Plan. Doug has served on the boards of Diamond Head Theatre (Chairman), Hale Kipa (President), Pacific Health Research Institute (Vice Chair, Treasurer), Honolulu Symphony Society, Hanahauoli School (Treasurer), Hawaii Institute for Orchestra and Ensemble, Royal School, Hawaii Head Start Association, PlannedParenthood, City and County of Honolulu Pension Board, Volcano Art Center, Hawaii Island United Way, Big Island Amateur Radio Club and Hawaii Society of the Institute of Certified Financial Planners.
Jim Wilson is a retired publisher of Hawaii Tribune-Herald. Mr. Wilson has been an active member of the East Hawaii business community, a returning past president of the Volcano Art Center and member of the organizing committee for Experience Volcano.  Mr. Wilson is involved with a number of community organizations including Hawaii Island Chamber of Commerce, Rotary Club of South Hilo, Hospice of Hilo and the Pacific Tsunami Museum board of directors.