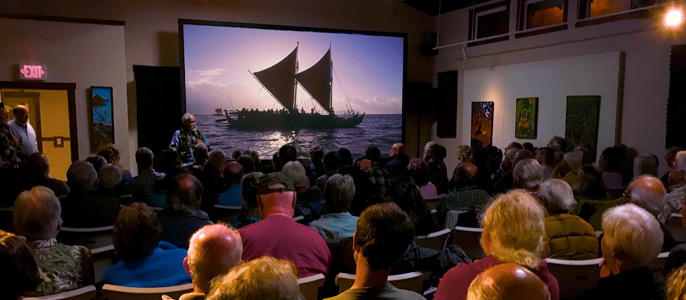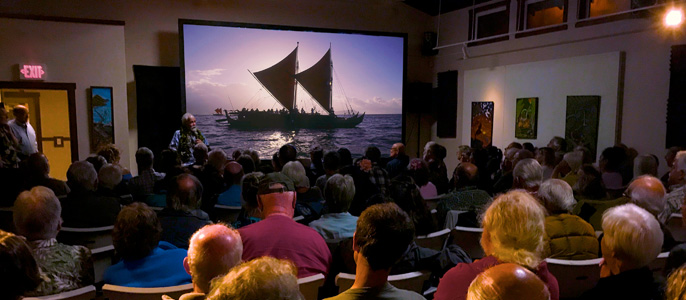 Monday Movie Nights start at 7pm and feature movies ranging from local films to Hollywood blockbusters, old and new. Movies are FREE but a $5 donation per-person is appreciated. Popcorn, soft drinks, beer and snacks are available for purchase!
Movie Lineup 2019
September 16th:
Malena (2000, Not rated)
September 23rd:
Apocalypse Now (1979, R)
September 30th:
The Chumscrubber (2005, R)
October 7th:
The Wolfman (2010, R)
October 14th at 6pm*:
Moananuiakea: One Ocean, One People, One Canoe (Local Documentary, 2019)
October 21st:
Tim Burton's Sleepy Hollow (1999, R)
October 28th:
The Mummy (1999, PG-13)
November 4th:
From Russia with Love (1963, PG)
November 11th:
The Godfather (1972, R)
November 18th:
Pride and Prejudice (2005, PG-13)
Christmas Movie Special on December 23rd*:
Stardust (2007, PG-13)
WINTER BREAK
Monday Movie Nights will return on March 2, 2020
Film titles, dates & times are subject to change. For weekly updates and reminders please sign up for Movie & Entertainment email updates from The Volcano Art Center on our website!
Monday Movie Nights are held weekly at Volcano Art Center's Niaulani Campus in Volcano Village at 19-4074 Old Volcano Rd! Or call us for more information at (808) 967-8222
If you are a local filmmaker and want to submit your film or project to be screened at our venue let us know!