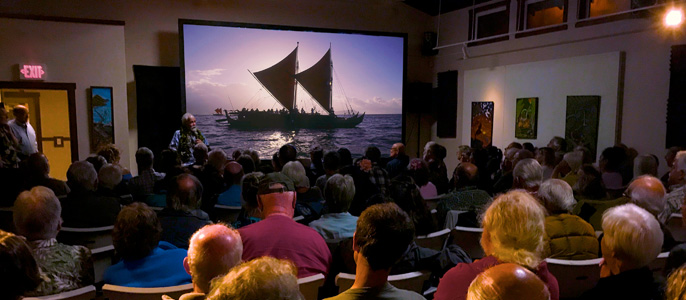 Monday Movie Nights start at 7pm and feature movies ranging from local films to Hollywood blockbusters, old and new. Movies are FREE but a $5 donation per person is appreciated. Popcorn, soft drinks, beer and snacks are available for purchase!
Movie Lineup 2020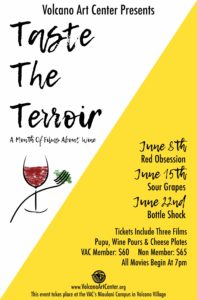 Inspired by the success of last year's wine movie month at the Volcano Art Center we are proud to bring back a month of movies about wine accompanied by tastings in the series, Taste Of The Terroir.
Taste Of The Terroir will feature three films selected by Jesse Tunison that highlight the dynamic and competitive world of wine and viniculture across the globe.
The first movie in the series is "Red Obsession." This film features and highlights the proud Bordelais (inhabitants and producers of French wine) who manage their precious vineyards (terroir) and have had to deal with an expanding Chinese wine market that has broken conventional rules and traditions that the Bordelais have embraced for thousands of years.
This film will feature tastings of French Bordeaux and a Chinese-style Bordeaux.
The second film of the Taste Of The Terroir series is "Sour Grapes." In this film we take a look at a wine theft and fraud that featured a perpetrator who swindled thousands of people and millions of dollars in the high end wine market. This international fraud spanned the globe from France to Malaysia, Los Angeles to New York where many people got duped!
The final film in this series is "Bottle Shock." This drama and comedy is based on the true events that made Napa, California a famous wine region. A highbrow Englishman and wine educator Steven Spurrier, played by Alan Rickman, travels to California to see if the hippies of California's Bay Area are indeed making wine that rivals the French. What he finds in the golden hills of California will surprise him. Although we won't be serving the famous 1976 vintage, we will indulge in its modern day counterpart alongside some California reds.
Tickets are limited for this highly anticipated series. Your ticket includes four full pours of wine as well as access to the themed pupu table for the film of the evening. 
Film titles, dates & times are subject to change. For weekly updates and reminders please sign up for Movie & Entertainment email updates from The Volcano Art Center on our website!
Monday Movie Nights are held weekly at Volcano Art Center's Niaulani Campus in Volcano Village at 19-4074 Old Volcano Rd! Or call us for more information at (808) 967-8222
If you are a local filmmaker and want to submit your film or project to be screened at our venue let us know!