May
13
Sat
2023
Paint Your Own Silk Scarf: Mothers's Day Edition with Patti Pease Johnson
May 13 @ 9:00 am – 12:30 pm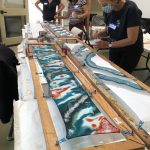 Mother's Day Edition-Paint Your Own Silk Scarf with Patti Pease Johnson
A great gift! Just in time for Mother's Day. Big Island artist and instructor Patti Pease Johnson teaches the Paint Your Own Silk Scarf workshop on Saturday,  May 13, 2023, from 9:00am-12:30pm at Volcano Art Center.
In this workshop, you'll paint your own 8" x 53" scarf using three colors of your choice, which will create many more colors on the silk. Pick a main color, then, choose the other two after learning about color theory. You'll then be ready to mix your desired colors, achieved by pre-mixing the four process colors of dye (cyan, magenta, yellow, and black). Students from previous classes have been amazed by what they refer to as "happy color accidents."
Johnson will tell you, "It's all about playing with colors. I supply all materials and guidance, you create. The fun time is your art journey for a few hours." Beginner and intermediate artists are welcome. Open up your creativity and challenge yourself by learning this fun technique. It's guaranteed to change the way you look at color.
In the final hour, students will use hot wax with the tjanting tool on Habotai silk to outline your more representational design and create a resist line for the dyes. Then you will paint and mix colors on the 10" x 10" silk artwork.
Cost is $75/ $70 for VAC members plus a $15 fee per person, inclusive of supplies. For more information or to register call VAC at 808-967-8222 or visit www.volcanoartcenter.org.

Jun
10
Sat
2023
Soft Pastel On-Site Landscape Painting with Patti Pease Johnson
Jun 10 @ 9:00 am – 12:30 pm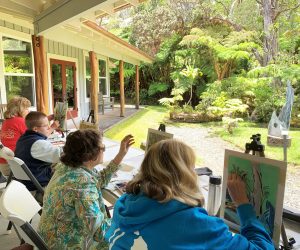 Enjoy the outdoors and take your painting beyond the four walls of a classroom in the Pastel On-Site Landscape Paintingworkshop with Patti Pease Johnson on Saturday, June 10, 2023, from 9am – 12:30pm at Volcano Art Center Niaulani Campus in Volcano Village.
You'll receive step by step instruction in a proven rotational method for success, starting with form and fill, moving to value of black and white, then color. Your own natural style is brought to the surface. All materials will be supplied along with guidance and inspiration for your creative journey.
Initial discussion includes pastels types, papers, fixing and mounting. Then, use newsprint to get the flow of arm movements to keep loose. Next, you'll form shapes, and move into colors on sanded pastel paper. Learn to exaggerate and be bold with colors, and the value of using the lightest lights and the darkest darks. Grow your knowledge of composition, color and correcting problems.
Students will complete one 9×12" project. Weather permitting, the workshop will take place outdoors at Niaulani. Otherwise, the workshop will be held indoors with a reference photo.
Cost for the workshop is $75 and $70 for VAC Members plus a $15 supply fee.  Beginner and intermediate artists are welcome. For more information or to register call VAC at 808-967-8222
Patti Pease Johnson's artwork can be found at galleries and shops across the State and in collections around the world.

Jul
8
Sat
2023
Poured Watercolor Floral Contrast Workshop with Patti Pease Johnson
Jul 8 @ 9:00 am – 12:30 pm
Poured Watercolor Floral Contrast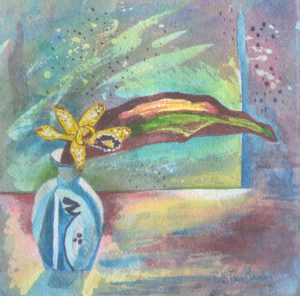 In this workshop, you'll draw, mask, pour, mask, and pour again, then detail with specific watercolor techniques of gradation, drybrush, negative painting, stencil lifting. Students create an 8 x 10" painting on cold press 140 lb. watercolor paper, by working from light to dark in 4 stages.
A still life floral photo is provided in color and gray tones to show values patterns of light, midtones, and dark. Completion of each stage will be done step by step together with the instructor.
Big Island artist and instructor Patti Pease Johnson says, "It's about being both free with yourself for the pours, which are always a surprise, then disciplined for the details of the main flower, followed by abstraction qualities to complete the background. I think the final painting is complemented by the contrasts."
This workshop will be held on Saturday, July 8, 2023, at the Volcano Art Center, Niaulani Campus. Beginner and intermediate artists welcome. Patti supplies all materials along with focused guidance and inspiration for this process along with some handy tips for your creative journey. Cost for the workshop is $75/$70 for VAC Members plus a $15 supply fee per person.  For more information or to register call VAC at 808-967-8222