Hilo Jazz Orchestra Frank Zappa Tribute

The Volcano Art Center's Sounds at the Summit series continues on Saturday, January 25, 2020, at 5:30pm at Volcano Art Center Niaulani Campus in Volcano Village featuring the Hilo Jazz Orchestra.
When Big Island musician and composer Trever Veilleux picked up the baton in 2009 to become the director of the Hilo Jazz Orchestra at the University of Hawaii. Hilo the band was mainly performing the type of jazz standards that are typically part of college band repertoire.  However, it was not long before Veilleux was including pieces from his hero, Frank Zappa, into the band's sets. Encouraged by the enthusiastic response to Zappa's music from both the band and its audience, Veilleux decided to try a full concert of Zappa's music in 2013. That first Frank Zappa tribute concert was such a success that it has since become an annual tradition playing to sold-out audiences on Hawaii's Big Island every year since.
"This band is one-of-a-kind," says Noam Akiba-Hajim, saxophonist and vocalist who has spent several years playing in the Orchestra. "There is no other group (that I know of) that accepts musicians from all walks of life. We have students and teachers, scientists and career musicians, all coming together to produce music at a high level. There is nothing else like it."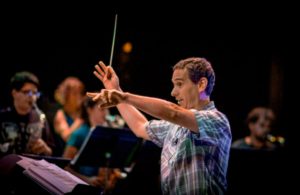 The Hilo Jazz Orchestra has enjoyed international recognition for their exciting performances of Frank Zappa's music and they have been invited to Germany to perform at the Zappanale music festival in summer 2020.  In 2017 Frank Zappa's son and Grammy award-winning guitarist Dweezil Zappa came to Hilo to perform with the band. The Hilo Jazz Orchestra is the subject of the documentary film Zappa U which follows the band in the months leading up to their 2016 Frank Zappa tribute concert.
"Holy Mother Frikkin Mouse Ears!!  WAHOO– last night (i think somewhere during Wazoo)  i got as happy as i ever could possibly be in this life span…Everything was workin'– all your pistons were firing– & there were some VERY inspired solos" — Cheryl "Quack" Moore, Emmy winning composer, Musical Director Saturday Night Live 1986-1999
"Every semester, I think that Trever Veilleux and the Hilo Jazz Orchestra can't do a better show than the one they did before, and every semester they prove me wrong. Without a doubt, tonight's performance, a program of Frank Zappa music is absolutely the best show they've done to date." –John Burnett, Hawaii Tribune-Herald
"Love their passion, love their playing; love that this happens every year!"  –Ahmet Zappa
Tickets are $20 for VAC members ($25 non-members)! Ticket holders will be able to purchase beer, wine, as well as pupus. Tickets are available for sale online, at VAC's Administration Office in Volcano Village and VAC Gallery in Hawai'i Volcanoes National Park. The last day to purchase tickets online is Friday, January 24. After that, tickets will be sold at VAC Gallery & at the door if they are not sold out. Tickets will be held at Will Call on the day of the show. OR, you may pick them up any day before the show at Volcano Art Center's Niaulani Campus Administrative Office, Monday through Friday, 9am-5pm.
To learn more about Hilo Jazz Orchestra, visit hilojazz.com
LIMITED TICKETS AVAILABLE. Please call for more information.