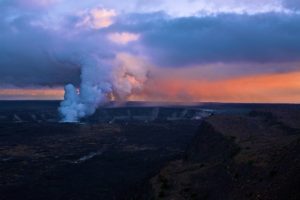 Thursday Night at the Center: Moving On: Stories from the Summit
Thursday, July 18, 2019 | 6 – 8pm
Shared stories are one way a community better understands itself, recognizes common concerns and connections, and strengthens its identity. Kīlauea has generated many human stories, past and present.
The largest eruption of Kīlauea in 200 years (May-August 2018) inspired this past January's community story-telling event, Stories from the Summit, a program of personal accounts of the eruption that drew a packed house to the Volcano Art Center's Varez Hall. 
In July 2019, building a new tradition of telling our stories to each other, a second program in the series will be held in VAC's Varez Hall on Thursday, July 18, 2019 from 6-8pm. The theme of this upcoming storytelling session is Moving On, accounts of ongoing recovery and regeneration.
Nothing conveys these perceptions and changes better than the tales told by those who have chosen to live or work in locations most affected by Kīlauea's dramatic changes.  We've survived the Summer of 2018 and are remaking our lives, to thrive in the light of our renewed understanding of what it means to live on an active volcano.
This event is free, although a $5 donation to Volcano Art Center is greatly appreciated. For more information, please call VAC at (808) 967-8222 or visit www.volcanoartcenter.org.
This evening is part of a once-a-month Thursday night series at the Volcano Art Center, focusing on art, Hawaiian culture and our environment.  The series is intended to inspire and enhance your appreciation of art and life experience, while fostering community connections.