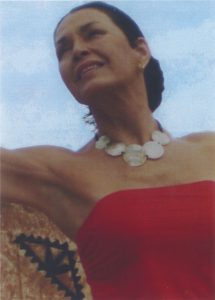 Hula Voices featuring Sammi Fo 
Wednesday, June 5 | 5:30-7pm
Hula Voices is an engaging, intimate "talk story" session with Hawai'i's hula practitioners & musicians.  This month features Hula practitioner Sammi Fo, with moderator Desiree Moana Cruz. These free, educational offerings occur regularly on the first Wednesday of each month, from 5:30-7pm at the Volcano Art Center Gallery in Hawai'i Volcanoes National Park.
Although born and raised in Hawaiʻi, Sammi Fo began her hula career in an unexpected place – New York City.  She first danced hula at the famous Hawaiian Room at the Lexington Hotel.  Her teacher was Uncle Keola Beamer, (brother of Nona Beamer).  She went on to dance hula at the Hawaiian Room in Hollywood, CA, in Don Ho shows in Las Vegas and Los Angeles, as well as across the Hawaiian Islands, from Waikiki to Molokaʻi and Maui.   According to Fo, "Hula has been a gift to me in my life. I love Hula and am still dancing, a kupuna, professionally."
Join us for an engaging, informative, and fun hour as our guests share their hula genealogy, including the traditions, experiences, inspirations for songs, chants and Hawaiian choreography.