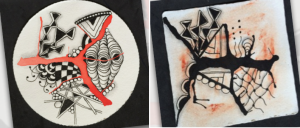 The very core of Zentangle® is the "string" and the Ink Blown Strings workshop takes this primary ingredient to a wildly new creative level. Drawing a string is often a roadblock for people who start tangling on their own, but this method is totally random and beautifully spontaneous. It all begins with a blob of ink, a straw and a breath of air! 
In Zentangle®: Ink Blown Strings instructors Lois and Earl Stokes will talk about the theory behind the string and they'll teach the techniques behind creating a string without fear or hesitation. The idea is to get the string down and start tangling without a lot of thinking or planning. You'll also explore the ink blown method for creating strings and tangling around these ink blobs and fingers to create whimsical works of Zentangle® inspired Art. 
Zentangle®: Ink Blown Strings will be offered at Volcano Art Center' Niaulani Campus on Saturday, April 18, from 10am – 1pm. The fee is $30 for VAC Members and $35 for non-members. There is also a $10 supply fee. Light refreshments are provided. For more information please call Volcano Art Center at 967-8222 or visit www.volcanoartcenter.org. Zentangle®: Basics is a prerequisite for this class. 
Instructor Lois Stokes reminds us all, "There are no "levels" of Zentangle just levels of concentration." How very Zen.
This workshop is full. Please contact VAC to be placed on a Wait List. 
To see other fun workshops, events and classes visit our event calendar!