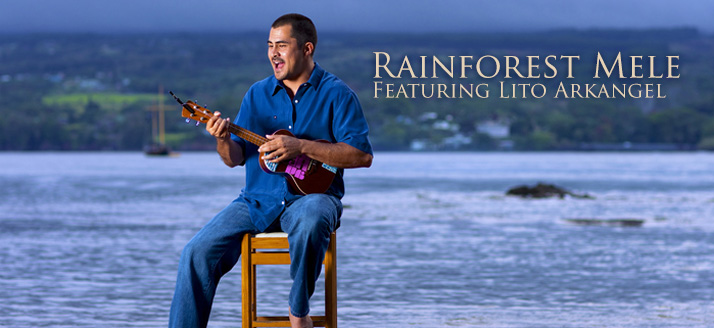 CANCELLED – Please check back for updates! 
Music nights are back at the Volcano Art Center! Lito Arkangel will be kicking off the Volcano Art Center's new music program "Rainforest Mele." Lito will be performing songs from his latest album "Me Ke Aloha." Lito's music consists of classic contemporary/traditional Hawaiian songs that not only reveal Lito's heart and soul, but also perpetuate the true and authentic beauty of the Hawaiian culture through music.
Lito will be performing on September 23rd at 4:30pm and 7:30pm. Tickets are $20 VAC Members or $25 Non-Members and are available at VAC's Niaulani Campus Administrative Office, VAC Gallery in Hawai'i Volcanoes National Park, and online!
Lito will be accompanied by Adam Kay on bass and Dwight Tokumoto on guitar, with hula performed by Pua Kalaui-Kahoonei.
'Ōhelo Café will sell pupu plates. Beer and wine will also be available for purchase.
Born and raised in the small plantation town of Kea'au(Ola'a) on the Big Island of Hawai'i, Lito Arkangel has been involved in music most of his life and has been entertaining in Hawai'i professionally since 1999. Working his way from the backyard jam-sessions of Hawai'i, Lito has become well known established full-time entertainer/musician.
Lito is also a devoted husband and father of three children, a US Navy Persian Gulf Veteran(USS 'Obrien DD-975), a University of Hawai'i at Hilo graduate and also coaches Pony League Baseball and T-ball for the Keaukaha sports program. Lito is also currently lecturing in three departments at The University of Hawai'i at Hilo: Ka Haka 'Ula O Ke'elikōlani College of Hawaiian Language, Kinesiology, and Performing Arts. Refusing to make teaching a full-time occupation, Lito believes he is making a bigger impact on the youth of Hawai'i by focusing on his passion for music.
Working with Grammy award winning Producer/Musician-Charles Brotman(Palm Records), Lito's album consists of classic contemporary/traditional Hawaiian songs that not only reveals Lito's heart and soul but also perpetuates the true and authentic beauty of the Hawaiian culture through music. Lito will be featuring music from his album "Me Ke Aloha"
Purchase tickets online here: