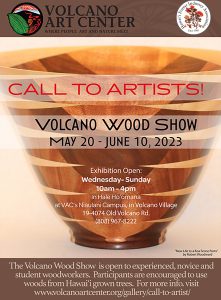 VAC is now accepting online submissions to the 2023 Volcano Wood Show Exhibition through Sunday, April 30th.
Calling all woodworkers in Hawai'i! Volcano Art Center invites all woodworkers to participate in its inaugural biennial juried wood show, Volcano Wood Show Exhibition.
The show is open to experienced, novice, and student woodworkers. Participants are encouraged to use woods from Hawaiʻi grown trees, endangered woods are not permitted.
For the complete prospectus please visit
 www.volcanoartcenter.org/gallery/call-to-artist/
The show opens on Saturday, May 20, 2023, and continues through June 10, 2023. The show is open to the public Wednesday – Sunday, 10am – 4pm at Volcano Art Center Niaulani Campus in Volcano Village. The exhibit will also be featured online at www.volcanoartcenter.org.
This three-week event aims to feature the various wood artists in our community who produce individual one-of-a-kind works using indigenous Hawaiian and exotic woods. Held in the Dietrich Varez Hall at VAC's Niaulani Campus the exhibition presents a wide range of wood items including furniture, sculptures, and bowls. Funds generated from the show will contribute to the development of Volcano Art Center's future classroom and wood shop facilities.
This years biennial exhibition will be juried by members of the Hawaiʻi Forest Industry Association.
 More information about VAC and the exhibition can be found at www.volcanoartcenter.org.