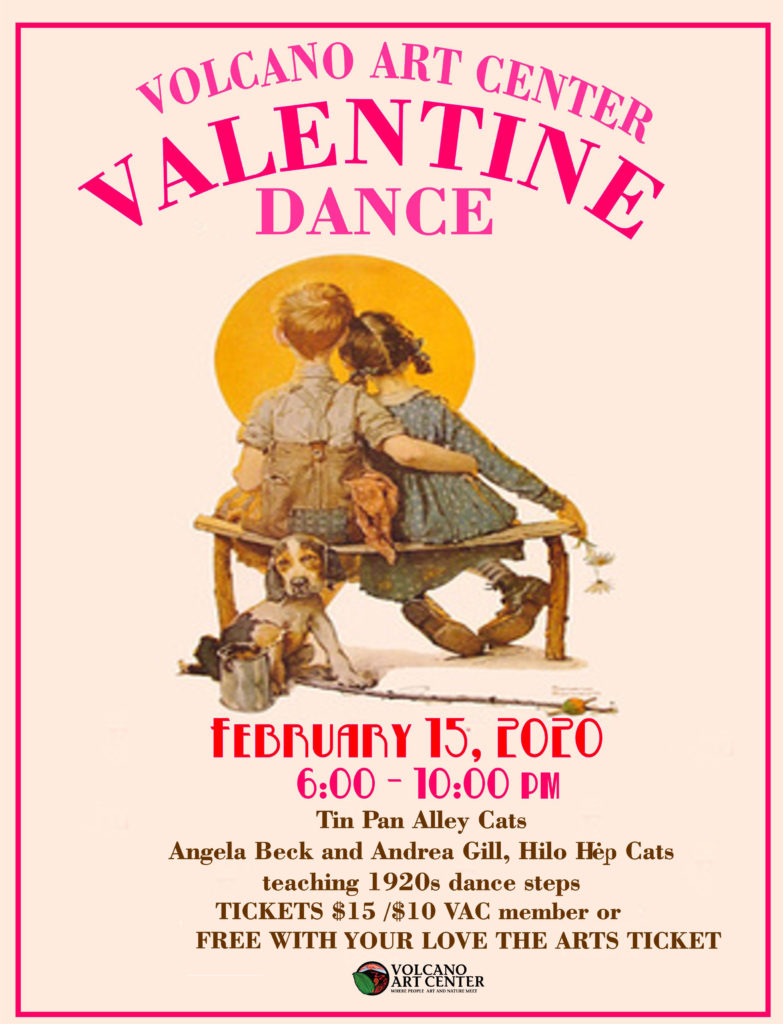 Love the Arts Valentine's Day Dance: The Roaring 2020s 
Volcano Art Center invites you to a special Valentine's Day dance celebrating "The Roaring 2020s" on Saturday, February 15, 2020 from 6 – 10pm at the Niaulani Campus in Volcano Village. There's nothing like the vivid music of the 1920s to ring in the 2020s. So the Tin Pan Alleycats – the Big Island's stellar performers of vintage jazz and swing – will perform the biggest hit songs of the 1920s. Period costumes are encouraged! The show starts at 6pm with the Tin Pan Alleycats. Angela Beck and Andrea Gill of the Hilo Hep Cats will teach 1920s dance steps such as the Charleston and Lindy Hop during the band's breaks at 7 and 8:30pm.
The Tin Pan Alleycats are dedicated to showcasing this vibrant musical heritage because "The songs of 'the Roaring Twenties' are full of dynamic energy," says Hal Glatzer. "They were on the cutting edge then, and yet they still pack a punch today." Glatzer is a retro guitarist and vocalist. His previous bands, including Le Hot Club de Hilo and The Hot Shots, have been popular across the Big Island for more than ten years.
"These songs celebrate women who had just gotten the vote, and felt free to 'bob' their hair and wear short skirts. And they were generally opposed to the prohibition of alcohol, too," said pianist and singer Leslie Harlib. "They did all this with syncopated rhythms and outrageously clever lyrics. They are songs that make dancers jump for joy and audiences, even today, go wild." Harlib is a singer and pianist with a wide repertoire and exciting keyboard skills. She has been featured many times on Hilo's Black & White Nights, and has recently performed solo at the Blue Dragon, and at Gertrude's in Kailua-Kona.
Asked about the 'Twenties, Jean Pierre Thoma smiles. "Oh, I remember the gala parties at Gatsby's mansion," he says. "What great bands we had!  Well, the Tin Pan Alleycats are in that tradition: recreating the hot music of the 'Roaring Twenties." Thoma has played woodwinds in bands big and small, all over the island; and is perhaps best known as leader of The Jazztones, and the Jazz in the Forest concert series at Volcano Art Center.
To Mark Caudill, "The twenties means economic prosperity and artistic freedom, which you can feel in the songs. They are the foundation-stones of jazz, and are still so widely performed that they're popularly called 'standards'." Caudill has been playing violin since age seven, but admits, "I didn't fall in love with the standards until I was in my forties. Now, I can't get enough!"
Tickets for this event are $15/$10 VAC members or FREE with your Love the Arts: The Roaring 2020s ticket from Saturday, February 8.