When:
August 26, 2023 @ 9:00 am – October 1, 2023 @ 5:00 pm
2023-08-26T09:00:00-10:00
2023-10-01T17:00:00-10:00
Where:
Volcano Art Center Gallery
Hawaiʻi Volcanoes National Park
Hawaii Volcanoes National Park, HI 96718
USA

Cost:
Free event although park entrance fees apply.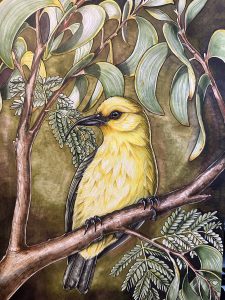 Hawaiʻi Nei Invitational Exhibition will be on display until October 1st, 9 am – 5 pm, daily at the Volcano Art Center Gallery in Hawaiʻi Volcanoes National Park.
The multi-media exhibition showcases seven outstanding artists who were selected from the Hawai`i Nei 2022 Art Contest celebrating Hawai`i Island's native species held at Wailoa Art Center. The artists including Kathy Sprinkle, Robert Peck, Saxony Charlot, Aleysia Ray Kaha, Janee Weddell-Hespenheide, Aly Kat, Jillian Marohnic, and Dawn Sagar were challenged with exploring the theme of Chiaroscuro, the use of strong contrast between light and dark, usually bold contrasts affecting a whole composition.  It is also a technical term used by artists and art historians for the use of contrasts of light to achieve a sense of volume in modeling three-dimensional objects and figures.
Visit the VAC Gallery to see how the artists expressed this theme through their art of Hawaiʻi's native species or landscape found within Hawai'i Volcanoes National Park. For those who can not attend the exhibition in person, it may also be viewed online at www.volcanoartcenter.org

Volcano Art Center is a 501(c) 3 nonprofit organization created in 1974 whose mission is to promote, develop and perpetuate the artistic, cultural and environmental heritage of Hawaii through arts and education. Please visit www.volcanoartcenter.org for more information.