Volcano Art Center presents: 2018 Hula Arts at Kīlauea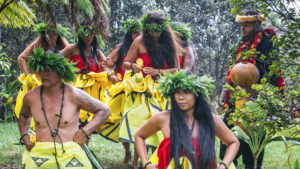 Hula Kahiko
(10:30am – 11:30am)
Typically held on the 3rd (or sometimes 2nd) Saturday of each month, hula hālau from across Hawaiʻi have been invited to perform in a one-of-a-kind outdoor setting at the kahua hula (platform) in the Hawai`i Volcanoes National Park. This special site was realized through the vision of (the late) hula master Edith Kanaka`ole, kumu hula of Hālau o Kekuhi. The kahua hula is located just a short walking distance from the Volcano Art Center Gallery in an area known as Ka'auea. This sacred spot affords the kumu (master) and haumana (student) a pristine view into Halema`uma`u, the home of volcanic deity Pelehonuamea. This schedule is subject to change.  Please check with Desiree at (808) 987-7288 or email volcanohula@gmail.com  to confirm dates.
Jan. 20 – Pelehonuamea Harman and Kekoa Harman – Halau I Ka Leo Ola O Na Mamo
Feb. 17 – Yuki Ka'ea Lyons and Lily Kahelelani Lyons Dudoit – Halau Ka'eaikahelelani*
Mar. 10 – Pele Kaio – Unulau
April 14 – Kini Kaʻawa   – Kua O Ka La Public Charter School*
May 19 – Wahineaukai Mercado – Ke Ana La'ahana Public Charter School*
June 23 – Kumu Hula Leilehua Yuen and Manu Josiah
July 21 – Moses Kaho'okele Crabbe – Halauolaokalani
August 18 – Iwalani Kalima – Halau Kou Lima Nani E
September 15 – Paul Neves – Hālau Haʻa Kea o Kinohi
October 13 – Liana Aveiro – Hālau Malanai
October 20 – Chrissy Kama Henriques & Leilani Taka-Keanaʻaina – Hula Hālau E Hulali Mai Ka La
November 3 – Micah Kamohoaliʻi – Hālau Na Kipuʻupuʻu
November 10 – Kaʻea Lyons and Lily Kahelelani Dudoit – Hālau Kaʻeaikahelelani
November 17 –  Haʻamauliola Aiona – Ke Kula 'O Nāwahīokalani'ōpuʻu Public Charter School
December 15 – Kapuaokalaniikapoliopele Kaʻauʻa – Unuokeahi
Nā Mea Hula – Arts and Traditions of Hula
Held in conjunction with hula kahiko performances,  join Kumu hula Moses Kahoʻokele Crabbe with Halauolaokalani or Native Hawaiian cultural specialist Loke Kamanu and her ʻohana on the lanai of the Volcano Art Gallery as they share with you "Nā Mea Hula" (all things hula).  Come and learn a hula, use various hula implements and try your hand at lei making.  Experience the different aspects that play an integral role in the life of the hula dancer.  These cultural demonstrations are hands-on and family friendly and occur from 11am -1pm on Hula Kahiko performance days.
Nā Mea Hula with Kumu Kaho'okele Crabbe with Halauolaokalani
Feb 17, Apr 14, June 23, Aug 18, Oct 13, Dec 15
(11am-1pm)
Nā Mea Hula with Loke Kamanu and ʻohana
March 10, May 19, July 21, Sept 15, Nov 17
(11am-1pm)
These free events are supported in part by a grant from the County of Hawai`i, Community Enrichment Program and individual funding from members of the Volcano Art Center's ʻohana.  However, National Park fees apply.  Anyone who requires an auxiliary aid or service for effective communication or a modification of policies and procedures to participate in this event should contact VAC at (808) 967-8222 or email volcanohula@gmail.com as soon as possible but no later than 14 days before the scheduled event.