Volcano Art Center invites sculptors to submit designs for the second installment in its Ni'aulani Sculpture Garden in Volcano Village.

INTERPLAY – Art: Science
Sculptural works inspired by Nature, informed by Science, expressed as Art 
Speaking about the theme of this exhibit, a local artist commented:  "Sculptors are uniquely suited to this particular task. For the most part, we use media formed by the forces of nature – stone, metal, wood, clay, glass, we are very grounded in our materials and tools, and have to be part engineer, as  well as intuitive artist, to do what we do."
Volcano Art Center (VAC) announces a call to artists for the second exhibit at Hawai`i Island's unique outdoor sculpture garden. VAC's  Ni'aulani Sculpture Garden sits adjacent to an old-growth rainforest atop Kilauea Volcano. The site features meandering pathways, endemic plants, and a covered 10' X 10' performance deck for music and dance.  This garden is a special place for gathering community members.
The exhibit, entitled Interplay: Art Science will provide high quality sculptural work that stimulates contemplation and dialog of aesthetic and educational value to people of all ages and cultural backgrounds.  An anonymous artist remarked "sculpture is uniquely suited to the task of combining art and science. Besides having an intuitive sense, sculptors are also grounded in Earth materials and tools and must be part engineer to do what they do".   
The call for entry is for new works by artists using sculpture media that can withstand or safely interact with the elements.  Works may be traditional or experimental in form and should contemplate a visual dialog between art and science. Visual art professionals and university students are eligible for this call for entry.  Artists may submit up to three original design presentations on-line using CaFE.org. Submit your designs here! Deadline for submissions is December 31, 2018, with artist notification of the committee's decision by January 2, 2019.   Selection committee members are Michael Marshall, Yen Wen Fang and Isabella Ellaheh Hughes. The exhibit opening and artist reception at Ni'aulani will be held on April 28, 2019.   
Direct questions and requests for more information to:
Sculpture Garden Coordinator/Administrator: Julie Williams – volcanowilliams@gmail.com  – (808) 339-1699
---
Ho'omakaukau No Hawai'i Nei 2018
Celebrating the 10th anniversary!

Welina me ke aloha!
Get ready for Hawai'i Nei, this year marks the 10th anniversary! Mahalo nui loa to all the artists who have participated the years, bringing recognition to our native species and creative inspiration to this highly anticipated show.
On behalf of the Hawai'i Nei Planning Committee, we're excited to announce the 2018 Featured Category, "Endangered Species of Hawai'i Island."  Hawaii is often viewed as "Endangered Species Capital of the World."  The island make up less than two percent of the United States land mass, but contains 44% of the nation's endangered and threatened species!
For this year's exhibition, we ask artists to help educate and highlight Hawai'i Island's endangered species in hopes of bringing more attention and awareness to the public.  As always, the Featured Category is meant to help inspire artists.  Artwork is not limited to the Featured Category, however the piece must depict a native species to Hawai'i Island.  Need help find out if a species is endangered?  Check out our resources at http://www.hawaiineiartcontest.org/featured-category.html or send us an email.
All artwork must be registered online by October 12th at http://www.hawaiineiartcontest.org.  All adult entries will be processed through a new registration platform called CaFE (http://www.callforentry.org), allowing artists to have more time for a higher quality presentation.  An online profile must be created to submit artwork.  A photo of the artwork is required for registration (species screening and initial jury will be based on this photo).  A kōkua day will be offered on Sept. 26th to help with registration process.  Initial online screening and jurying will take place Oct. 13th.
Accepted artwork drop-off dates, times and locations are:
West Hawai'i: Oct. 20, 11am – 1pm at Donkey Mill Center Hōlualoa;
East Hawai'i: Oct. 27, 10am – 3pm at Wailoa Center in Hilo.
*West Hawai'i participants are required to have their items boxed and ready for transport to Hilo.
The 2018 exhibition will take place from Nov. 2nd to Dec 13th, with the opening reception commencing on Friday, Nov. 2nd.
Upcoming Events
Saturday, May 19th
Several species field trips and workshops are planned as a prelude to the fall exhibition.  The first event will be held on Saturday, May 19th at Donkey Mill Art Center in Hōlualoa.  Explore the world of block printing with two different easy to carve, easy to print media that is sure to be ahit with you and your Meiji.   Visit http://www.donkeymillartcenter.org to register.
Saturday May 26th
Join Three Mountain Alliance's Na Kia'i Kūmokuhāli'i program in rebuilt our native upland forests!  Plant trees, learn about restoration of Keauhou, Ka'ū, and enjoy a potluck lunch with other forest minded folks.  A fun and rewarding day for all ages!  Nestled between some of the largest, most pristine native rainforests in Hawai'i, Keauhou is a crucial place in the vilify of native wetland forests and the plants and animals that call it home.  Keauhou is a transition point between the wet forests of PUna and the arid deserts of Ka'ū.  This unique land is home to many native plants and animals found only here in Hawai'i , and some only on Hawai'i Island.  Visit http://www.threemountainalliance.org/community to register.  Space is limited.  First come, first served!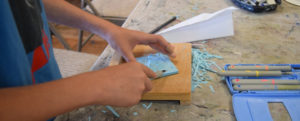 Hawai'i Nei is a collaboration among the Three Mountain Alliance (TMA), the Hawai'i Island Art Alliance (HIAA), the Department of Land and Natural Resources Wailoa Center State Park and the Natural Area Reserves System (NARS).
In light of the recent volcanic activity in Puna, we are sending our deepest thoughts of aloha and condolences to the 'Ohana who have been affected.  We hope our strong communities will continue to unite and help support one another through this challenging and dynamic time.  
---
The 30th Annual Trash Show
Hawai'i Artists Recycle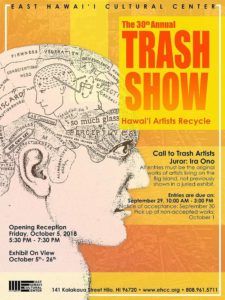 Statement of Juror Ira Ono:
"Once again, artists are in the vanguard of public awareness. I believe they were among the first to experiment with recycling on a personal level. (Art supplies can be expensive!) With this in mind, I invite Big Island artists and outsider artists to enter up to 3 pieces for this juried exhibit. I will select works best representing the concept of art from trash. Originality, creativity and craftsmanship count. Large, three dimensional pieces are encouraged"
INTAKE: September 29
All entries must be the original works of artists living on the Big Island not previously shown in a juried exhibit. A maximum of 3 works per artist may be entered at $5.00 per entry.
EXHIBITION ON-VIEW DATES:  Oct 5- 26
COORDINATOR: Kanani Daley kdaley@ehcc.org
With this exhibition we hope to educate and increase the understanding of the island's socioeconomic landscape and eco-system, to encourage artists and viewers to re-think the shop and drop mentality, and to stimulate our brains and hearts to find ways in which we may lower on carbon foot print for our islands.
Remember- you're not a hoarder, you're a
Trash Artist!