Feb
25
Sat
2023
Exhibit: Recent Eruptions Photography Exhibit
Feb 25 @ 9:00 am – Apr 2 @ 5:00 pm
The Volcano Art Center (VAC) is proud to announce the Recent Eruptions Photography Exhibit at VAC gallery location in Hawaiʻi Volcanoes National Park.  The juried exhibition and contest celebrate the recent volcanic eruptions on Hawaiʻi Island. For the first time in nearly four decades Mauna Loa Volcano began erupting in Moku'āweoweo Caldera on November 27th, 2022. In honor of this very special event, and the reactivation of Kīlauea since January 5th, 2023, VAC requested photographic works of art that captured these recent events. The juried exhibit opens on February 25th and continues through April 2nd. The public is invited to meet the photographers on Saturday, February 25th from 2 – 4 pm.  Award winners will also be posted at this reception for the artists.
The exhibit was juried by professional photographers G. Brad Lewis and David Jordan. Both photographers have extensive portfolios spanning decades from past volcanic eruptions and have been published in magazines worldwide.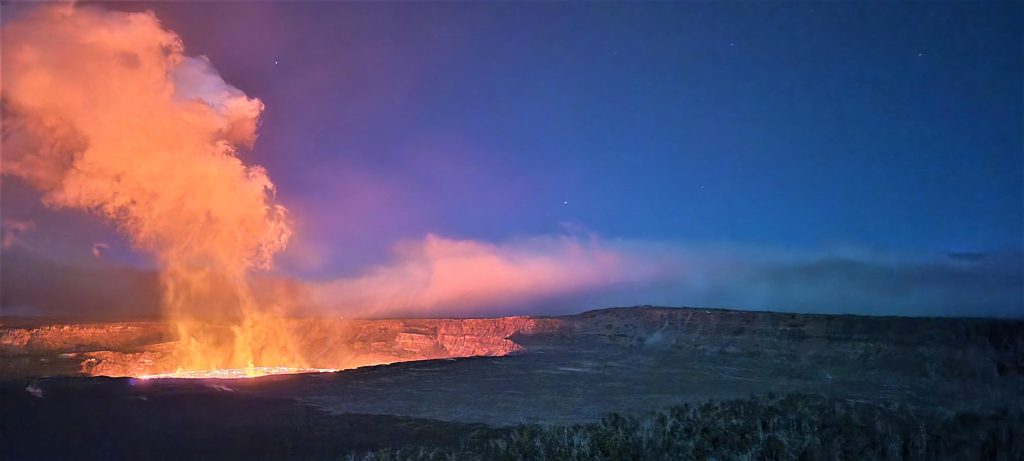 Brad Lewis is a world-renowned volcano and nature photographer. His images have been featured on the covers of Life, National Geographic, Natural History, Nature's Best, Terra, Geo, and dozens of other publications, as well as accompanying articles in many magazines, including Time, Outside, Fortune, Newsweek, Sunset, Mens Journal, Forbes, and Stern.  Brad's award-winning photos of erupting volcanoes have been widely exhibited, and he's appeared on NBC's Today Show, CBS Evening News, and on the Discovery and Disney Channels.  He's been featured in Photo District News, Outdoor Photographer, Studio Photography & Design and Newsweek. His work is displayed in fine galleries as well as many public, corporate and private collections.  Inspired by nature's beauty and variety, Brad is based out of Hawai`i, Utah and Alaska, traveling several months each year to pursue his art.  "My life's mission is to connect the viewer to a deep understanding and appreciation of the Earth. This incredible planet of ours is a living, breathing entity. In my 'LavArt' series, I use the movement, light and texture of our most active volcano to open human emotions to the pulse the planet."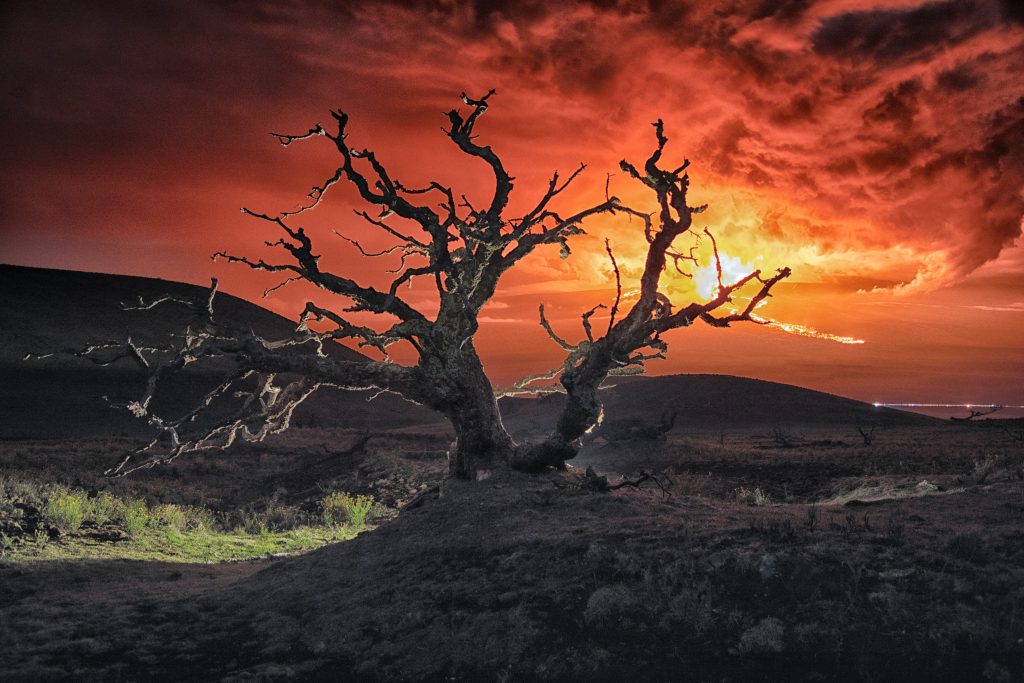 Volcano artist David Jordan has been photographing lava since 2002.  As he states, "my goal as a lava photographer is to channel the constantly changing artistic magic of Madam Pele into a visually and emotionally stimulating moment preserved on paper.  I have always found inspiration in the colors and patterns that occur in nature, and the lava flows of Kīlauea provide an endless and constantly evolving subject matter. With luck and persistence I have been fortunate enough to be in the right place at the right moment on many occasions and I hope that my photographs do justice to the spirit of Pele."
Volcano Art Center wishes to mahalo all the photographers who submitted entries into the juried photography exhibit and contest.  "Over 75 entries were received in the professional, hobbyist and phone photography categories, states Gallery Director Emily C. Weiss.  We are always amazed by the beauty of the eruptions, sharing these dynamic images is such an honor and allows us to connect people, art and our natural environment."
Apr
8
Sat
2023
Exhibit: Gourds Reimagined by Jelena Clay
Apr 8 @ 9:00 am – May 21 @ 5:00 pm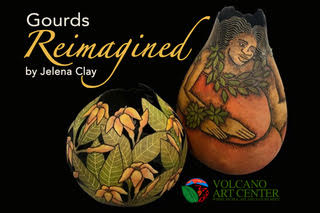 Volcano Art Center (VAC) is proud to announce the exhibition Gourds Reimagined by Jelena Clay.  The exhibit will open to the public Saturday, April 8th, continuing through May 21st,  from 9am – 5pm daily at the Volcano Art Center Gallery in Hawai`i Volcanoes National Park. Park entrance fees apply.
The exhibition features mixed media works of artwork by Hilo artist Jelena Clay.
The collection presented in the exhibit features both 2 and 3D works which demonstrate Jelena's combination of modern and traditional techniques to create bold works with Hawaiian cultural themes. Jelena will perform a live demonstration at VAC gallery on Saturday, May 6th from 11am – 2pm for those interested in learning more about her artistic processes and techniques.
Jelena is well known for her fiber work and gourds.  Classes and guidance by Kumu Ray Kahikulaulani Fonseca, Jon Jon Hookano, Pam Barton, Willie Grey Eagle Maglophlin and numerous Lauhala Kumu have greatly influenced her fiber work while being self-taught in her gourd art with a large library of Hawaiian craft and culture books.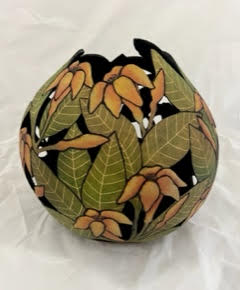 Jelena is the daughter of Serbian emigrants and was raised in Saratoga, California. At 20 years old she relocated to Hawai'i and has since called it home. Since first moving to the islands, she had a fascination with fiber work and gourds, and the complicated techniques that Hawaiians use.  Jelena shares "I am driven to create my work with absolute respect for Hawaiian culture and hope to inspire the viewer to learn more. I am fascinated by the deep connection Hawaiians had to the environment and hope to portray that in my pieces.  I have been fortunate to be involved with the hula community and always give back generously when I can. I will be donating a portion of my proceeds from sales to two local Hilo halau.  I feel it's important to give back to the culture that supports my work."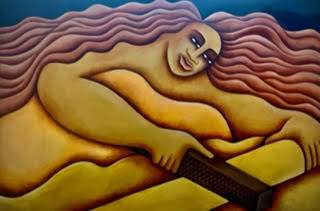 "VAC is honored to share Jelena's newest work which helps support the VAC's mission to promote, develop and perpetuate the artistic, cultural, and environmental heritage of Hawaiʻi through arts and education," states gallery director Emily C. Weiss.  "Jelena's art demonstrates her gifts of creativity and imagination.  Her pieces in traditional gourd work constantly push the boundaries of the material and the outcome is delightful. At the gallery we are always excited to see Jelena's new work as each piece is unique, dependent on the original shape created by nature, then "reimagined" with a creative mind."  We hope people can visit the exhibit in person, however, it will also be available to view online at www.volcanoartcenter.org.