When:
October 2, 2021 @ 9:00 am – November 7, 2021 @ 5:00 pm
2021-10-02T09:00:00-10:00
2021-11-07T17:00:00-10:00
Where:
Volcano Art Center Gallery
Hawaiʻi Volcanoes National Park
Hawaii Volcanoes National Park, HI 96718
USA

Cost:
Free event although park entrance fees apply.
Ho'okupu a collection of pastels by Kathy Long
October 2 – November 7, 2021
Volcano Art Center will soon be displaying a new collection of pastel paintings by Hawaiʻi's Island revered portrait artist Kathy Long. The exhibit titled Hoʻokupu features thirteen pastel paintings, nine of which have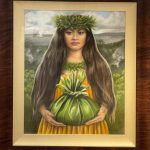 never been seen before. The exhibition, opening to the public on Saturday, October 2nd will continue through Sunday, November 7th daily from 9am – 5pm at the Volcano Art Center Gallery in Hawaiʻi Volcanoes National Park.   The exhibit can also be viewed online at www.volcanoartcenter.org
The collection on display for the Hoʻokupu exhibition is a tribute, "my gift to the beauty that is Kīlauea, Mauna Loa and the people who cherish it", states Kathy. "In the middle of the ocean lies a treasure of unique beauty.  Hawaiʻi Volcanoes National Park runs from the mountains to the sea, an ever changing environment, an evolving tapestry of forest, barren rock desert and restless shores.  It was here, in October of 1982, that I first experienced hula kahiko, or ancient hula, down on the floor of the Kīlauea caldera, by the fire pit, Halemaʻumaʻu.  The combination of the artistry that I witnessed and the environment of Kīlauea itself left an indelible mark on my spirit and I have painted images of the Hawaiian culture and the park, for 39 years."
Since 1982, Kathy Long has called the Big Island "home" once again. Daughter of the well-known artist Mary Koski, she lived in Hilo until she was eight.  Her family then moved to the U.S. Mainland and later to Europe, where she graduated from one of the oldest schools in Scandinavia, and made her debut at the highly respected Waino Aaltonen Museum in Finland. That exhibit was the first of thirteen one-woman shows in Europe, followed by many more in the U.S. mainland and Hawai`i, including two past shows at the Volcano Art Center.
In 1979, Kathy and her art historian husband Bertil moved to Houston, Texas to open a highly successful fine arts gallery. In 1982 they moved to Waimea on Hawaiʻi Island where Bertil was curator of Richard Smart's fabulous art collection at Parker Ranch until 2000.Nearly everyone living in Hawai`i has seen at least one of Kathy's masterfully executed drawings reproduced in countless publications as well as on the 2001 and 2002 Merrie Monarch Festival posters. She works from images she has photographed and then painstakingly and patiently imbues them with her love and respect for her subjects to create sensitive and exquisitely beautiful drawings.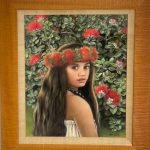 Kathy explains "Volcano is a place of great energy and fuels peoples creativity.  The Volcano Art Center has given people a place to showcase their artwork and a place for the world to view them. I have named this show Hoʻokupu (To Pay Tribute).  I pay tribute to this beautiful and amazing place, and to the people and the culture who nurture and tend it.  May this show be my blessing, my gift."
Kathy Long will be present at VAC gallery on Sunday, October 3rd and 24th.  Those wishing to meet the artist are welcome to VAC gallery for the special opportunity to talk story with the artist from 11am -1pm.
Mandatory mask wearing and social distancing protocol observed within VAC Gallery at this time. For more information, visit www.volcanoartcenter.org or contact VAC Gallery Manager Emily C. Weiss at (808) 967-8222 or gallery@volcanoartcenter.org.
Volcano Art Center is a 501(c)3 nonprofit organization created in 1974 whose mission is to promote, develop and perpetuate the artistic, cultural and environmental heritage of Hawaii through the arts and education.