Manu, the Boy Who Loved Birds by Caren Loebel-Fried
Manu, the Boy Who Loved Birds is a story about extinction, conservation, and culture, told through a child's experience and curiosity.
Go behind the scenes of the making of the book with Loebel-Fried and many special guests
Readers learn along with Manu about the extinct honeyeater for which he was named, his Hawaiian heritage, & the relationship between animals & habitat.
80 minutes of fun, informative interviews with the author and special guests!
Virtual Book Release Presentation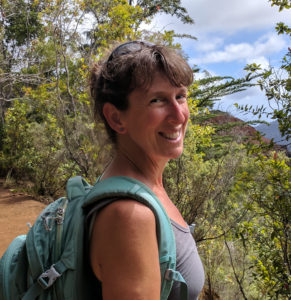 Caren Loebel-Fried
Caren Loebel-Fried is an award-winning author and artist from Volcano, Hawai'i. She has written and illustrated several previous storybooks, including Hawaiian Legends of the Guardian Spirits, A Perfect Day for an Albatross, and Legend of the Gourd, all of which showcase the ancient art of block printing, which she learned from her mother. Her books have won the American Folklore Society's Aesop Prize for children's folklore and the Ka Palapala Po'okela awards for excellence. She creates iconic and educational art for the United States Fish & Wildlife Service, Midway Atoll National Wildlife Refuge, Kīlauea Point Natural History Association, Conservation Council for Hawai'i, and private collectors.

Caren spends time on Midway Atoll counting and researching albatrosses. Through art and story, Caren aims to bring people, especially children, closer to the natural world with the hope that they will want to help care for it. Visit her website at www.carenloebelfried.com

This story grew from the author's relationship with Marjorie Ziegler and Conservation Council for Hawai'i, National Wildlife Federation's Hawai'i affiliate. CCH and Caren Loebel-Fried shared a dream to educate young people about endangered species and conservation, in Hawai'i and beyond. With this storybook, Caren, University of Hawai'i Press, and CCH hope to inspire children and their families, especially in Hawai'i, underscoring the important connection with their own unique species in Hawai'i, and their connected dependence on the land. UHP, CCH and Caren want to embody a message of hope and provide tools for knowledge, action, and empowerment.