Join artist Jelena Clay as she guides you in making your very own ti leaf lei at home!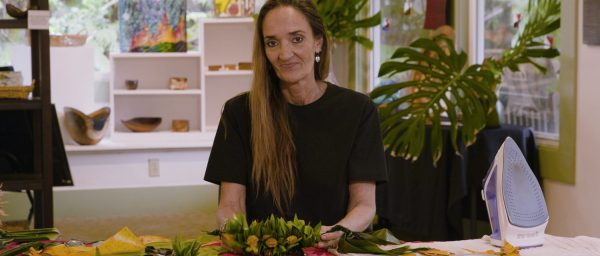 Learn about the cultural significance of Hawaiian Ti Leaves
Learn about the unique techniques that cultural practitioners use to create their lei
Welcome To Your Classroom!
Topics Covered In This Class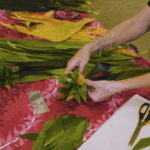 1

Introduction to Your Class

Your instructor Jelena Clay dives right into your class by introducing you to Hawaiian Ti Leaves and how they should be prepared prior to using them in your lei.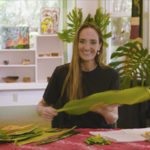 2

Understanding the Process

Learn the basics about making a Hawaiian Ti Leaf Lei. Jelena shows you the methods of braiding the lei in a manner that allows you to have segments where ti leaves may be inserted.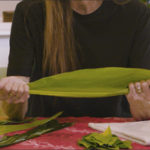 3

Cultural Significance

Gain further insight about the uses of ti leaves in Hawaiian culture.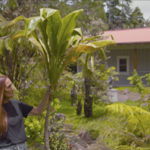 4

Learn How to Harvest Ti Leaves

Join Jelena on the edge of the Volcano Art Center's Niaulani Sculpture Garden where we learn how to harvest leaves from the ti plant.
1. Sourcing Ti Leaves
If you live outside the state of Hawai'i you can buy ti leaves from Hawai'i's Big Island. We highly recommend Green Point Nurseries located in Hilo, Hawai'i.
Phone: +1 (808) 959-3535 or gpn@greenpointnursery.com
2. Tools You Will Need to Make a Ti Leaf Lei
In order to create a Hawaiian ti leaf lei you will need the following:
1) 15-20 Hawaiian ti leaves or similar media. 2) Sharp scissors. 3) A hot iron that can steam your leaves. 4) An anchor point for your ti leaf braid. Traditionally, this has been the big toe of your foot, though you can also tape the end of the lei to a desk, a peg, or a similar mounting point.
3. The Types of Hawaiian Lei
There are several types of traditional Hawaiian ti leaf lei. The type featured here is the Lei Po'o. The Lei Po'o is worn on the head much like a crown.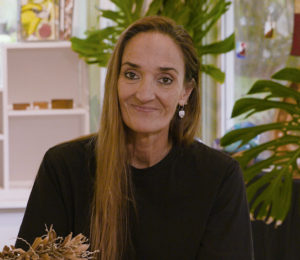 Jelena Clay
Jelena Clay is a mixed media artist residing in Hilo on the Island of Hawai'i. She is the daughter of Serbian emigrants and was raised in Saratoga, California. At 20 years old, she relocated to the islands and has called it home ever since. Jelena works primarily with gourds and creates gourd, mixed media sculptures and oil paintings relating to the island flora and culture. Jelena has worked with the hula arts community for many years. The Hawaiian culture is deeply rooted in nature which is her primary influence, and her work is a culmination of her island experiences and knowledge.