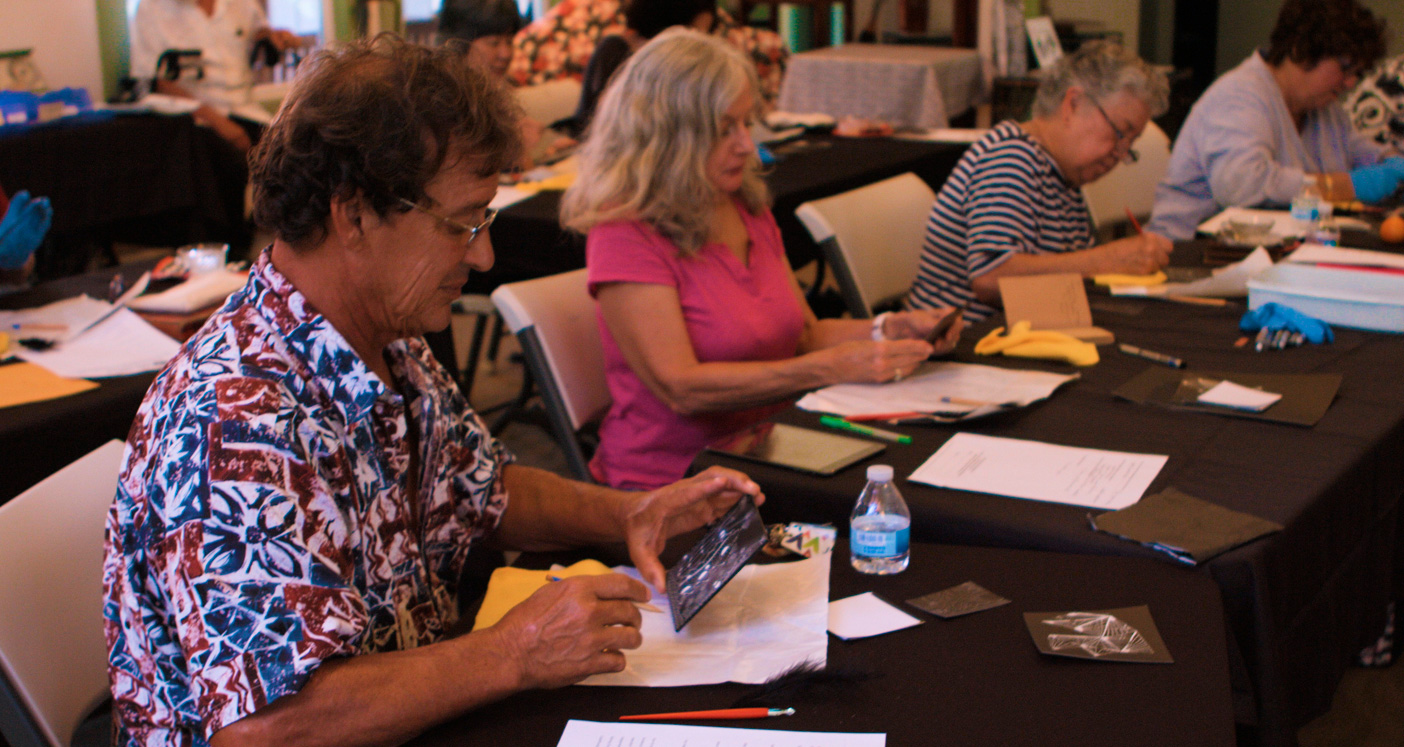 Current Classes & Workshops
---
Volcano Art Center's Cancellation and Refund Policy
If for any reason you need to cancel, please call 72 hours before class begins for a full refund. Office hours are Monday through Friday, 9am – 5pm, (808) 967-8222. No refunds will be issued for cancellations made less than 72 hours prior to the start of class. If class is cancelled due to insufficient enrollment or unforeseen circumstances, you will receive a full refund.
---
Ongoing Classes & Workshops
Stained Glass Open Studio
Volcano Art Center is pleased to offer stained glass open studio sessions on Monday evenings from 6pm – 9pm. Studio drop-ins are available for artists with some experience in Copper Foil Stained Glass who wish to use the equipment, hand tools and facilities independently. There will be a resource person for project help and questions. Fees are $10 per session or $40 for four sessions which includes a grinder bit. All other materials and supplies are not included in the fee. If special project help is required, please notify VAC prior to Open Studio. Pre-registration is required.
***No open studio on Monday, February 4. 

March 2019
Exploring Tunnel Books, 3/2
Saturday, March 2, 2019 from 9am – 12pm
Get ready to take a trip down the rabbit hole in an adventurous tunnel bookbinding workshop where your imagination is your only limit.
A "tunnel" or "peephole" book is made up of pages bound by accordion folds on both sides and are "read" through a hole in the cover, and a cutout in each page, allowing all pages to be seen at once, front to back. This creates an illusion of depth and perception. The images on each page work together to form a three-dimensional scene inside the book that helps to tell a story. What will your story be? Be as wildly creative as you want to be! You will learn the basics of constructing 2 styles of tunnel books and design your own models.
Join instructor Charlene Asato on Saturday, March 2, 2019 from 9am – 12pm for the "Exploring Tunnel Books" bookbinding workshop at Volcano Art Center Ni'aulani Campus in Volcano Village. Cost is $35/$32 VAC Members plus a $10 materials fee. Prior bookbinding experience is not necessary, nor is tunnel vision or accordion skills.
Tools to bring: X-Acto knife with fresh #11 blade, cutting mat, scissors, pencil, metal edge ruler, bone folder or butter knife, glue stick, old magazine or catalog for gluing.
Optional: any art supplies such as colored pencils, crayons, photographs for collaging, scraps of paper, scoring board, portable paper trimmer, punches, rubber stamps or stencils.
Asato avidly pursues book arts, paper arts, photography, calligraphy and doll arts. Her books have been in many juried shows, locally, nationally and internationally and some have won awards. She finds it very exciting that a simple fold changes a two-dimensional plane into a three-dimensional form. These artist books provide a wonderful avenue to convey this energy. She enjoys imparting this excitement to others through workshops.

Paint Your Own Silk Scarf with Patti Pease Johnson, 3/2
Open up your creativity and challenge yourself by learning this fun technique. It's guaranteed to change the way you look at color. Better yet, you might discover your newest passion.
In this workshop, you'll paint your own 8" x 53" scarf using three colors of your choice, which will create many more colors on the silk. Pick a main color, then, choose the other two after learning about color theory. You'll then be ready to mix your desired colors, achieved by pre-mixing the four process colors (cyan, magenta, yellow, and black). Students from previous classes have been amazed by what they refer to as "happy color accidents."
Patti Pease Johnson will tell you, "It's all about playing with colors." Why not reward yourself by creating your very own inspired silk scarf.
Join Big Island artist Patti Pease Johnson, for the Paint Your Own Silk Scarf workshop on Saturday, March 2, 2019, from 9:00am-12:30pm at Volcano Art Center. Cost for the workshop is $50 and $45 for VAC Members plus a $10 supply fee per person. Beginner and intermediate artists are welcome.
This workshop offers you a great way to have fun with colors and dyes and make a stylish personal statement every time you wear it!
PLUS, in the final hour, you will use hot wax with the tjanting tool on Habotai silk to outline your more representational design and create a resist line for the dyes. Then you will paint and mix colors on the 10" x 10" silk artwork.
Patti Pease Johnson's artwork can be found at galleries and shops across the State and in collections around the world. Patti has a designer's ability to distill natural subjects into their most essential forms and to rearrange them in her paintings. She lives in Kea'au with her family and teaches painting at her home studio. For the month of February, her artwork is featured in the window display at One Gallery, Hilo. "It is all about abundance and arising imagination," says Patti. The artworks include sculpture, mobiles, fashions, soft pastels, and clay objects.

Zentangle®: Lava Layers with Dina Wood Kageler, 3/9
March 9, 2019
10AM-1PM
Join us for this Lava Layers workshop in the Zentangle Inspired Art method.  We will explore repetitive patterns through a mindful approach to creating silhouettes and layers.  Just as stratum of lava have created our `āina, we will add layer upon layer of tangles to represent the birth processes of our island.  Our guide will be Certified Zentangle Teacher Dina Wood Kageler who will lead returning and new students with both familiar and new tangles, as well as additional embellishments including touches of color and fanciful borders.  Returning tanglers are invited to bring your favorite drawing supplies. Loaner supplies will be be available.
Students are invited to bring snacks to share. 
Cost is $35 / $30 VAC members plus a $10 supply fee.

The Wonderful World of Wine & Watercolor, 3/12
Anyone can paint beautiful watercolors – even you! Artist Nancy DeLucrezia will offer the "Wonderful World of Wine & Watercolor" workshop on Tuesday, March 12 from 4 pm – 7pm at Volcano Art Center Ni'aulani Campus in Volcano Village.
Nancy will show you how to transfer a photo onto watercolor paper and introduce you to all the basic techniques you need to create a lovely painting of your picture. Techniques covered will include basic palette setup, color theory and mixing, masking, wet in wet, texturizing and how to create depth, highlights and shadows.
During the class, participants will enjoy a sampling of several wines from the wine store "Grapes" in Hilo.
Class fee is $35/$30 for VAC members plus a $17 supply fee. A still life photo will be provided for students to paint.
Nancy DeLucrezia majored in art at the State University of New York as a photographer and printmaker and has painted with watercolors for over 25 years. She has run a Japanese art gallery in New York City, designed public relations campaigns for several arts organizations, and developed a series of drawing and painting classes for children as well as an art therapy curriculum for adults. Before moving to the Big Island she was a member of the Santa Barbara Watercolor Society and Working Artists Ventura (WAV) where she produced and participated in numerous art and theatrical events. She also served as Director of Art Programs for Turning point Foundation and taught watercolor painting to adults with special needs.

Pastel On-Site Landscape Painting Workshop with Patti Pease Johnson, 3/23
Enjoy the outdoors and take your painting beyond the four walls of a classroom in the Pastel On-Site Landscape Painting workshop with Patti Pease Johnson on Saturday, March 23, 2019 from 9am – 12:30pm at Volcano Art Center Ni'aulani Campus in Volcano Village.
You'll receive step by step instruction in a proven rotational method for success, starting with form and fill, moving to value of black and white, then color. Your own natural style is brought to the surface. All materials will be supplied along with guidance and inspiration for your creative journey.
Initial discussion includes pastels types, papers, fixing and mounting. Then, use newsprint to get the flow of arm movements to keep loose. Next, you'll form shapes, and move into colors on sanded pastel paper. Learn to exaggerate and be bold with colors, and the value of using the lightest lights and the darkest darks. Grow your knowledge of composition, color and correcting problems.
Students will complete one 9×12" project. Weather permitting, the workshop will take place outdoors at Ni'aulani. Otherwise, the workshop will be held indoors with a reference photo.
Cost for the workshop is $50 and $45 for VAC Members plus a $10 supply fee per person. Beginner and intermediate artists are welcome.
Patti Pease Johnson's artwork can be found at galleries and shops across the State and in collections around the world.

Writing for Inner Exploration and Life Reflection with Tom Peek, 3/23
A day of discovery with Award-winning novelist and teacher Tom Peek
Have you ever wondered how the place you come from influenced who you are? Or what memories you carry from your ancestors? Or how your personal history impacts your view of the world? Take a day out of your busy life to explore your deeper self and ponder the life you've lived so far.
Big Island author Tom Peek encourages you to "Discover the magic power of writing to stimulate the creative regions of your mind and unearth your meatiest memories, highest aspirations, zaniest ideas, and most incandescent insights."
Join Tom Peek for "Writing for Inner Exploration and Life Reflection" on Saturday, March 23 from 9:30am to 4pm at Volcano Art Center Ni'aulani Campus in Volcano Village. Workshop cost is $75/$65 for VAC Members. To register contact the Volcano Art Center at 967-8222 or visit www. volcanoartcenter.org. Students are asked to bring a lunch and some pictures of your parents—at least one of each parent (unless you come from a single-parent family, in which case bring some pictures of your one parent).
Peek's workshop includes fun, offbeat, and provocative "wild mind" exercises that provide participants with exploration tools to use in class and on one's own. This workshop is perfect for journal keepers, bloggers, autobiographers, spiritual seekers, memoir and family history writers, and anyone who simply enjoys writing. No previous writing experience is necessary, just the desire to explore!
Attendees always give Peek's workshops high marks. "I experienced a restarting of my fire for writing," said one past participant. "This workshop will change my life," said another.
Thought-provoking exercises include topics such as: "What passions guide your life?" "What mottos do you live by–or wish you did?", "What's the weirdest thing that ever happened to you?"
Peek, an award-winning novelist, has taught his popular Hawai'i workshops since 1991, encouraging hundreds of islanders to write their own journals, blogs, family histories, stories, poems, novels, and essays.

Landscaping with Native Hawaiian Plants with Zach Mermel, 3/30 
Locally adapted. Relatively low maintenance. A habitat for beneficial organisms. These are just some of the positive aspects of incorporating native plants into your garden and landscape. Instructor Zach Mermel of Ola Design Group will teach the Landscaping with Native Hawaiian Plants workshop on Saturday, March 30, 2019, from 9am – 3pm at VAC's Niaulani Campus in Volcano Village.
In this hand-on workshop, you'll interact first-hand with a variety of native plants found throughout Hawai'i Island's various microclimates, and learn how to integrate these plant allies into your outdoor ecosystem. Join the fun!
Class fee is $35/$30 VAC Members.


Beginner & Intermediate Mixed Media Encaustic, 3/30 
Join artist Mary Milelzcik for the Mixed Media Encaustic workshop on Saturday, March 30, from 10 am – 2 pm at Volcano Art Center Ni'aulani Campus in Volcano Village. Encaustic is a mixture of beeswax, damar resin and pigment, which is applied to a solid absorbent surface. Each time a new layer is applied, it must be fused. The layers can be enhanced by carving with tools or drawing with pigment, oil sticks etc. Photographs can be transferred and other materials imbedded to create a variety of amazing results with depth.
Mixed Media Encaustic is a hands-on workshop, where you'll learn safe studio practices, all the encaustic painting basics, and how to make your own medium.  Wet and dry shellac burns will be demonstrated. After instruction and experimenting, you will have the opportunity to create a 2 small finished encaustic painting to take home.
Mary will provide an assortment marking tools and brushes, and also interesting papers, photographs, minerals, fibers, and other natural and found materials for students to incorporate into their paintings. Students are encouraged to bring other items they'd like to use. Advanced students can consult with the instructor in advance regarding specific projects. The class fee is $60/$55 for VAC members plus a $25 supply fee.
Mary Milelzcik has a B.A. degree from Sonoma State University's School of Expressive Arts, a radical two-year upper division interdisciplinary experimental program that existed for several years in the 70's. This transformative educational experience set the path for an interesting career as a mixed media artist and photographer; as the Curator at Highways Performance Space and Gallery in Santa Monica CA; and teaching experimental mixed media art and printmaking. Photography is an important tool in her creative and documentary projects as well as for capturing images to use as a base for mixed media encaustic paintings and prints.  She also gathers pigments and organic materials to incorporate into her work. Her artwork has been shown internationally. In her spare time, she provides strategic consultation and grant writing for small to medium sized nonprofits in Hawaii and California. She has a studio in Pahoa and specializes in mixed media art and printmaking. She experiments with local minerals and plants in her encaustic paintings.