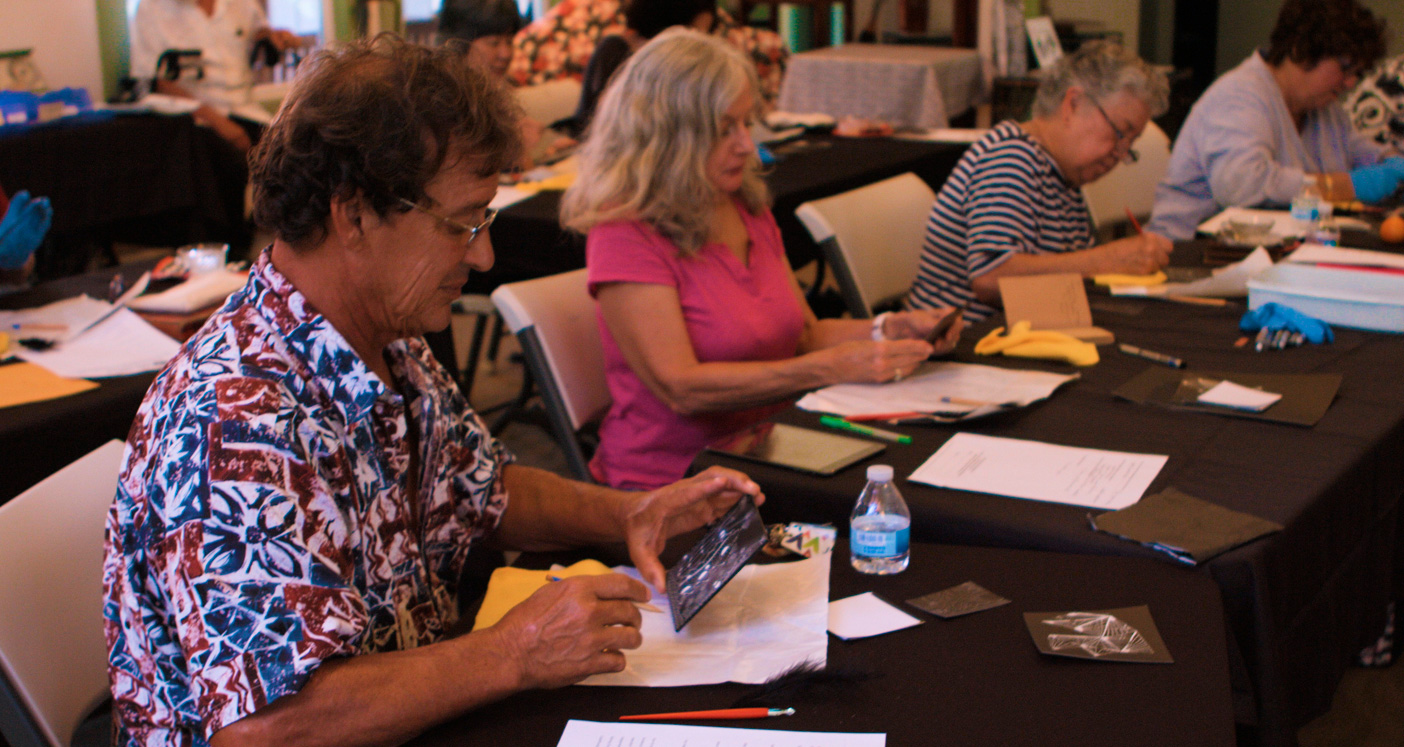 Current Classes & Workshops
---
Volcano Art Center's Cancellation and Refund Policy
If for any reason you need to cancel, please call 72 hours before class begins for a full refund. Office hours are Monday through Friday, 9am – 5pm, (808) 967-8222. No refunds will be issued for cancellations made less than 72 hours prior to the start of class. If class is cancelled due to insufficient enrollment or unforeseen circumstances, you will receive a full refund.
---
Ongoing Classes & Workshops
Stained Glass Open Studio
Volcano Art Center is pleased to offer stained glass open studio sessions on Monday evenings from 6pm – 9pm. Studio drop-ins are available for artists with some experience in Copper Foil Stained Glass who wish to use the equipment, hand tools and facilities independently. There will be a resource person for project help and questions. Fees are $10 per session or $40 for four sessions which includes a grinder bit. All other materials and supplies are not included in the fee. If special project help is required, please notify VAC prior to Open Studio. Pre-registration is required.

April 2019
Healing Through Words with Dr. Heather Rivera, 4/27
Have you always wanted to write a book but don't know where to start?  Is fear holding you back? Do you wonder where you'll get the time to write?  You know the story needs to be told—your voice wants to be heard. You feel it deep in your soul. Don't let uncertainty hold you back.
Join Dr. Heather Rivera for the 1 ½ hour creative writing workshop, "Healing Through Words" on Saturday, April 27 from 10am – 11:30am at Volcano Art Center Ni'aulani Campus. She will use imagery, visualization, and prompts to help you tap into your creative muse and discover the healing power of writing. You will also have the opportunity to share your writing in a safe supportive environment, if you choose.
Amazon best-selling Author, Heather Rivera, found healing while writing her first novel and has been sharing the power of writing in workshops. Find your voice and let the words flow. Class fee is $35/$30 VAC Members.
Dr. Heather Friedman Rivera obtained her Ph.D. in Parapsychic Science in 2011, her Doctorate in Law in 2002 and is a Certified Clinical Hypnotherapist specializing in Past-life Regression. She trained with Dr. Brian Weiss at The Weiss Institute. Heather is also a retired Registered Nurse with over 25 years of experience. She is the author of nine books, contributing author in seven books, and author of numerous articles. She serves as an editor for the International Journal of Regression Therapy. Heather has been featured in print, radio, and web television. Heather holds workshops and retreats on writing and past life regression, and coaches writers from dream to book-in-hand.


Hands-On Fermented Foods Workshop: Sauerkraut and Kombucha with Jasmine Silverstein of HeartBeet Foods, 4/27
Saturday, April 27 | 10am – 1pm
Our digestive system is home to a complex diversity of living microorganisms, which are impacted by what we eat and drink. These microorganisms, which include probiotics, directly influence our own health; from aiding digestion, to clearing skin, to boosting our energy. We can nurture the health of these internal microorganisms by eating probiotic-rich, fermented foods.
Fermented foods have been a part of every ancient culture throughout history. Sauerkraut, pickles, and yogurt are a few of the many traditional live-cultured, fermented foods. These foods developed out of the need to preserve food, before refrigeration was possible.
Join Jasmine Silverstein of HeartBeet Foods in this hands-on fermented foods workshop on Saturday, April 27, 10am – 1pm at Volcano Art Center Niaulani Campus in Volcano Village. Learn the basics of culturing cabbage and various vegetables into probiotic-rich Sauerkraut, as well how to make your own yogurt. Each participant will take home their own finished products. This informative and engaging workshop will leave you prepared to make your own ferments at home!
Cost for the workshop is $60 and $55 for VAC members plus a $10 supply fee.  Pre-registration is required.
All supplies and Organic ingredients provided. No cooking skills necessary, just an interest in real, whole food. Fermentation is an Art not a Science… It's flexible and fun, not rigid or difficult.
Jasmine is a holistic chef and retreat caterer on the Big Island. She began experimenting in the world of fermentation in 2011, shortly after being diagnosed with a severe autoimmune condition. The benefits she has received from discovering and engaging in the world of microbes has proven to be invaluable. She hopes to share her experience and inspire others to cultivate their own health. Find more information about Jasmine and her services at www.heartbeetfoods.com.

May 2019
Abstract Painting Workshop with Darcy Gray, 5/4
Join Darcy Gray for the Abstract Painting workshop on Saturday, May 4, 2019, from 10am – 2pm at Volcano Art Center Ni'aulani Campus in Volcano Village. This class is for those with a basic painting background who would like to explore the techniques of abstract painting.
Darcy shares her passion for abstract painting in this introductory class which will help students learn how to take risks and gain more confidence in their own way of painting. Students will develop sketches into final art pieces, play with perspective and focus, work with colors, then push themselves to paint intuitively and at different scales. Sketch paper will be provided in class for warm up exercises and roughing out paintings.
The class will paint on 18×24" heavy watercolor paper which has been gessoed. Darcy will lead students through fun drills throughout the class, and students will be able to take home all of their work.
Basic acrylics paints, pencils, brushes, other tools will be provided in class, but students can bring their own if they choose. Class fee is $90/$85 VAC members plus a $20 supply fee for 5 sheets of 300lb watercolor paper, pre-gessoed. Advance registration is required and this workshop will be limited to 8 adults.
Darcy Gray holds a B.A. in 3 dimensional design from the City of Birmingham University in England. Her work has been featured in multiple exhibitions throughout Hawai'i and California, in both solo and group shows. In 2016, she received awards from the Hawai'i State Foundation on Culture and the Arts, Hawai'i Island Art Alliance, and Honorable Mention in the 2018 Wailoa Center show, Jan Ken Po. For more information on Darcy and her work, visit www.darcygrayfineart.com.


Zentangle® Inspired Labyrinth Art, 5/11 
with Lois and Earl Stokes, Certified Zentangle Teachers
Saturday May 11, 2019
10AM-1PM
Set aside a morning at the Volcano Art Center to Breathe, Relax, Create and Heal
Zentangle is an easy-to-learn, relaxing and fun way to create beautiful images by drawing structured patterns.
It is the repetitive nature of these patterns that brings us into a state of relaxed focus that some call meditation.
The Zentangle method can be approached as an art form and as a mindfulness meditation practice. Either way you can experience a state of relaxed focus as you learn how to deliberately shift your attention into the present moment.
On this journey, we will
Learn about and use labyrinth seed patterns to create a path for our Zentangle art
Approach Walking a Labyrinth and Zentangle as a ceremony
Practice drawing slowly and deliberately
Focus on the process not the outcome with appreciation and gratitude
Experience the benefits of creating art for healing
All art supplies will be provided. In this class you will receive:
a "Zen Board" crafted by Lois using a Chinese water Calligraphy mat – a magic surface where your drawings disappear.
a Chinese crafted paint brush and a water jar
A blotter for practice drawing with pen and pencil
Special papers for your inked labyrinths
An idea mover (eraser)
Handouts of labyrinths and seed patterns
Everyone is welcome. No prior knowledge of the Zentangle Method is necessary. This is a potluck so please feel free to bring some food to share.
Cost is $35/$30 VAC members plus a $10 supply fee. Students are invited to bring snacks to share.

The Wonderful World of Wine & Watercolor, 5/14
Anyone can paint beautiful watercolors – even you! Artist Nancy DeLucrezia will offer the "Wonderful World of Wine & Watercolor" workshop on Tuesday, May 14 from 4 pm – 7pm at Volcano Art Center Ni'aulani Campus in Volcano Village.
Nancy will show you how to transfer a photo onto watercolor paper and introduce you to all the basic techniques you need to create a lovely painting of your picture. Techniques covered will include basic palette setup, color theory and mixing, masking, wet in wet, texturizing and how to create depth, highlights and shadows.
During the class, participants will enjoy a sampling of several wines from the wine store "Grapes" in Hilo.
Class fee is $35/$30 for VAC members plus a $17 supply fee. A still life photo will be provided for students to paint.
Nancy DeLucrezia majored in art at the State University of New York as a photographer and printmaker and has painted with watercolors for over 25 years. She has run a Japanese art gallery in New York City, designed public relations campaigns for several arts organizations, and developed a series of drawing and painting classes for children as well as an art therapy curriculum for adults. Before moving to the Big Island she was a member of the Santa Barbara Watercolor Society and Working Artists Ventura (WAV) where she produced and participated in numerous art and theatrical events. She also served as Director of Art Programs for Turning point Foundation and taught watercolor painting to adults with special needs.


Stained Glass Basics I, 5/18 
Whimsical shapes, illustrative scenes or divine stories, stained glass has re-created the light in our lives for centuries. Stained glass artisans use both glass color and texture to produce light forms and patterns creating mood and character in small and large spaces. Want to know more? Then this four-session stained glass workshop will shed some light on the process of stained glass.
Now you can try your hand at making stained glass art in this workshop for beginners. All of the basic techniques will be covered, from glass cutting, foiling, soldering, and completing with patina and polishing compound. Glass artist Lois Pollock will share her expertise and knowledge, teaching students the skills involved in working safely with stained glass, and creating a beautiful, sturdy piece of art.
"Stained Glass Basics I" will be held at Volcano Art Center on May 18, 25, June 1, 2, 2019: Saturday and Sunday from 9am – 1pm. Class fee is $100/$90 for VAC members plus a $15 supply fee. Attendees are asked to wear long pants, snug fitting gloves, covered shoes and safety glasses. Advance registration is required and this workshop will be limited to 6 adults.
You will complete this 4-session workshop with a finished light-catcher, and the knowledge and experience of the basic skills involved to continue working with stained glass.


Arts & Tea Culture Workshop Series – A Pre-event for A Taste of Tea and Pottery Fundraiser
 The Volcano Art Center (VAC) announces the third annual A Taste of Tea & Pottery event to be held on Sunday, August 25th, from 12noon – 4pm at VAC's Niaulani Campus in Volcano Village.
New to this year's A Taste of Tea & Pottery fundraiser is the addition of a pre-event workshop series focusing on the role of the arts in tea culture and community.  The Arts & Tea Culture Workshops are designed to be attended as a series, providing participants a glimpse into the long history and cultural significance of a handmade tea bowl while highlighting locally produced teas which have become a unique agricultural product for the state of Hawaiʻi.
The Series is open to anyone interested in learning about the relationship between tea, arts and agriculture.  No experience is necessary. The three afternoon workshops are scheduled for Saturdays, May 18th 12noon – 5pm, June 29th 1- 4pm and July 27th 1- 4pm at the Volcano Art Center's Niaulani Campus in Volcano Village.
Arts & Tea Culture Workshop #1 on May 18th from 12noon – 5pm
Participants will have the opportunity to hand build porcelain ceramic tea bowls with Volcano artist and tea farmer Chiu Leong. The session will introduce the history of tea bowl culture, a brief overview of local tea farming by Eva Lee and a focused cupping, tasting and education on Hawaii grown white teas.
Arts & Tea Culture Workshop #2 on June 29th from 1- 4pm
Students who attended workshop #1 will receive their bisque fired tea bowls from the previous session to glaze for high fire completion. In addition, a focused cupping and tasting of locally produced black teas with a brief discussion and demonstration on tea cultivar propagation for attendees to start a few tea plants on their own.
Arts & Tea Culture Workshop #3 on July 27th from 1- 4pm
Participants will collect their previously glazed bowls (new attendees will receive a new one to use) for the enjoyment of participating in a Japanese Tea Ceremony. It will be performed by artist and Chado practitioner Philippe Nault, along with an introduction to its origin, its evolution and its philosophical development as a "transformative practice". A discussion on green tea, a brief review of Hawai`i green tea cultivation and production will follow.
The series can be attended for $60 (VAC members) or $75 for non-VAC members.  Individual workshops can be can be attended for $25 each. The first twenty members to register for all three workshops receive A Taste of Tea & Pottery ticket on Aug 25th for half price!  Registration is limited, call 967-8222 to register today! To purchase tickets, enroll for the workshops, or get more information about our August 25th A Taste of Tea & Pottery event call Volcano Art Center at 808-967-8222.
Proceeds from these special events will be used to help support the "Fire Arts" Program at VAC which includes ongoing ceramics and glass classes and workshops at the Volcano Art Center. The Volcano Art Center is dedicated to offering these programs which, in part thanks to funds raised, are now expanding and include high-fire pottery, flame-worked glass, and stained glass, and ceramic classes for students of the nearby Volcano School of Arts and Sciences.