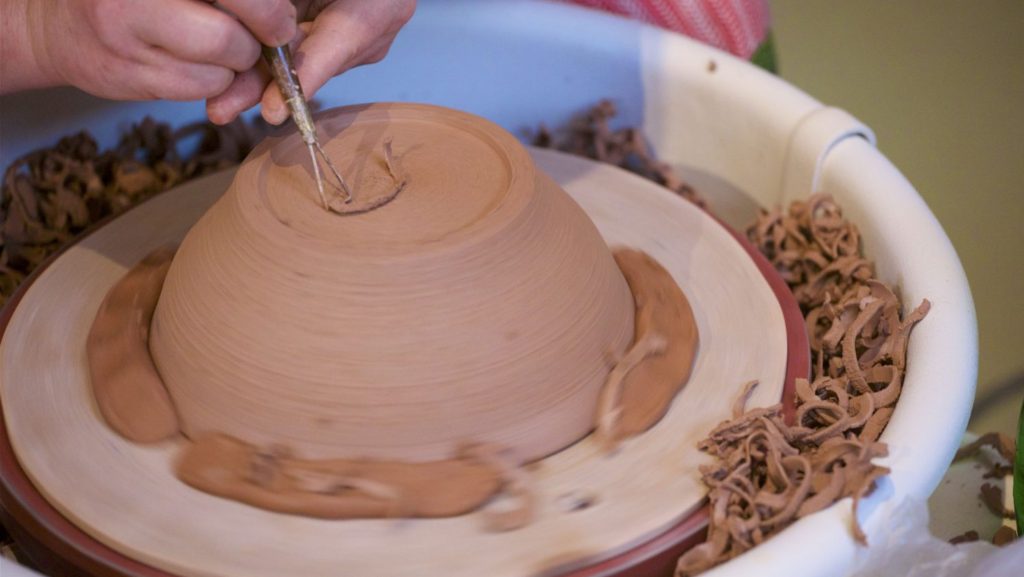 Current Classes & Workshops
---
Volcano Art Center's Cancellation and Refund Policy
If for any reason you need to cancel, please call 72 hours before class begins for a full refund. Office hours are Monday through Friday, 9am – 5pm, (808) 967-8222. No refunds will be issued for cancellations made less than 72 hours prior to the start of class. If class is cancelled due to insufficient enrollment or unforeseen circumstances, you will receive a full refund.
---
Ongoing Classes & Workshops
Stained Glass Open Studio
Volcano Art Center is pleased to offer stained glass open studio sessions on Monday evenings from 2pm – 5pm. Studio drop-ins are available for artists with some experience in Copper Foil Stained Glass who wish to use the equipment, hand tools and facilities independently. There will be a resource person for project help and questions. Fees are $10 per session or $40 for four sessions which includes a grinder bit. All other materials and supplies are not included in the fee. If special project help is required, please notify VAC prior to Open Studio. Pre-registration is required.

February 2020
Papa ʻŌlelo Hawaiʻi: Hawaiian Language Classes Level 1 (Beginner), 2/18
Instructor Kaliko Beamer-Trapp
Have you always wanted to learn Hawaiian language but haven't had the time? Are you interested in Hawaiian culture and history? Or are you new to the islands and unsure of how to pronounce street names, place names, and people's names? There are ever-increasing numbers of fluent Hawaiian speakers and now you can begin to learn this rich and vibrant language right here at Volcano Art Center's Niaulani Campus.
Hawaiian Language Level 1 will be offered for 8 weeks every Tuesday night beginning  February 18 – April 7, 2020, from 4pm – 5pm. This basics class will focus on vocabulary, counting, simple conversation, grammar, and sentence structures. No previous knowledge is required. You could even sign up a friend as a practice partner and double the fun!
Classes will be held at Volcano Art Center's Niaulani Campus. Fee for the class is $95 and $85 for VAC members. No textbook is required; reading materials will be provided by the instructor. Bring a notebook to take notes if you wish!
—-
Papa ʻŌlelo Hawaiʻi: Hawaiian Language Classes Level 2, 2/18
Kumu Kaliko Beamer-Trapp
Do you already have the ability to pronounce Hawaiian words and want to learn how to put them together to make phrases and sentences? Are you perhaps already able read Hawaiian sentences aloud and recognize the individual pieces, and now you want to learn more sentence patterns and idioms? Well this is the class for you!
Papa ʻŌlelo Hawaiʻi Level 2 will be offered for 8 weeks every Tuesday night beginning February 18 – April 7, 2020, from 5pm – 6:30pm. This class will focus on expanding vocabulary, using longer snippets of conversation, and understanding how repeating Hawaiian word and phrase patterns can be used to communicate using a great many types of sentences. Class is taught using Hawaiian as the language of instruction about 10% of the time to help you with listening comprehension.
Classes will be held at Volcano Art Center's Niaulani Campus. Fee for the class is $95 and $85 for VAC members. No textbook is required; reading materials will be provided by the instructor.
—-
Papa ʻŌlelo Hawaiʻi: Hawaiian Language Classes Level 3, 2/18
Kumu Kaliko Beamer-Trapp
The Level 3 class is for those who can already speak and understand a little Hawaiian language. Class is taught over 50% in the Hawaiian language to increase comprehension and to "immerse" the students in the language. Each 8 week series covers a different topic in reading selected from traditional Hawaiian literature of the 1800s and bases the vocabulary and lessons around the readings. This class is ideal for teachers, cultural practitioners, and those with the goal of using Hawaiian language on a daily basis.
Papa ʻŌlelo Hawaiʻi Level 3 will be offered for 8 weeks every Tuesday night beginning February 18 – April 7, 2020, from 6:30pm – 8pm.
Classes will be held at Volcano Art Center's Niaulani Campus. Fee for the class is $95 and $85 for VAC members. No textbook is required; reading materials will be provided by the instructor.


Fused Glass Basics: Heart Ornaments with Claudia McCall, 2/22
Love is in the air in the month of February and to celebrate, glass artist Claudia McCall will teach the "Fused Glass Basics: Hearts" workshop on Saturday, February 22, 2020, from 9am – 1pm at Volcano Art Center Niaulani Campus in Volcano Village. This one-day kilnforming workshop will introduce participants to basic techniques of glass fusing. McCall will share her expertise and knowledge, teaching students the skills involved in working safely with fused glass, and creating a beautiful, sturdy piece of art. Hang the finished piece in your window or gift it to someone special – heartfelt indeed!
Kilnforming is the process of shaping glass in a kiln with heat and gravity. When the glass is heated in a kiln, its consistency takes a liquid form. Once gravity takes hold of the molten glass, the glass fills the space in which it is contained and fuses with other pieces of compatible glass. Participants will create their own heart-shaped ornament using pre-cut molds by McCall. As the kiln will need to cool for a couple of hours after running the project, a break will be held for lunch. Participants are welcome to bring their own lunch for a picnic at Niaulani or break elsewhere.
The class fee is $30/$25 for VAC members plus a $20 fee, inclusive of supplies. All levels are welcome to enroll. Advance registration is required and this workshop will be limited to 6 adults.
Claudia McCall started working in stained glass in 2006, when a friend gifted her with a piece. She loved the way the sunlight played through the different types of glass and wanted to explore the possibilities of interpreting the natural world, and interest spurred by her mother's love of art and her grandmother's love of birding. Her goal is to interpret Hawai'i's unique environment through the stylized lens of stained glass.
This workshop is FULL! Please contact VAC to be placed on a Wait List. 

Beginner & Intermediate Mixed Media Encaustic with Photography, 2/29 
Join artist Mary Milelzcik for the "Mixed Media Encaustic " workshop, which incorporates photography and image transfers on Saturday, February 29, 2020, from 10 am – 3 pm at Volcano Art Center Niaulani Campus in Volcano Village. Encaustic is a mixture of beeswax, damar resin and pigment, which is applied to a solid absorbent surface. Each time a new layer is applied, it must be fused. The layers can be enhanced by carving with tools or drawing with pigment, oil sticks etc. Photographs and images can be transferred and other materials embedded to create a variety of amazing results with depth. Beginners to advanced!
Mixed Media Encaustic is a hands-on workshop, where you'll learn safe studio practices, all the encaustic painting basics, and how to integrate encaustic painting into other media.  Encaustic and photo transfer techniques, along with wet and dry shellac burns will be demonstrated. After instruction and experimenting, you will have the opportunity to create encaustic paintings to take home with you.
Mary will provide panels and handmade paper to use as substrates, and an assortment marking tools and brushes, and interesting papers, photographs, minerals, fibers, and other natural and found materials for students to incorporate into their paintings. Students are encouraged to bring other items they'd like to incorporate. Advanced students can consult with the instructor in advance regarding specific projects. You are encouraged to bring lunch and something to snack on. The class fee is $60/$55 for VAC members plus a $30 fee, inclusive of supplies.
Mary Milelzcik has a B.A. degree from Sonoma State University's School of Expressive Arts, a radical two-year upper-division interdisciplinary experimental program that existed for several years in the 70's. This transformative educational experience set the path for an interesting career as a mixed media artist and photographer; as the Curator at Highways Performance Space and Gallery in Santa Monica CA; and teaching experimental mixed media art and printmaking.  Photography is an important tool in her creative and documentary projects, as well as for capturing images to use as a base for her art projects.  Her studio Arts Asylum is located in Pahoa, where she teaches mixed media encaustic, papermaking and printmaking emphasizing the incorporation of natural materials as tools and/or part of the art. Her artwork has been shown internationally. Mary also has over 20 years of experience working with artists to advance their careers, and with nonprofits as a development strategist in Hawaii and California.

March 2020
The Wonders of Watercolor, 3/4
Get ready to explore "The Wonders of Watercolor" with Nancy DeLucrezia, an eight-week workshop series on Wednesdays starting March 4 – April 22, 2020, from 1 – 4pm at Volcano Art Center's Niaulani Campus in Volcano Village. This eight-week watercolor workshop is designed for artists who are already working in watercolor and want to benefit from the constructive feedback and sharing of ideas and information provided by group classes in taking your work to a new level. Each session will consist of approximately 30-60 minutes of presentations, demonstrations and discussions, followed by 120-150 minutes of work on current or new paintings while receiving feedback from the instructor and fellow students, especially regarding the topics covered.
In this class you will discover and enhance your personal style, review composition, light, materials and techniques, discover sources of inspiration, learn more about various paints and color mixing, participate in valuable critiques, and learn to build and promote your portfolio. The cost is $300/$275 for VAC Members plus a $5 facility fee.
Nancy DeLucrezia majored in art at the State University of New York with a concentration in photography and printmaking. In the late 80's she moved to California studied privately with Santa Barbara Watercolor Society founder, Rose Margaret Braiden. She also studied with award winning watercolor artist, Judy Koenig. Ms. DeLucrezia was a founding member of Working Artists Ventura (WAV), a residential community of artists, writers and performers, where she lived for six years and produced several art shows, theatrical performances and concerts.  She also served as Art Programs Director for Turning Point Foundation, teaching watercolor classes to psychiatrically challenged clients and curating community exhibits of their work. Since moving to the Big Island in 2015 she has studied acrylic painting with Peggy Stanton and oil painting with Rose Adare. She has also served on the Boards of Directors of Hawaii Island Art Alliance and Kipaipai School of Art and has taught watercolor at Kipaipai and Volcano Art Center.

Mokuhanga: Traditional Japanese Woodblock Printmaking, 3/7 
The iconic image of the 'Great Wave' by Hokusai or Hiroshige's landscapes are examples of "Mokuhanga", the term used to describe traditional Japanese woodblock printmaking. This relief printing technique differs from western woodcut methods in that an image is carved onto a piece of wood and water-based Sumi ink, watercolor, and nori (rice paste) are used to create the print. No toxic solvents or heavy metal press are used. Ink is applied with brushes and a simple printing pad is used to transfer the ink into the fibers of a dampened sheet of washi (Japanese hand-made paper).
You can learn how to make your own classic image with Glenn Yamanoha in the "Mokuhanga: Traditional Japanese Woodblock Printmaking." This workshop series will consist of four sessions at Volcano Art Center's Niaulani Campus in Volcano Village on Saturday, March 7, 14, 21 & 28, 2020, from 10am – 12:30pm.
Instructor Yamanoha will introduce the basic processes. Attendees will learn the fundamental techniques of Mokuhanga such as cutting with chisels, preparing blocks and paper, registration and printing with a baren (printing pad) in addition to design and aesthetic considerations. The cost is $100/$90 for VAC Members plus a $35 fee, inclusive of supplies. No experience is necessary for this workshop.
Glenn Yamanoha is an established painter and printmaker residing in Volcano. He has a degree in painting from the University of Washington in Seattle, studied graphic design at Seattle Art Institute and has many years experience teaching design, drawing and painting on the college level. As a Monbusho (Japan Government) scholar, he studied Mokuhanga in Kyoto, Japan and teaches regularly at many venues on the Big Island.

Zentangle Inspired Ensō (circle), 3/14
with Lois and Earl Stokes, CZT
Certified Zentangle Teachers
Saturday March 14, 2020
10AM-1PM
Set aside a morning to Breathe, Relax, Create and Heal.
Zentangle is an easy-to-learn, relaxing and fun way to create beautiful images by drawing structured patterns
It is the repetitive nature of these patterns that brings us into a state of relaxed focus that some call meditation.
During this meditative practice, we will combine the one-stroke brush painting of an Ensō (circle) with the art of Zentangle®
On this journey, we will
• Learn how to use black ink and brush in drawing an Ensō (circle)
• Explore the mindful drawing of tangles (patterns)
• Free yourself to create… embracing the present moment as you bring your mind and body into harmony
• Appreciate the beauty of imperfection
All art supplies will be provided. In this class you will receive four treasures:
Paper (washi), a brush (fude), ink (sumi), the ink stone (suzuri) will be replaced with a suitable container. Additional materials will be available and returning students are encouraged to bring their favorite supplies.
Everyone is welcome.
No prior knowledge of the Zentangle Method is necessary.
Please bring a light refreshment to share. Cost is $35/$30 VAC Members plus a $15 fee, inclusive of supplies.

Pastel On-Site Landscape Painting Workshop with Patti Pease Johnson, 3/14
Enjoy the outdoors and take your painting beyond the four walls of a classroom in the Pastel On-Site Landscape Painting workshop with Patti Pease Johnson on Saturday, March 14, 2020, from 9am – 1:30pm at Volcano Art Center Niaulani Campus in Volcano Village.
You'll receive step by step instruction in a proven rotational method for success, starting with form and fill, moving to value of black and white, then color. Your own natural style is brought to the surface. All materials will be supplied along with guidance and inspiration for your creative journey.
Initial discussion includes pastels types, papers, fixing and mounting. Then, use newsprint to get the flow of arm movements to keep loose. Next, you'll form shapes, and move into colors on sanded pastel paper. Learn to exaggerate and be bold with colors, and the value of using the lightest lights and the darkest darks. Grow your knowledge of composition, color and correcting problems.
Students will complete one 9×12" project. Weather permitting, the workshop will take place outdoors at Ni'aulani. Otherwise, the workshop will be held indoors with a reference photo.
Cost for the workshop is $50 and $45 for VAC Members plus a $15 fee per person, inclusive of supplies. Beginner and intermediate artists are welcome.
Patti Pease Johnson's artwork can be found at galleries and shops across the State and in collections around the world.

Writing for Inner Exploration and Life Reflection with Tom Peek, 3/21
A day of discovery with Award-winning novelist and teacher Tom Peek
Have you ever wondered how the place you come from influenced who you are? Or what memories you carry from your ancestors? Or how your personal history impacts your view of the world? Take a day out of your busy life to explore your deeper self and ponder the life you've lived so far.
Big Island author Tom Peek encourages you to "Discover the magic power of writing to stimulate the creative regions of your mind and unearth your meatiest memories, highest aspirations, zaniest ideas, and most incandescent insights."
Join Tom Peek for "Writing for Inner Exploration and Life Reflection" on Saturday, March 21 from 9:30am to 4pm at Volcano Art Center Ni'aulani Campus in Volcano Village. Workshop cost is $80/$70 for VAC Members. To register contact the Volcano Art Center at 967-8222 or visit www. volcanoartcenter.org. Students are asked to bring a lunch and some pictures of your parents—at least one of each parent (unless you come from a single-parent family, in which case bring some pictures of your one parent).
Peek's workshop includes fun, offbeat, and provocative "wild mind" exercises that provide participants with exploration tools to use in class and on one's own. This workshop is perfect for journal keepers, bloggers, autobiographers, spiritual seekers, memoir and family history writers, and anyone who simply enjoys writing. No previous writing experience is necessary, just the desire to explore!
Attendees always give Peek's workshops high marks. "I experienced a restarting of my fire for writing," said one past participant. "This workshop will change my life," said another.
Thought-provoking exercises include topics such as: "What passions guide your life?" "What mottos do you live by–or wish you did?", "What's the weirdest thing that ever happened to you?"
Peek, an award-winning novelist, has taught his popular Hawai'i workshops since 1991, encouraging hundreds of islanders to write their own journals, blogs, family histories, stories, poems, novels, and essays.

Fabulous Fabric Fun, 3/28
Enjoy a full day of textile fun with three creative textile artists and quilters in the "Fabulous Fabric Fun" workshop on Saturday, March 28, 2020, from 9am – 3:30pm at Volcano Art Center's Niaulani Campus in Volcano Village.
Glorianne Garza will guide you to explore different foiling techniques to apply foil to fabric, using fusibles, glue, stencils and more. Learn English Paper Piecing with Lisa Louise Adams and make a fabric bowl. Make a fabric landscape collage with Kona quilter Catherine Wynne.
The cost for the full-day workshop is $80/$75 VAC Members – all materials are included. Bring your hand-sewing kit, including a thimble, fabric scissors, and neutral thread. All fabrics are supplied though you have the option to bring landscape fabric to share. No machines are needed during this workshop. Please bring a brown bag lunch.