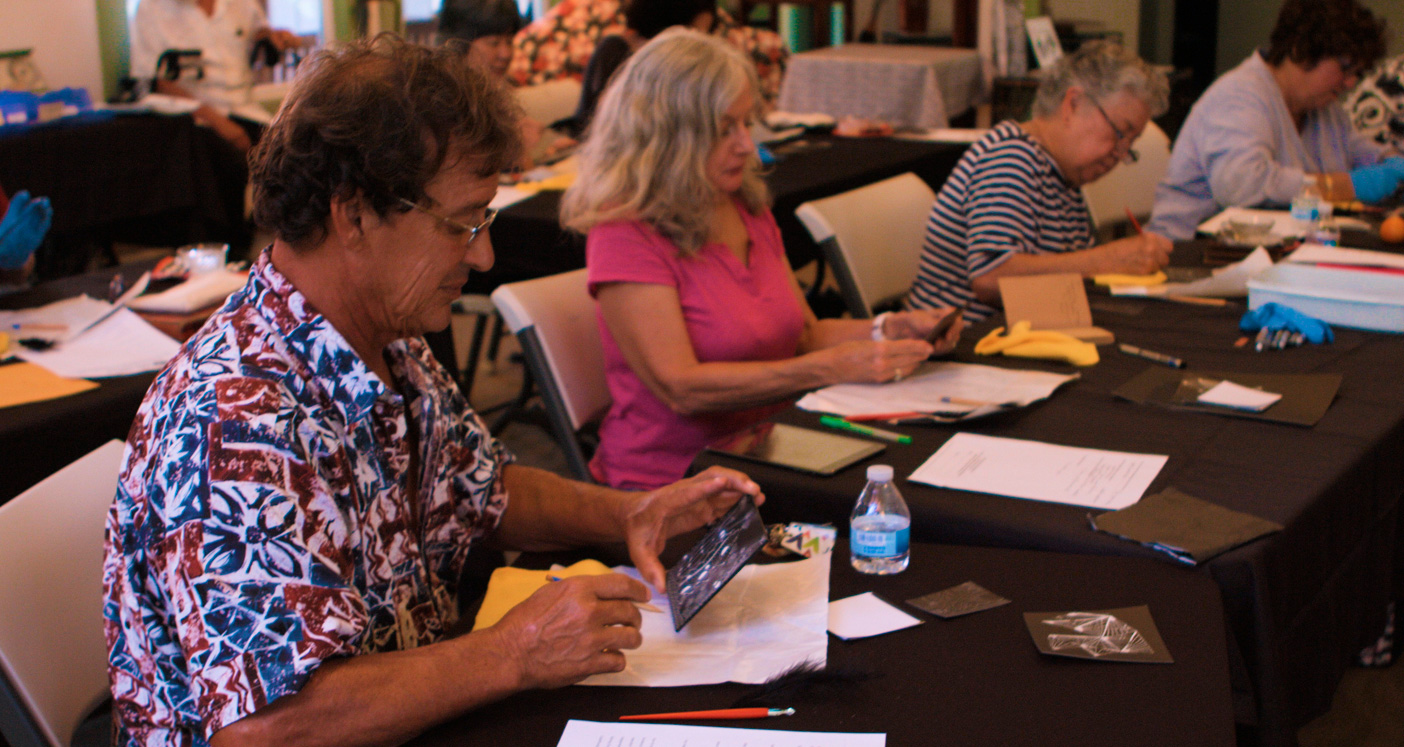 Current Classes & Workshops
---
Volcano Art Center's Cancellation and Refund Policy
If for any reason you need to cancel, please call 72 hours before class begins for a full refund. Office hours are Monday through Friday, 9am – 5pm, (808) 967-8222. No refunds will be issued for cancellations made less than 72 hours prior to the start of class. If class is cancelled due to insufficient enrollment or unforeseen circumstances, you will receive a full refund.
---
Ongoing Classes & Workshops
Thursday Evening Pottery Drop-in
The Volcano Art Center Ceramics Program has expanded to include evening classes, every Thursday,, from 6 – 9 pm.  The drop-in style class will allow local residents and visitors to Hawaiʻi Island the opportunity to try their hand at creating with clay on the potter's wheel, without having to commit to a 8 or 10 week long series.
Our teaching artist Erik Wold will be available for individualized assistance—answering questions and troubleshooting problems.  The emphasis will be placed on getting a feel for working on the potter's wheel and experiencing the thrill of hand-forming a pot in motion.  Each class will include an introduction to working on the potter's wheel, along with a step by step demonstration of its use.  Students will then try their hand at wheel throwing under the guidance and supervision of the instructor. Students will be given up to 5 pounds of clay to experiment with during the evening.
This is a chance to see how you like working with clay on the potter's wheel, and perhaps consider a full-length class in the future or simply sign up for another Drop-in Evening!  Students with all levels of clay experience are welcome.
"Thursday Evening Pottery Drop-in" happens every Thursday from 6 – 9pm.  Cost for each evening session is $35/$30 for VAC members. Class size is limited and pre-registration is required.
If students wish to keep pieces created that evening, they will be able to sign up for more evening sessions to trim, finish and glaze their pieces.  If their time is limited, such as visitors to Hawaiʻi Island, cost of pieces will be calculated by weight and finishing labor to be completed by the instructor.  (For example, an 8 fluid ounce cup is estimated to total about $10).  Finished pieces will be available for pick up at VAC, or shipped if necessary.
Erik Wold is a full time potter living in Volcano Village.  He is a member of the Volcano Village Artists Hui, and sells his wares regularly at the Saturday Hilo Farmers Market, and Sunday Cooper Center Farmers Market in Volcano.  Erik studied Ceramics at the University of Hawaiʻi, Hilo, graduating in 1993.


 June 2018
Soft Pastel Still Life, 6/30
Big Island artist and instructor Patti Pease Johnson can help you gain the confidence and techniques of this centuries-old medium. Johnson, who will host a soft pastel still life workshop at the Volcano Art Center, supplies the instruction and materials along with guidance and inspiration for this process along with some handy tips for your creative journey.
BE BOLD WITH COLORS AND YOURSELF!
Using her signature rotational proven method for success, Patti Pease Johnson supplies the instruction and all materials along with guidance and inspiration for your creative journey. First learn about types of pastels, different papers, fixing and mounting paper on backing. Then, use newsprint to get the flow of arm movements to keep loose. Next is forming shapes, and move into colors on pastel paper. Grow your knowledge of composition, color and correcting problems.
Students will complete a 10 x12" project. Beginners to intermediate artists welcome.
Patti Pease Johnson's artwork can be found at galleries and shops throughout the state and in collections around the world.
The workshop is slated for 9 a.m.-noon Saturday, June 30 at Volcano Art Center Niaulani Campus. The cost is $50, or $45 for VAC members, plus a $10 supply fee per person. Beginner and intermediate artists are welcome.

July 2018
Two day Oil Painting Workshop with Vicki Penney-Rohner, 7/7 & 7/8
It's time to release those concerns you might have about your painting skills and gain poise in each of your brush strokes. Let go of those nagging anxieties when using new colors and gain new confidence in your composition.
Understanding your medium and using your tools effectively gives the results you want. If you are an intermediate or beginner, this 2-day class will give you a better command of your medium.
Join instructor Vicki Penney-Rohner on July 7 & 8 (Saturday & Sunday) from 10am – 4pm at Volcano Art Center's Ni'aulani Campus in Volcano Village. Cost for the two-day workshop is $100 or $90 for VAC Members. Students will need a 24×30 canvas, paints and brushes. Students who have taken previous classes are invited to bring unfinished work from a previous workshop. A supply list can be found here.
Students will learn to mix colors, use different mediums to achieve various effects, and learn to layer color to bring depth and luminous richness to their work. Throughout the two days, students will learn to create form using values and light, and recognize, understand and apply the elements of design and composition to improve their work. Students will also be working with a pallet knife as well as brushes, and this lesson will explore painting water.
Vicki has been teaching art for fifteen years, and her work is in the State of Hawaii's permanent collection, has been featured in magazines and won numerous awards throughout the US. She is the Artist in Residence at the Fairmont Orchid and teaches classes there weekly.

Art in the Everyday Community Quilt Project – Assembly Workshop Day, 7/7
Assembly workshop on Saturday, July 7, 10am – 4pm at Volcano Art Center Ni'aulani Campus
Volcano Art Center is hosting a unique social engagement art project through visiting artist Laura Phelps Rogers that will be going on throughout the year. Your participation, support and involvement are encouraged and appreciated.
ART IN THE EVERYDAY community quilt project is a sculptural social engagement public work, facilitated through community engagement and created by the community.
Through community involvement and participation Laura hopes to construct a monumental sculptural quilt built out of round wood 5″ pieces. The artist provides the blank piece and asks each participant to create something on the blank out of every day objects or their take on the everyday through their artistic medium (the only restrictions are weight and natural materials must be sealed).
All participants are invited to attend this assembly day workshop. Cost is a $10 donation to Volcano Art Center. Your blank piece may be obtained by picking up a packet at the Volcano Art Center Administration Office or at the Wailoa Art Center or by requesting a piece be mailed. Each packet contains a return envelope that will require approximately $1.50 postage to return.
The Wonderful World of Wine & Watercolor, 7/10
Anyone can paint beautiful watercolors – even you! Artist Nancy DeLucrezia will offer the "Wonderful World of Wine & Watercolor" workshop on Tuesday, July 10 from 4 pm – 7pm at Volcano Art Center Ni'aulani Campus in Volcano Village.
Nancy will show you how to transfer a photo onto watercolor paper and introduce you to all the basic techniques you need to create a lovely painting of your picture. Techniques covered will include basic palette setup, color theory and mixing, masking, wet in wet, texturizing and how to create depth, highlights and shadows.
During the class, participants will enjoy a sampling of several wines from the wine store "Grapes" in Hilo.
Class fee is $35/$30 for VAC members plus a $17 supply fee. A still life photo will be provided for students to paint.
Nancy DeLucrezia majored in art at the State University of New York as a photographer and printmaker and has painted with watercolors for over 25 years. She has run a Japanese art gallery in New York City, designed public relations campaigns for several arts organizations, and developed a series of drawing and painting classes for children as well as an art therapy curriculum for adults. Before moving to the Big Island she was a member of the Santa Barbara Watercolor Society and Working Artists Ventura (WAV) where she produced and participated in numerous art and theatrical events. She also served as Director of Art Programs for Turning point Foundation and taught watercolor painting to adults with special needs.

Zentangle: Ink-Blown 'Ōhi'a, 7/14
with Dina Wood Kageler
Saturday, July 14, 2018
10 a.m. – 1 p.m.
Join us in celebrating Volcano's premier rainforest tree, Ke Kumu `Ōhi`a
Using inspiration from Volcano's own rainforests as our guide we will create twig-like "strings" with the ink-blown method, then tangle leaves and blossoms using watercolors and pens. Returning tanglers are encouraged to bring your favorite Zentangle supplies.  Loaner pens, pencils and watercolors will be available. 
No artistic experience needed. Watercolor experience and Zentangle Basics helpful but not required.
Cost is $35 / $30 VAC members plus a $10 supply fee. Please bring a light refreshment to share.

Writing from the Heart, 7/21 
The most powerful writing comes from the heart. What do you care about? What inspires you? What is special in your life? Frances Kai-Hwa Wang will offer the "Writing from the Heart" workshop on Saturday, July 21 from 9:30am – 4pm at Volcano Art Center Ni'aulani Campus in Volcano Village.
Write about the people, places, and memories that matter to you. Write to touch, inspire, move, persuade, and provoke readers. Write with emotion, write with spirit. Write from your own truest self to help others find theirs. This course explores the kind of writing that changes people, oneself included. And it begins honestly, one word, one day at a time.
Class fee is $75/$65 for VAC members. Bring a notebook, pen, and lunch.
Frances Kai-Hwa Wang is a journalist, essayist, speaker, educator, and poet focused on issues of diversity, race, culture, and the arts. The child of immigrants, she was born in Los Angeles, raised in Silicon Valley, and now divides her time between Michigan and the Big Island of Hawai'i. She has worked in philosophy, ethnic new media, anthropology, international development, nonprofits, and small business start-ups. Her writing has appeared at NBC News Asian America, PRI Global Nation, New America Media, Pacific Citizen, Angry Asian Man, Cha Asian Literary Journal, Kartika Review, and several anthologies, journals, and art exhibitions. She teaches courses on Asian/Pacific Islander American media and civil rights law at the University of Michigan, and she teaches creative writing at University of Hawaii Hilo and Washtenaw Community College. She co-created a multimedia artwork for the Smithsonian Asian Pacific American Center Indian American Heritage Project online and travelling art exhibition. Visit franceskaihwawang.com

Lauhala Weaving Workshop with Jelena Clay, 7/28
Learn the art of Lauhala weaving in this fun, hands-on workshop with Jelena Clay on Saturday, July 28 from 9am – 2:30pm at Volcano Art Center Ni'aulani Campus in Volcano Village. You'll be able to create your own bracelet and pair of earrings using this traditional Hawaiian method of weaving.
Topics covered in the workshop include collecting, prepping, and stripping of Lauhala. During the morning session of class, students will create their own Lauhala bracelet. This simple project is a great introduction to Lauhala weaving. During the afternoon session, students will then create a pair of earrings. All of the findings and tools along with sterling silver ear wires will be provided. Simple stones and crystals will be available to embellish the earrings.
Class fee is $45/$40 for VAC members plus a $35 supply fee. Pre-registration is required.
Jelena Clay is a master fiber artist and nationally recognized gourd artist who has produced an ever-increasing variety of contemporary and traditional work in every natural fiber she can find. Her interest in all Hawaiian art forms naturally led her to Lauhala.