Observe Master Lei Maker Kaipo Ah Chong as he teaches you how to make a traditional gardenia lei.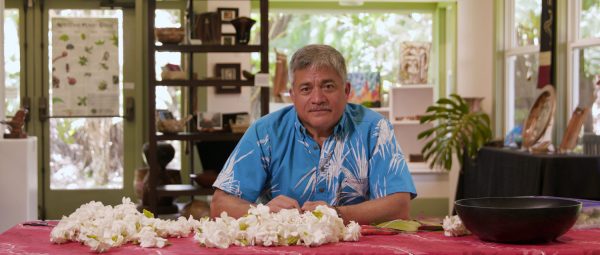 Learn how to create a traditional Hawaiian gardenia lei
Learn about how to best cultivate gardenias for your lei
Welcome To Your Classroom!
Topics Covered In This Class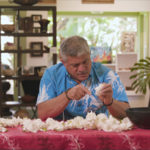 1

Introduction

Learn about Kaipo's background as a lei maker and which seasons are optimal to create a gardenia lei.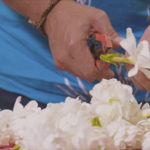 2

Harvesting Gardenia

Learn the proper way to maintain your gardenia hedges to prevent bugs and other browning elements from tarnishing your flowers prior to harvesting.
3

Learning Sewing Direction

Learn how to appropriately cut, center, and position your gardenia for sewing them into a lei.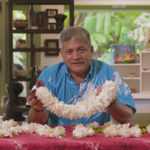 4

Finishing Touches

Discover the finishing touches you can add to your lei to ensure it feels complete.
1. Base Materials
Try to make your lei with strong lasting materials or if possible, biodegradable products. Kite string is a wonderful choice for this project, or biodegradable string. A lei needle will also be needed to string together your lei.
2. Gardenias
Gardenias grow on hedges and can be susceptible to bugs on the flower. To get the best flowers possible for your lei, we highly recommend trimming and taking care of your gardenia hedges in advance of picking your flowers -- this will make the flower selection process easier.
3. Additional Materials
You will also need a bowl filled with water, a single Hawaiian ti leaf (or similar), raffia, and scissors.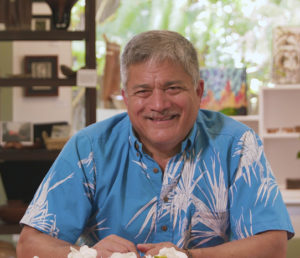 Kaipo Ah Chong
A tropical agriculture farmer and member of Halau Na Kamalei, Kaipo Ah Chong shares his expert skills and years of experience with the Volcano community on a regular basis through hands-on demonstrations and workshops at the Volcano Art Center.