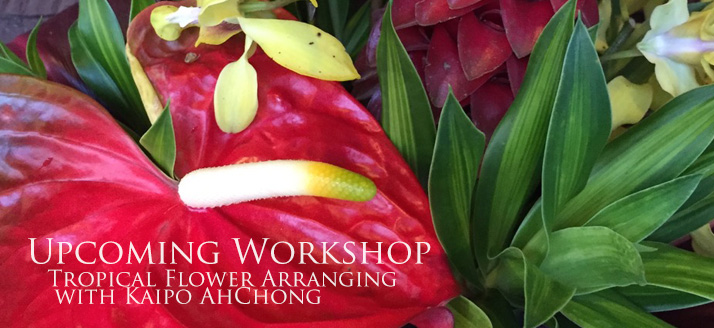 Hawaiian cultural practitioner Kaipo Ah Chong will offer his popular tropical flower arranging workshop once again on Friday, October 6 from 1pm – 3pm at Volcano Art Center's Niaulani Campus in Volcano Village. 
The finished flower arrangements are sure to evoke a sense of paradise in your home. Or, extend your Aloha to a friend or loved one with an arrangement you artfully assembled yourself, perfect for any occasion!
A tropical agriculture farmer and member of Halau Na Kamalei, Ah Chong will share his expert skills in this hands-on workshop. Explore color and texture in 3 dimensions with tropical flowers. Choose from an array of flowers like Anthuriums, Orchids, Ti leaves, Ginger, and Heliconia, to name a few.
Cleaned tropical flowers will be provided and the class fee is $45 plus a $20 supply fee. Please bring a pair of clippers.
Pre-registration is required! 
To register, please call (808) 967-8222
or