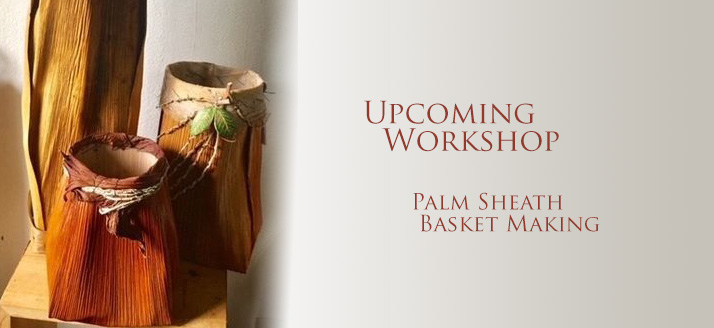 Try your hand at creating Palm Sheath Baskets in this fun, hands-on workshop with Jelena Clay on Saturday, October 20 from 9am – 2:30pm at Volcano Art Center Ni'aulani Campus in Volcano Village. 
This class is value packed with tricks on how to make gorgeous, artistic, palm sheath baskets.  All supplies will be provided to make two baskets.  Embellishments will include philodendron sheaths, seed stems, jacaranda seed pods and other items collected by your teacher. Students will learn a folding technique as well as a demonstration of mounting sheaths to blocks for tall elegant works of art.
Class fee is $50/$45 for VAC members plus a $30 supply fee. Jelena will provide palm sheaths, thread, needles, embellishments. Pre-registration is required.
For more information or to register call VAC at 808-967-8222 or

Jelena Clay is a master fiber artist and nationally recognized gourd artist who has produced an ever-increasing variety of contemporary and traditional work in every natural fiber she can find.