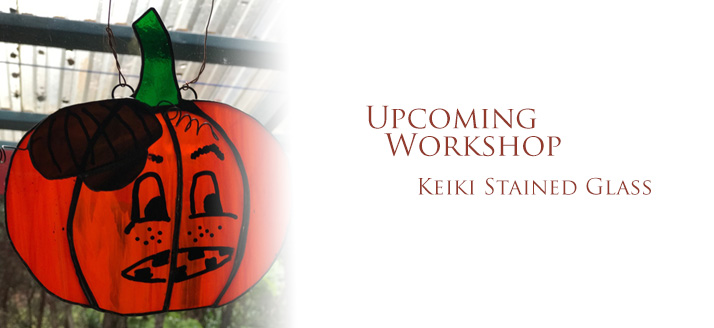 Introducing the first Keiki Stained Glass class at Volcano Art Center! "Keiki Stained Glass" will be held at Volcano Art Center on October 28 & 29: Saturday and Sunday from 9am-12pm. 
Now your child can try their hand at making stained glass art in this workshop for beginners. Students will learn basic stained glass construction tasks by completing a simple, 5-piece pumpkin design that can be hung in a window or made into a candle holder – just in time for Halloween!
The glass will be precut and will then be completed using the copper foil solder method of stained glass construction, which includes foiling, soldering, finishing, and decorating. Glass cutting and grinding will be demonstrated.
Glass artist Lois Pollock will share her expertise and knowledge, teaching students the skills involved in working safely with stained glass, and creating a beautiful, sturdy piece of art.
Class fee is $55/$50 for VAC members plus a $10 supply fee.
Attendees are asked to wear long pants, snug fitting gloves, covered shoes and safety glasses.
This class is designed for children ages 11 – 13 and children must be accompanied by an adult. Advance registration is required and this workshop will be limited to 4 children accompanied by their parent.
Limited space. For more information and to register call Volcano Art Center at 808-967-8222.