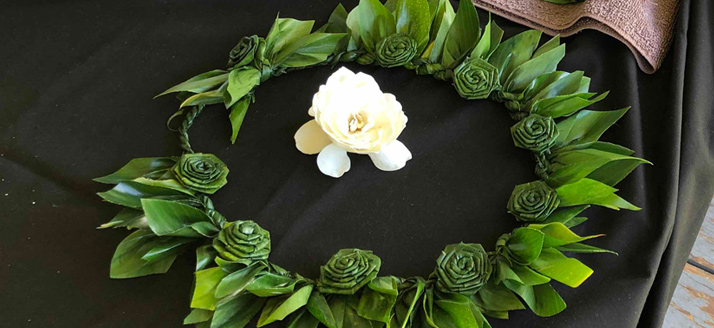 Learn the art of Ti Leaf Lei making in this fun, hands-on workshop with Jelena Clay on Saturday, August 10, 2019 from 9am – 12:30pm at Volcano Art Center Niaulani Campus in Volcano Village. Jelena will teach you how to make a basic ti rope, how to twist a ti leaf rose and how to add ti leaf inserts to create full leafy beautiful lei! 
A ti leaf lei is appropriate for any and all occasions and is traditionally thought to bring good luck. This lei is a thoughtful way to send off a loved one going on a journey or beginning a new career or other life change. A ti leaf lei symbolizes admiration, appreciation and respect. A ti leaf lei is often used as a gift for weddings, graduations, anniversaries and memorials. 
The class fee is $15/$10 for VAC members. Please bring 15 – 20 ti leaves. If you are unable to acquire your own ti leaves, they will be provided for an additional $5 supply fee. Pre-registration is required. 
For more information or to register call Volcano Art Center at 808-967-8222
OR

About the Artist
Jelena Clay is a master fiber artist and nationally recognized gourd and fiber artist who has produced an ever-increasing variety of contemporary and traditional work in every natural fiber she can find. She currently teaches workshops around the United States and Hawai'i.