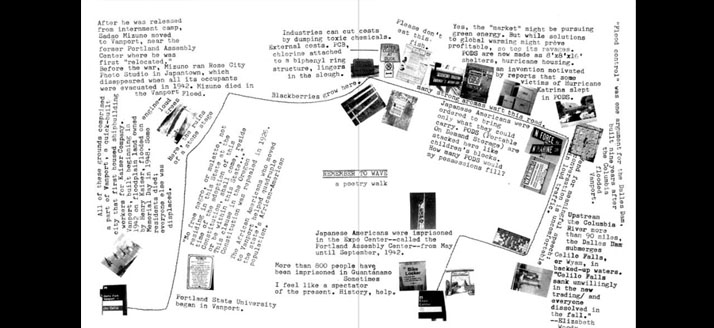 Join author Susan M. Schultz for the "Documentary Poetry" writing workshop on Saturday, January 20 from 9am – 1pm at Volcano Art Center Ni'aulani Campus in Volcano Village. Poets and non-poets alike will delight in learning the techniques to create their own documentary prose or poetry.
Documentary poetry is a form of poetry that seeks to document historical events, as well as expresses political, social or cultural issues. In Joseph Harrington's essay, "Docupoetry and Archive Desire," he defines documentary poetry as poetry that (1) contains quotations from or reproductions of documents or statements not produced by the poet and (2) relates historical narratives, whether macro or micro, human or natural.
The workshop will begin with a brief discussion of some readings from documentary poetry, such as Donovan Kuhio Colleps's Proposed Additions. Students are asked to bring some of the following documents: a family photograph, a sketch/plan of your house, instructions for a machine that you've used, a map of your neighborhood, definition of the name of your street, what you can find in a quick Google search about the history of your street, or neighborhood. Documents will likely be different for each person.
The workshop will then involve a free write about the photograph, insertion of instructions or blueprints into the free write material, a free write on your street name and where it's placed on the map, and the bringing together of private materials and public ones. In the final step, you'll discover how our private lives intersect with public histories.
Class fee is $40/$35 for VAC members.
To register, call Volcano Art Center at 808-967-8222
OR

About Susan M. Schultz 
Susan M. Schultz is a professor of English at the University of Hawai'i at Manoa and has lived in Hawai'i since 1990. She is the author of many books and chapbooks of poetry and poetic prose, including two volumes of Dementia Blog (Singing Horse Press) and others of Memory Cards (Singing Horse, Vagabond, Equipage forthcoming).
She has also authored a book of literary criticism and edited two others. She founded Tinfish Press, which publishes experimental poetry from the Pacific, in 1995. Susan lives in Temple Valley with her husband, two kids and three animals. She cheers for the St. Louis Cardinals.