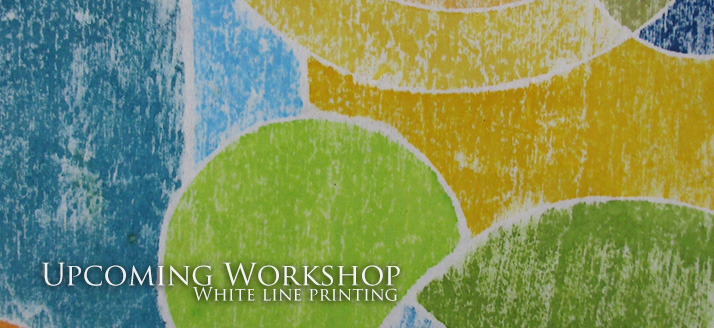 Join Lisa Louise Adams and Magaret Barnaby for a day of fun and low-tech printing! The workshop will be at Volcano Art Center's Niaulani Campus on October 3 from 10am – 4pm. Course fee is $70/$63 for VAC Members and a $15 supply fee. No experience is necessary for this introductory workshop. Students will need to bring a mat or x-acto knife, baren or wooden spoon, pencil and paper, 2 simple 5×8 inch images and (if you have) wood carving tools.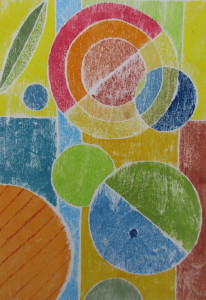 It's a classic American story; blended cultures forming a very unique American art form. White Line Printing was born from traditional Japanese woodblock printing then added the theories of Cubism and Abstract Expressionism.
Founded in the early 1900s in Provincetown, Massachusetts, white line printing was developed by artists who were interested in Japanese printmaking, but wanted to eliminate cutting a block of wood for every color needed. Since necessity is the "Mother of Invention" they developed a way to make color prints from a single block of wood. With this method, a line drawing is cut into the block, which becomes white lines surrounding each shape. Each section is then hand colored with watercolor paint and printed with a baren or wooden spoon until the print is complete. Every print will be unique because of the variations in paint application.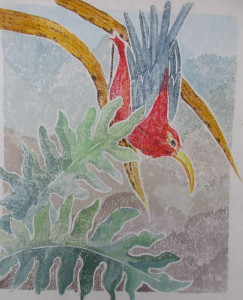 Spanning a career of over thirty years, Margaret Barnaby has been a jeweler, a sculptor and painter as well as a printmaker. Her woodblock prints were awarded the Jean Charlot prize, the John Chin young award for Outstanding Relief (2011, and Honblue purchase awards in 2007, 2011 as well as Hawai'i State Foundation on Culture and the Arts purchase awards in 2008 and 2011.
Lisa Louise Adams is a painter, potter, printmaker, bookmaker, papermaker, jeweler, poet and quilter who lives in Volcano. For over twenty-five years her work has been displayed in numerous invitational and juried exhibitions locally, nationally and internationally. You can find her working out of her Spiral Triangle Studios and teaching art in schools and workshops throughout Hawaii and the world.
To register or for more information please contact Volcano Art Center at 808-967-8222 or click here to register.