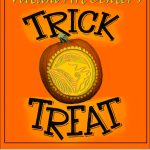 VOLCANO ART CENTER'S SPOOKY TRAIL IS LURING YOU! 
Wear your favorite HALLOWEEN costume to enter our Spooky Trail at Volcano Art Center's Haunted Forest. Join us on October 30th from 4:00 – 7:00 pm. Your adventure begins with a tour of the Halloween Village, then your tour ghoul will lure you into the Haunted Forest. 
This exciting, fun experience includes a keiki costume contest and the best decorated or carved pumpkin, which you can bring from home.
Goodie bags will be distributed to each keiki (while supplies last). Drawings for prizes will happen throughout the event. Costume and pumpkin judging will be from 5:30 to 6:00 p.m.
The cost is $4.00 per person, at least one adult per family, with a maximum of 6 in a group. Please bring your own flashlight.
Due to COVID restrictions, a limited number of participants will be allowed on the trial at a time. Masks and sign-in will be required. Thank you for your cooperation and help in supporting the Volcano Art Center.
*tickets may be purchased at the door!