Saturday, May, 20, 2023,  from 10 am – 2 pm at VAC Niaulani Campus in Volcano, Village.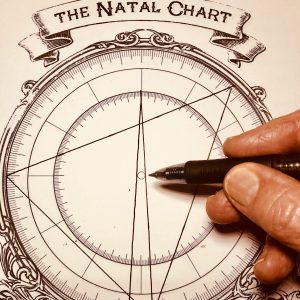 Astrology is a wonderful tool for self-discovery!  By exploring your own natal chart, the map of the heavens at the time you were born, you can gain insights into your character, potentials, and life events! Where are your strengths?  Your blocks?  How can you find the most meaning in your life?
 In this four-hour beginning astrology class, you will learn the fundamentals of astrology that will provide you all the knowledge you need to interpret your own chart, and that of others.  You will learn what a natal chart is, what an ephemeris is and how to read it, the symbols of astrology, the four basic components of reading a horoscope, the archetypal characteristics of the planets, and the meaning of the nodes—our guides to who we were and who we can become—our karmic path.
In addition to the basic language of astrology, Uldra will teach how we can use meditation to enhance our interpretive skill, which is what makes astrology an art!
Each student's astrology chart will be provided.  This class will be a fun, inter-active, knowledge-packed introduction to Western Astrology.  No previous study of astrology is necessary. The class will be held at the Niaulani Campus on Saturday, May 20, 2023, from 10am  – 2pm, at Volcano Art Center Niaulani Campus in Volcano Vilage. The class fee is $80/$75 for VAC members.
Uldra Johnson has been a practicing astrologer for 38 years. Her mentor was the renowned astrologer, Alan Oken.   She is also a Buddhist teacher in the Mahayana tradition and a mixed-media artist.
For more information or to register call (808) 967-8222.