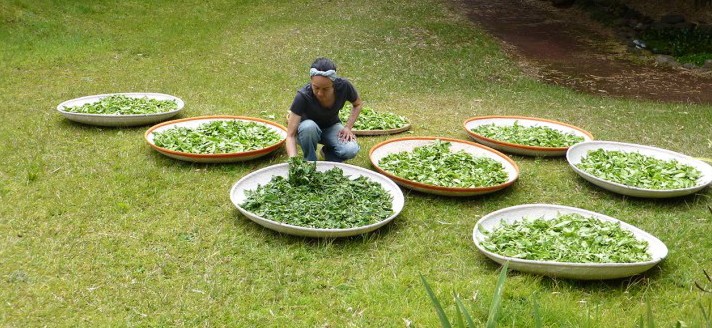 On April 14th from 5pm -6:30pm join Eva Lee of Tea Hawaii & Company will be hosting a tea and tea discussion. Folks interested in growing tea and those who have begun propagation are invited to a lively discussion about tea. On hand will be Eve Lee of Tea Hawaii and Robert Best from Esparto California.
Best will discuss his experience in tea propagation. He has also been working with Tea Hawaii over the last few years. Eva Lee has been helping him get started with cultivar plant stock as he propagates tea in collaboration with Roy Fong of Imperial Tea Court Company. Best commented, "The intent is to have a two way discussion. I will explain what we are trying to accomplish at the farm; The theories of hydroponics & airponics and using these same techniques to enhance tea production."
Currently Best's farm is a little over 40acres.  On it are 1100 Almond trees and 66 Olive trees. He hopes to plant 15K tea trees over the next 4 yrs. This week he is planting 100 Jasminums, if the scent is correct, 1000 more will be planted.
Best's work background includes CBS (Columbia records), ITT Auto Divisions  (brake systems), Rockwell Int. (Space shuttle – B1-B bomber) and Best consulting.
This gathering is free and donations are encouraged to VAC.
Location:
Volcano Art Center Niaulani Campus Admin Building
19-4074 Old Volcano Rd, Volcano, HI 96785
Phone: 808-967-8222 | Date: April 14, 2015 | Time: 5pm-6:30pm