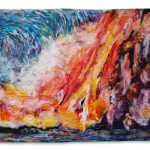 Studio Art Quilt Associates is pleased to announce Shifting Tides: Convergence in Cloth,Friday, October 8th to November 8th virtually at at VAC.  Created as a group exhibit to shine a light on the issues facing the Pacific Ocean today, Shifting Tides is a collection of work by 45 artists chosen from the seven Pacific-facing regions of Studio Art Quilt Associates (SAQA). An international organization that promotes the quilt as an art form, SAQA has a history of inviting artists to explore topical, sometimes controversial topics. With this latest show, the organization's west-coast members explore the earth's largest ecosystem.
From their strikingly different vantage points—from Southern California northward to Western Canada and Alaska, plus Hawaiʻi—artists from a range of backgrounds were asked to express their concerns and feelings about the Pacific. "Merely because we live in this part of the world, we as individuals are part of the Pacific ecosystem. On a daily basis we may not recognize the changes that are happening, but they are of vital importance to our world," write Georgia French and Sonja Campbell, co-chairs of the exhibit planning committee. "We were stunned with the variety and emotional intensity of their responses, as well as with the beauty and graphic impact of their work."
The 45 works range widely in content and technique, drawing on realism, abstract, and non- representational depictions. The pieces on display were chosen from more than 160 submissions for SAQA artists. Curated by renowned textile artist, Ann Johnston, the exhibit offers a variation of style and context about the plight of oceans and the communities they support. "The topic demands a passion we all feel, and the quilts dealt with the subject and the passion in many different ways; all of them hit me as having merit and value," explains Johnson. "The intention of the exhibit was not only to choose good pieces but also to include a representative range of habitats and issues in reference to our Pacific ecosystem. I also wanted to include a range of design approaches and construction techniques. I think the resulting exhibit is a showcase of art that will enlighten the viewers about quilts and encourage exploration of solutions to one of our most anguishing ecological problems."
Whether you want to learn more about the issues plaguing the Pacific Ocean, crave a forum that amplifies your concerns, or just want to immerse yourself in images of its beauty, Shifting Tides: Convergence in Cloth promises to deliver.
SAQA is a nonprofit organization whose mission is to promote the art quilt as, mainly textile based fine art, creative visual work that is layered and stitched .Over the past 30 years, SAQA has grown into a dynamic and active community of nearly 4,000 artists, curators, collectors, and art professionals located around the world. Providing exhibitions, artist and collector resources, publications, and membership opportunities, the organization seeks to increase the public's appreciation for the art quilt and to support members in their artistic and professional growth.
The Hawai'i SAQA region includes artists from the entire state who's work is presented in person at Volcano Art Center's Niaulani Campus in conjunction with the virtual 7 region show. One of the pieces in the Shifting Tides virtual exhibit, by Hawai'i SAQA representative Phyllis Cullen, references Hawai'i Island's active volcano. She includes a companion piece in the Hawai'i exhibit as well. In fact, much of the work in the local artists' show references Hawaiian legends, flora and fauna, including abstract work influenced by Hawaiian culture, scenery and spirit. Diversity of style and subject, form and technique echo the huge variety and scope evident in this wonderful art form worldwide.
Please visit VAC's Niaulani Campus at 19-4074 Old Volcano Rd in Volcano Village between 10am -4pm, Monday -Friday to view the Hawai'i regional SAQA quilts on display or view them online HERE.