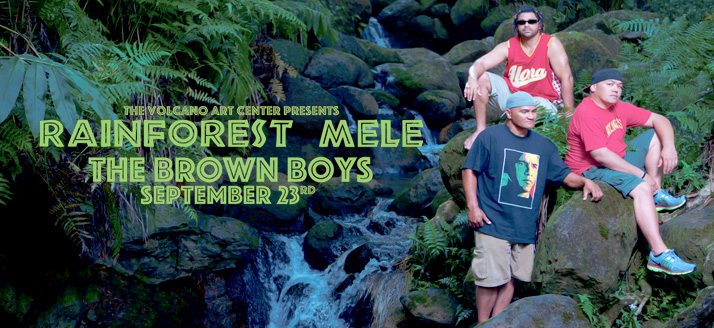 This event has been canceled! The Big Island's very own musical group "The Brown Boys "will be kicking off the Volcano Art Center's latest musical program "Rainforest Mele on Saturday, September 23rd at 4:30PM and 7:00PM!
The Brown Boys will be performing songs from their self titled breakout album as well as playing some of Hawai'i's favorite songs. This contemporary Hawaiian Music group embodies the musical stylings of Kalapana, Haps, Kapena and the beloved Hawaiian musical icons. The musical trio are Karl Zinsman, Damon Williams and Leki Ma'ave. The musical flavors of the trio highlight everyday local life here in Hawaii and the Hawaiian culture through music.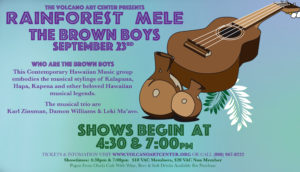 Volcano Village's Ohelo Cafe will have pupus for purchase at both concerts. Wine from Grapes A Wine Store will also be available and craft beer from Lanikai Brewing Company will join other beverages and snacks for purchase.
There will be a matinee show at 4:30PM and an evening show at 7:00PM. Tickets are $18 for VAC Members and $20 for Non VAC Members.
For tickets and more information please call (808) 967-8222 or