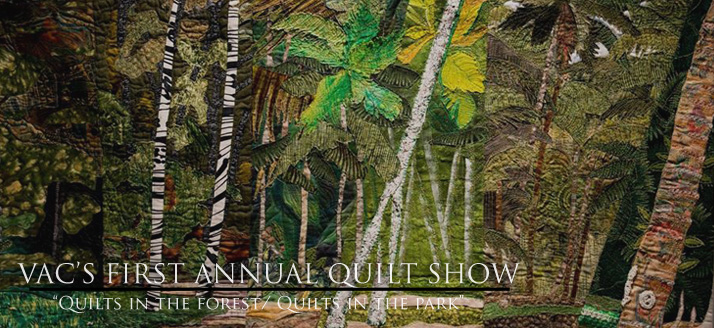 Volcano Art Center's first annual quilt show will open on July 15th, 2016 with a special reception from 5 pm to 7 pm, at Hale Ho`omana at VAC's Niaulani Campus in Volcano Village. This exhibit is open to the public and free of charge. The exhibit will be open from July 16th to August 6th, Tuesday – Saturday, 10 am to 3 pm.
In this first annual quilt show for VAC, over 20 quilters are showing 40 of their finest work, some for the first time in public. This year's special theme, Find Your Park, highlights the centennial celebration for Hawaii Volcanoes National Park as well as the National Park Service. A number of remarkable designs will be on display, inspired by the ongoing dramatic scenery in the park. The 40 quilts shown include traditional as well as contemporary Hawaiian quilts, wearable art, bed runners and some "very small " quilts.
Also on display will be two antique Hawaiian quilts, on loan by master quilter Roberta Muller, as well as a number of old quilting paraphernalia.
Roberta Muller will share basic quilting techniques on Saturday, July 16th at two 2-hour sessions, 10-12 and 1-3, at Hale Ho`omana. Honu (turtle) Design Kits will be on sale for $ 10.00 and will include Honu applique, fabric, batting, backing, needles and thread.
On Monday, July 25th, at 7 pm, Volcano Art Center will be showing the award winning PBS documentary " The Art of Quilting" at Hale Ho`omana. This program celebrates contemporary quilt artists as they transcend classic quilts by taking the finest traditions of the past to create new traditions for this American art form. This presentation is free however donations are gladly accepted.  "Quilts in the Forest/Quilts in the Park" will be open on Monday, July 25, at 5pm for those who wish to view the show that evening.
*Regular show hours are July 16 to August 6, Tuesday – Saturday, 10 am to 3 pm