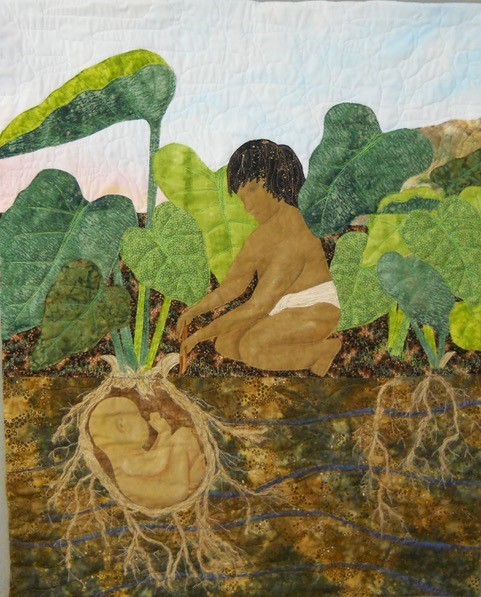 Volcano Art Center (VAC) is proud to announce the third semi-annual quilt show, Quilts in the Forest – Winds of Change at its Niaulani Campus in Volcano Village. The show displays the talent of Hawaiʻi Island quilters, both amateur and professional. Opening to the public on July 17th the exhibition continues through August 8, 2020, Tues.-Sat., 10AM – 4PM at VAC's educational campus in Volcano Village.
The exhibition will be held in Dietrich Varez Hall in the Hale Ho'omana Building at 19-4074 Old Volcano Rd. where social distancing protocol will also be observed.
The bi-annual quilt show, this year called Quilts in the Forest – Winds of Change presents 35 quilts by 18 different quilters of Hawaiʻi Island.  The exhibition highlights new and innovative ways of quilting and stitching.  The exhibition is open to the public and free of charge however donations are greatly accepted. "The Volcano Art Center invites all to come see this year's quilt display", states gallery manager Emily C. Weiss.  "The last quilt show was on display during the eruption events of 2018.  Just as VAC did then, we are adjusting… no longer to the environmental changes of the summit area but instead to the results of the Covid-19 pandemic which has also greatly affected our organization.  Drawing upon the resiliency practiced in 2018, VAC is adapting and adjusting to the situation.  We invite you to come to experience the arts by visiting the quilt exhibition."  The Niaulani Campus also hosts ongoing classes and workshops, the Niaulani Nature Trail (a 1/7 mile loop trail through old growth forest), and an outdoor sculpture garden Monday – Friday from 10am – 4pm. "The arts are alive and well, and are continuing to play a very important role in our community during these challenging times, states Weiss.
Visitors should expect mandatory mask-wearing on campus and in the gallery, 6 ft. distance within the gallery, max. occupancy of 10 people within the gallery at one time (Please note: you may be asked to wait outside if the gallery is full), hand sanitizer at the entrance, and regular cleaning of highly touched surfaces by VAC staff and volunteers.