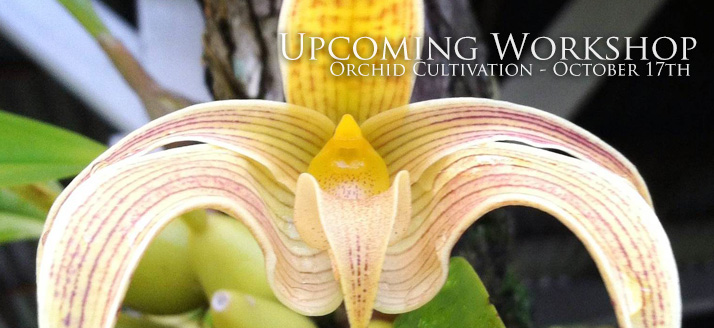 Join us for The Orchid Workshop on October 17, 9am – Noon at Volcano Art Center's Niaulani Campus. Cost for the workshop is $25 and $20 for VAC Members. 
When it comes to orchids, the most effective way to multiply is to divide. It's a theory that could make any math teacher cringe. Add to that an even quirkier concept of "mounting" which for orchids is planting without soil.
If you're an orchid hobbyist or someone with a budding orchid addiction you'll want to join Ben Oliveros, Larry Kuekes and Shelby Smith from the Hilo Orchid Society for Volcano Art Center's Orchid Workshop. Larry Kuekes will discuss which orchids grow best at different elevations. Ben Oliveros will be giving hands on demonstrations for dividing and mounting. Shelby Smith, a self-confirmed orchid addict, will be on hand to answer questions.
For more information or to register call VAC at 808-967-8222 or click here to register.