Volcano Art Center (VAC) is proud to announce the exhibition Gourds Reimagined by Jelena Clay.  The exhibit will open to the public Saturday, April 8th, continuing through May 21st,  from 9am – 5pm daily at the Volcano Art Center Gallery in Hawai`i Volcanoes National Park. Park entrance fees apply.
The exhibition features mixed media works of artwork by Hilo artist Jelena Clay. The collection presented in the exhibit features both 2 and 3D works which demonstrate Jelena's combination of modern and traditional techniques to create bold works with Hawaiian cultural themes. Jelena will perform a live demonstration at VAC gallery on Saturday, May 6th from 11am – 2pm for those interested in learning more about her artistic processes and techniques.
Jelena is well known for her fiber work and gourds.  Classes and guidance by Kumu Ray Kahikulaulani Fonseca, Jon Jon Hookano, Pam Barton, Willie Grey Eagle Maglophlin and numerous Lauhala Kumu have greatly influenced her fiber work while being self-taught in her gourd art with a large library of Hawaiian craft and culture books.
Jelena is the daughter of Serbian emigrants and was raised in Saratoga, California. At 20 years old she relocated to Hawai'i and has since called it home. Since first moving to the islands, she had a fascination with fiber work and gourds, and the complicated techniques that Hawaiians use.  Jelena shares "I am driven to create my work with absolute respect for Hawaiian culture and hope to inspire the viewer to learn more. I am fascinated by the deep connection Hawaiians had to the environment and hope to portray that in my pieces.  I have been fortunate to be involved with the hula community and always give back generously when I can. I will be donating a portion of my proceeds from sales to two local Hilo halau.  I feel it's important to give back to the culture that supports my work."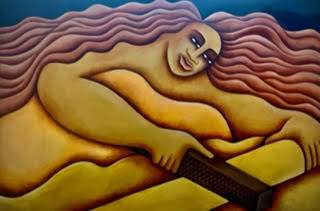 "VAC is honored to share Jelena's newest work which helps support the VAC's mission to promote, develop and perpetuate the artistic, cultural, and environmental heritage of Hawaiʻi through arts and education," states gallery director Emily C. Weiss.  "Jelena's art demonstrates her gifts of creativity and imagination.  Her pieces in traditional gourd work constantly push the boundaries of the material and the outcome is delightful. At the gallery we are always excited to see Jelena's new work as each piece is unique, dependent on the original shape created by nature, then "reimagined" with a creative mind."  We hope people can visit the exhibit in person, however, it will also be available to view online at www.volcanoartcenter.org."