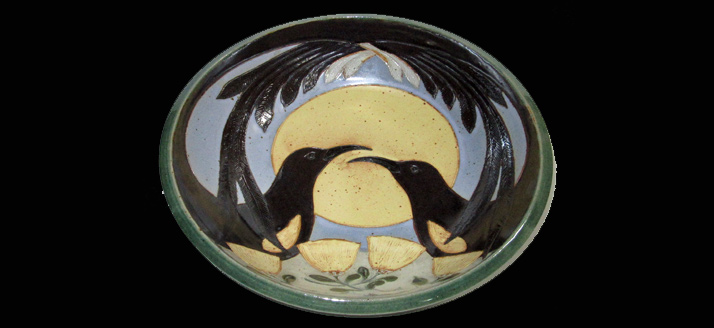 Volcano Art Center is proud to announce the exhibition Mixed Flock: Prints by Margaret Barnaby & Pottery by Emily Herb. The exhibit will open to the public Saturday, February 22nd continuing through March 29th from 9am – 5pm daily at the Volcano Art Center Gallery in Hawai`i Volcanoes National Park*. . An opening reception with the artists will take place on Saturday, February 22nd from 5-7pm.
The exhibition features two prominent female artists from Volcano Village who find deep inspiration in Hawaiʻi's natural environment, specifically by the native bird populations found within it. Both artists are also members of the Volcano Village Artists Hui who host an annual studio tour each November.
While their works are distinctively different, Barnaby working in 2-D creating multiple plate wood block prints and Herb working in 3-D with functional and decorative stoneware, both artists create works of art focusing on native birds and other flying creatures of Hawaiʻi's rich and varied habitats.
"Both artists create graphic representations of species unique to Hawaiʻi," states Gallery Manager Emily C. Weiss. "Their works expose and inform the viewer, educating people about many rare, endangered and even extinct species. VAC is honored to share their newest works which help support the Center's mission to promote, develop and perpetuate the artistic, cultural and environmental heritage of Hawaiʻi through arts and education."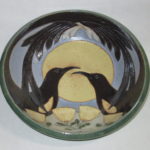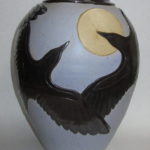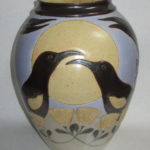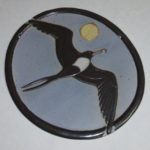 About the Artists
Margaret Barnaby grew up in New England, attended Rhode Island School of Design, and after living in New York City moved to the Big Island of Hawaiʻi. After 30 years as a studio art jeweler her interest turned to birds and large-scale wood block prints.
In her multiple plate wood block prints, several plywood plates are carved by hand. The pieces of wood are larger than the size of the paper. Each plate has part of the image on it, and can be used to print one or more colors. The plates are inked using brayers and rollers with oil-based lithography inks and printed on an etching press in succession to build the final picture. Barnaby's prints use 6 or more plates and around 15 colors. She often uses Stonehenge paper, an American made rag paper. This is a difficult hand process and there are always variations between the prints. The editions are small. It can take up to a month or more to complete a print.
About her subject matter Barnaby states,
"Crows caught my attention early in life. They are very loud and very busy. When I came to Volcano I learned about the severely endangered native Hawaiian corvid, the 'alala.
All of these birds were in captivity. Now due to the aggressive captive breeding program there are over one hundred birds and some have been released. I use the 'alala as a symbol of what is best and worst about people.
We are the reason that these birds and plants are in trouble, and we have the power to protect them. Of course, it doesn't hurt that a big black bird has a lot of graphic punch. As I learned about the 'alala I also started to see and learn about other Hawaiian native birds, and these are portrayed in the prints for this show."
Emily Herb was born in the Midwest, and has also lived in Utah, Alaska, Arizona, Seattle and Hawai'i. Her work has always been inspired by the natural world, and by birds in particular. Since moving to Hawai'i in 1998, her work has focused mainly on birds and plants found in the Islands.
Emily took her first pottery classes in junior high school, and has been working with clay ever since. As a young adult, she attended intensive summer art programs with Dean Schwarz in Decorah, Iowa and with Marguerite Wildenhain in Guerneville, California, which laid a solid foundation in the craft of wheel thrown pottery.
She has also been influenced by attending pottery workshops with many artists, including Paulus Berensohn, John Leach and Don Bendel. In addition to making pottery, she has studied various movement techniques, including modern and aerial dance, and since moving to Hawaiʻi, hula and yoga.
For Mixed Flock, Emily Herb has been working on new designs, including birds that frequent forested areas, open country, wetlands, the shoreline and open ocean. New works include vases, decanters, sculptural vessels, bowls and plates, as well as wall plaques.
The artist notes, "It is the wonder and awe of nature that continues to inspire me to create pottery. I hope that my work will help to inspire others to appreciate nature, and support efforts to preserve and protect our amazing natural world."
Both artists are scheduled to present live demonstrations of their techniques at the VAC Gallery. Margaret Barnaby on Saturday, February 29th from 1-3pm will be hand carving wood block plates. Emily Herb will be demonstrating glazing techniques on Saturday, March 7th from 11am -1pm.
Park entrance fees apply*