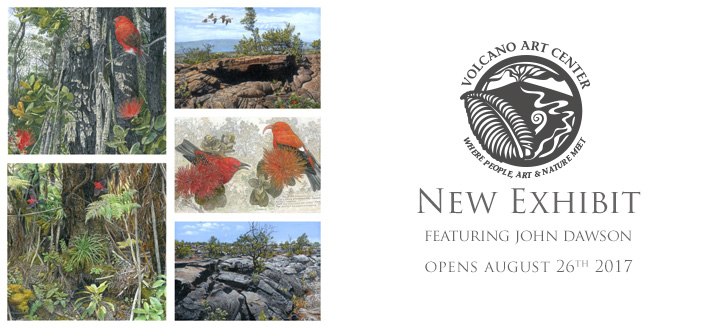 Volcano Art Center will soon be displaying the illustrations of Hawaiʻi Island's wildlife artist John D. Dawson in an exhibit titled Live Long and Prosper Mighty ʻŌhiʻa.  The free exhibition will open to the public on Saturday, August 26th and continue through Sunday, October 8th, 9 am – 5pm daily at the Volcano Art Center Gallery in Hawaiʻi Volcanoes National Park.   A special opening reception with John D. Dawson occurs on Saturday, August 26th from 5-7PM!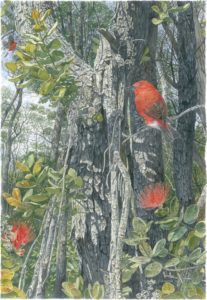 The ʻōhiʻa, (Metrosideros polymorpha)  is a species of flowering evergreen tree in the myrtle family, that is endemic to the six largest islands of Hawaiʻi.  A highly variable tree, its height has been recorded up to 66–82 ft. tall in favorable situations and as small shrub when growing in boggy soils or directly on basalt.  The ʻōhiʻa tree is well known for its brilliant display of flowers, known as lehua blossoms, made up of a mass of stamens which can range in color from red to yellow.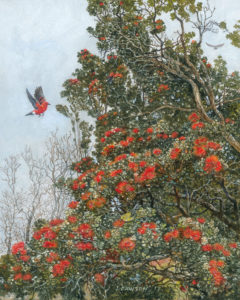 "Dawson's depictions of one of Hawai'i's most beloved trees is surely an exhibit not to miss," states gallery manager Emily C. Weiss.  "The fact that each tree is an actual depiction of one present in our park lands provides a concise visual of the variations found within the species." "We also hope the exhibit will bring awareness and understanding to the threat of the fungal disease, Ceratocystis fimbriata, more commonly known Rapid ʻŌhiʻa Death or ROD, which is currently attacking and killing the most abundant native tree on our island," continues Weiss.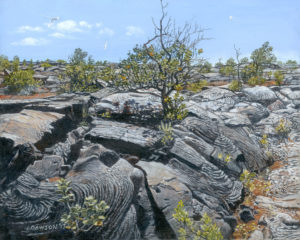 Dawson's past artwork is included within the maps provided to all visitors to Hawaiʻi Volcanoes National Park as well as the stunning educational display inside the Kilauea Visitor Center.  One of Dawson's proudest accomplishments is the Nature in America stamp series which includes a lively depiction of The Hawaiian Rainforest created for the United States Postal Service.
Dawson's resume includes many major assignments and has appeared in national publications for the National Geographic Society, National Wildlife Federation, Audubon Society, United Nations and the 'Imiloa Astronomy Center, among others.  With decades of experience, Dawson's work continues to captivate audiences.   It's important to note that this exhibit will also celebrate John's 80th birthday.
"VAC is honored to celebrate his eighty years of art and life," states Weiss.  John will be sharing his art as well as personal stories and inspirations in an evening presentation on August 31st from 7-9 PM at VAC's Niaulani Campus in Volcano Village.  This free event is part of Volcano Art Center's Thursday Nights At The Center Programs.