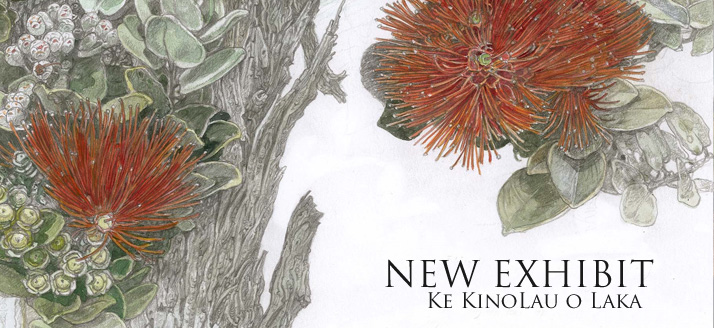 Ke Kinolau O Laka: The Embodiment Of Laka, Goddess Of Hula will be on display daily, 9am -5pm from March 25th – April 24th, 2016 at Volcano Art Center Gallery in Hawai'i Volcanoes National Park. The multimedia exhibition features botanical sketches, pyrography carved gourds and dyed kapa pieces of Hawai'i Island artists John Dawson, Jelena Clay, Bernice Akamine and Micah Kamohoali'i. The exhibit is open to the public and free of charge although park entrance fees apply. A special opening reception is on Friday, March 25th from 5-7 pm at VAC gallery.
Kinolau literally translates to "many bodies", it is a reference to the belief in the myriad forms of the deities that make up the Hawaiian pantheon and that every plant, animal and force of nature, such as wind, rain and snow, is an embodiment of a god. This concept encompasses more than ritual and religious belief, it is a way of being in the natural world. In Hawaiian culture Laka is known for creating hula. With hula, a form of storytelling, Laka gave the Hawaiian people a way to record their history and pass it on to future generations. A hula dancer looks to Laka for inspiration before a performance. The dancer is the body; that which is moved, Laka the inspiration; that which causes movement. The dancer and Laka become one in the dance. The dancer will adorn themselves in the kinolau of Laka which include ʻōhiʻa lehua,'ie 'ie, hala pepe, maile, palapalai and other native ferns.
Each artist in the exhibition has explored the plant form of Laka by representing it in the art they have created. Both John Dawson and Bernice Akamine have depicted the plants as botanical portraits. Jelena Clay has burned the image of the forms into gourds and Micah Kamohoali'i has dyed his precious kapa fabric using these plants. The plants will also be highlighted in a kuahu (altar) paying homage to Laka. The native lama wood base, adorned by various kinolau of Laka will be dedicated each Friday of the exhibition by a different kumu hula (hula teacher). Just as each story told through hula can differ and styles of teaching may vary, each kumu hula has their own way of honoring Laka. VAC invites you weekly to see each kuahu arrangement.
Due to the threat of Rapid ʻŌhiʻa Death (ROD), the ʻōhiʻa lehua will be intentionally left out of the kuahu in an effort to protect Hawai'i's natural resources.