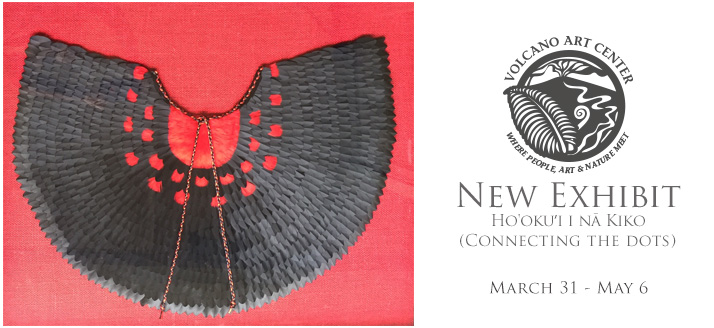 Volcano Art Center is proud to announce the exhibition Ho'okuʻi i nā Kiko (Connecting the Dots). Presented by Hale Nauā III, Society of Maoli Arts, the exhibit displays the multi-media artworks of Natalie Mahina Jensen and Lucia Tarallo.
The exhibit will be on display 9am -5pm daily at the Volcano Art Center Gallery in Hawaiʻi Volcanoes National Park from March 31st – May 6th, 2018. The public is invited to a free lecture provided by Lucia Tarallo beginning at 3pm on March 31st, with an opening reception to follow. While these events are free, National Park entrance fees apply.
The extensive collection of art and cultural works created for this exhibit by the mother-daughter duo present a harmonious collection of modern and iconographic works of art imbedded with historical and philosophical points of view. Most importantly, is the poignant telling of the Battle of Kuamo'o, fought on Hawai'i Island in 1819. This singular event in Hawai'i's history has long be shrouded in what some believe to be erroneous perspectives; historical truths feared to be offensive. Photographs, paintings, sculptures and feather articles deliver a sublime message connecting the viewer artistically with the provenance of ancient designs. Jensen's paintings, in particular, display indigenous iconographic designs rendered to weave a human-life story or a particular Maoli belief. Feather and ribbon capes and sashes made by Tarallo reveal the history of the making of capes during particular eras.
Those interested in learning more about the Battle of Kuamo'o and the events leading up to the momentous event in Hawai'i Island history are welcome to attend a free lecture titled "The Last Truth". The lecture offered by Lucia Tarallo, takes place at 3pm on the opening day of the exhibition at the Volcano Art Center Gallery in Hawai'i Volcanoes National Park. The lecture will be followed by an opening reception where the public is invited to meet the artists.
About the Artists
Natalie Mahina Jensen
Born in Honolulu, and raised in Makaha on the island of O`ahu, Natalie Mahina Jensen was educated and trained since childhood in Nā Mea Hulu, Native Hawaiian feather work, later specializing in the Sculpted Feathered Staff called Kāhili Ku. Her first art exhibit was at age eleven with Hale Nauā III, Society of Maoli Arts, a collective founded by her artist father, National Treasure Rocky Ka`iouliokahihikolo`Ehu Jensen in 1976.
By her eighteenth birthday she had been commissioned by the corporate, public and private sectors – a collection of feathered capes and Kāhili that grace more than a dozen public sites in the islands and abroad. For many years her feathered sculpture was given by the Hawai`i Visitor's Bureau as their ultimate award for excellence. She continues to teach feather work in workshops all over the state of Hawai`i and the U.S. continent.
Lucia Tarallo
Research historian, lecturer, award-winning author, and artist, Lucia Tarallo has designed, mounted and curated more than 150 fine art exhibitions locally, nationally and internationally. Together with her daughter, Natalie Mahina, she wrote the award-winning Daughters of Haumea, honored with the Po`okela Award of Excellence.
For years, she has written an art column for Ka Wai Ola, the newspaper for the Office of Hawaiian Affairs, also for Nā `Ōiwi. Her writings on Maoli culture are also included in countless magazines, newspapers and academic art journals. Aside from her feather work, writings and curated fine art exhibitions which are displayed in collections throughout the world, Lucia Tarallo has taught Hawaiian art history at the Bishop Museum, Edith Kanaka`ole Foundation, Nā Pua No`eau, Liliu`okalani Trust, Kamehameha Schools, Hawai`i Community College, and most recently at Ke Ana La`ahana Public Charter School.