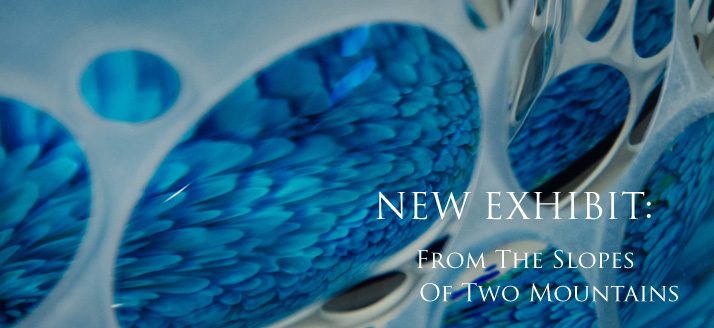 Volcano Art Center announces From The Slopes Of Two Mountains, an art exhibition featuring the glass works of  Michael Mortara, Misato Mochizuki Mortara, W. Chris Lowry and Marianne J. Lowry. The exhibit will open to the public on January 5th and continue through February 10th, 2019 at the Volcano Art Center Gallery in Hawai`i Volcanoes National Park. An opening reception with the artists will be held on Saturday, January 5th, from 5 to 7pm.
The Volcano Art Center is pleased to announce that during the shutdown of the federal government due to a lapse of appropriations, Hawai'i Volcanoes National Park and the Volcano Art Center will remain as accessible as possible while still following all applicable laws and procedures.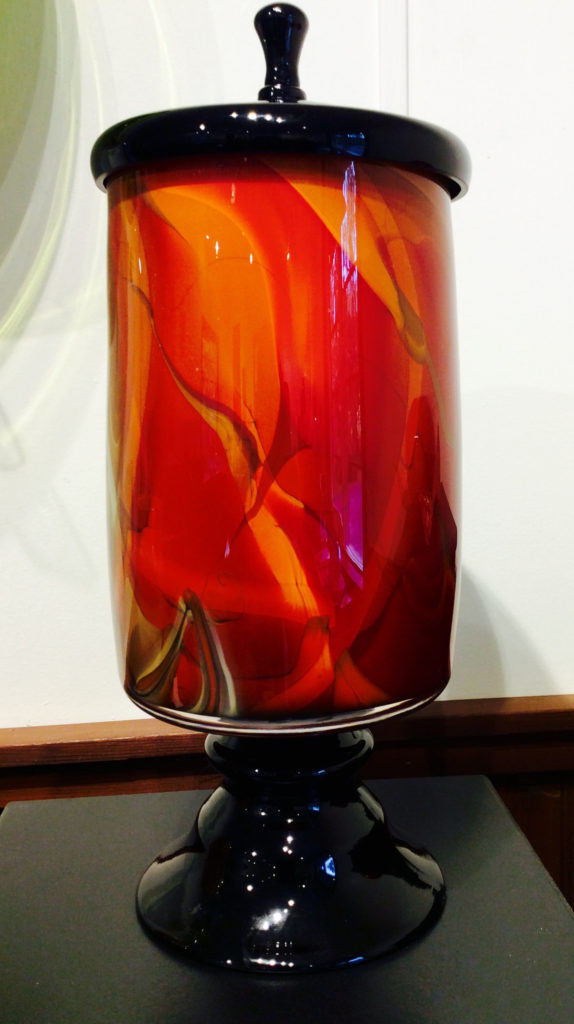 The exhibit showcases contemporary and traditional glass techniques created on and inspired by two of Hawaii's most prominent Volcanoes; Kīlauea and Haleakalā.   Michael and Misato Mortara work from and own the glass studio 2400 Fahrenheit in Volcano on Hawai`i Island while Chris and Marianne Lowry create from and co-own Hot Island Glass located in Makawao on Maui Island.  Both studios are located in high elevation locations and all four artists cite the unique environments in which they work as a source of inspiration.
About the Artists
Michael and Misato Mortara have been making glass together for over 20 years. Originally from Oahu, they opened their studio in Volcano on the Big Island in 2000. Their work is found in private collections worldwide, as well as the collections of the Hawai'i State Foundation on Culture and the Arts, The Contemporary Museum of Honolulu, The Four Seasons Hotel, Hilton Hotels, and the National Park Service.
"There is something both dramatic and dynamic about the manipulation of a molten mass of glass, such that the process has almost as much appeal for me as the product", states Mike Mortara.  "Hot glass is a medium in constant motion where balance, timing and rhythm are the essential tools in the process.  Once you start, you can't stop until it's done.  After more than 30 years in glass, I've conceded that it is the glass that is really in control, however much I would like to think otherwise."  To that sentiment, the Mortaras have stated that many of the works in this exhibition are a reflection of being in East Hawaii during this year's past eruption events. Misato states, "Like no other before it in our time, its effects were so far reaching and life changing. The dichotomy of the destruction and creation was an emotional roller coaster, life and landscape forever altered.  It took going back to the familiar places to bring it full circle and to realize that once we accept the way things are, it makes it that much easier to find its new beauty and inspiration."
Chris and Marianne have been creating work together for 9 years. Travel has exposed them both to exciting new experiences but in the end brought them together. They have studied glass in Japan, Iceland, Sweden, Denmark, and US states Oregon, Washington, North Carolina, New York and Massachusetts. In their short career together their work has traveled with collectors across the world and here at home they have pieces in the collections of Hawaii State Foundation on culture and the Arts and The Honolulu Museum of Art.
Nature has a strong theme in their work, showing up in clean and organic forms or as complex natural patterns. In his words, Chris states, "My work has a strong personality. A piece should grab your attention and then be able to keep it.  "Growing up in his father's glass shop on the Northern Oregon Coast, Chris became serious about his art at age 18 when he moved to Oahu. His first job was working as an assistant teacher at Punahou School with Hugh Jenkins.  Feeling more like a student himself, Chris credits Hugh as being his first real teacher, "Hugh taught me that fundamentals are essential in every art form and if you don't have those fundamentals you limit your capabilities."
Marianne started her glass exploration in the functional world, studying in the world renown Kosta Boda Glass Factory but she now finds sculptural glass to have more freedom. "In my latest work I'm trying to reproduce the feelings I get from the natural surroundings.  I love the colors, reflections, and movements you get from the ocean and the creatures in it. Glass is the perfect material to represent this beauty because of its transparent qualities."