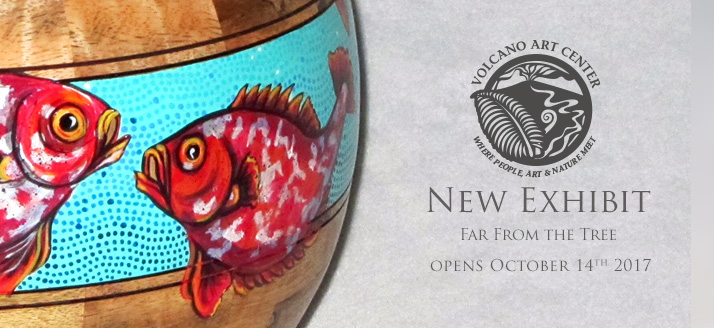 Volcano Art Center announces the art exhibit Far From the Tree featuring new works by Linda Peterson and Gregg Smith. The exhibition is open to the public on Saturday, October 14th through Sunday, November 12th, 9 am – 5pm daily at the Volcano Art Center Gallery in Hawai'i Volcanoes National Park.
A special opening reception with both artists occurs on Saturday, October 14th from 5 – 7 PM.
The mixed media exhibition showcases each artists' specialty including Peterson's beautifully detailed acrylic paintings and Gregg Smith's segmented wood turned vessels made mostly of Hawaiian hardwoods. The exhibit will also feature a collaborative collection of hand painted wooden bowls that combine the best of both artists' talents.
About the Artists
Linda Peterson, a retired teacher and nurse, has loved drawing and the idea of becoming an artist since she was a child growing up in Southern California. A self-taught artist, she enhanced her skills by attending workshops given by accomplished artists. Upon moving to Hawai'i in 1974 she began painting with oils and acrylics. While living part-time in the Pacific Northwest, she stayed involved with the arts through local contests, working with a professional designer, painting private and public murals, and demonstrated her techniques on a local television station. Linda credits her surrounding environment as a constant inspiration to her art.
Gregg Smith is a wood artist specializing in segmented wood turning of bowls, vases, urns and decorative vessels. Laminated wood turnings, made primarily of Hawaiian hardwoods, plus Gregg's application of decorative pyrography designs sets his distinguished vessels apart from many others in his field.
In recognition, Gregg has received numerous awards for his turnings and has been asked to judge several wood exhibitions. His work has appeared in national magazines and he has demonstrated at the Utah woodworking symposium as well as at several American Association of Woodturners events. He has served as the Vice President and President of the Big Island Woodturners, the West Hawai'i Woodturners Club and as treasurer of the Hawai'i Wood Guild.
Gregg has collaborated with several of Hawai'i's talented artists. This most recent collaboration with Linda Peterson creates a new canvas for Linda's paintings and adds an element of color and detail to Gregg's skillful craft.