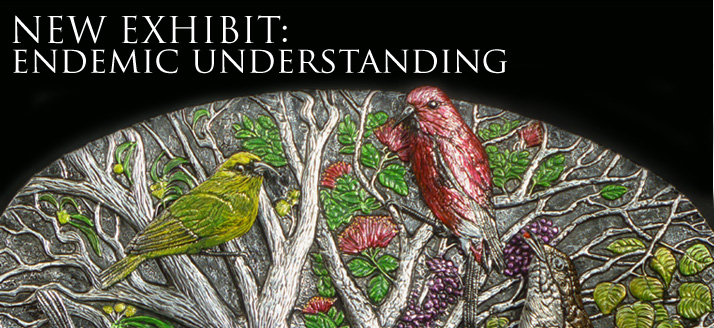 Volcano Art Center is proud to announce the exhibition titled Endemic Understanding on display 9am – 5pm, daily from July 23rd to August 28, 2016 at Volcano Art Center Gallery in Hawai'i Volcanoes National Park. 
The multi-media exhibition showcases the extraordinary biodiversity found within the five National Parks on Hawai'i Island.  The exhibit is open to the public and free of charge although park entrance fees apply, with the exception of August 25-28* when park entrance fees will be waived in celebration of the National Park Service Birthday Weekend.  A special opening reception with the seven participating artists will be held on Saturday, July 23rd from 5-7 pm at VAC gallery.
The artists, including Margaret Barnaby, Heide Cumes, Lanaya Deily, Jack Jeffrey, Susan Litteral, Liz Miller, and Karen Schuster were selected from the 2015 Hawai'i Nei exhibition celebrating native species, and asked to further investigate the plants, animals and environments found within Hawai'i Island's National Parks yet  found nowhere else.
"The exhibition title Endemic Understanding refers to the ecological state of the species being unique to a defined geographic location, in this case Hawai'i Island's National Parks", states gallery manager Emily C. Weiss."Through the exhibit we hope to honor the centennial celebration of the National Park Service and their role in helping to protect and understand our natural resources."
*Through a series of educational events, the participating artists gathered information which helped them craft between 3-5 works each, based on their unique artistic perspective.  The final curated show will showcase each artist's in depth understanding of the species they chose to investigate further.
2016 is the 100th anniversary of the National Park Service as well as that of Hawai'i Volcanoes National Park.  A great opportunity to celebrate the National Parks and view this exhibit is during the free Hawai'i Volcanoes National Park Cultural Festival & BioBlitz on Saturday, August 27, 2016, or during the whole the National Park Service Birthday Weekend which takes place August 25 – 28. The BioBlitz runs from 7 a.m. to 1 p.m., and the cultural festival is from 10 a.m. to 3 p.m.  Park entrance fees are waived and all events are free on these dates.