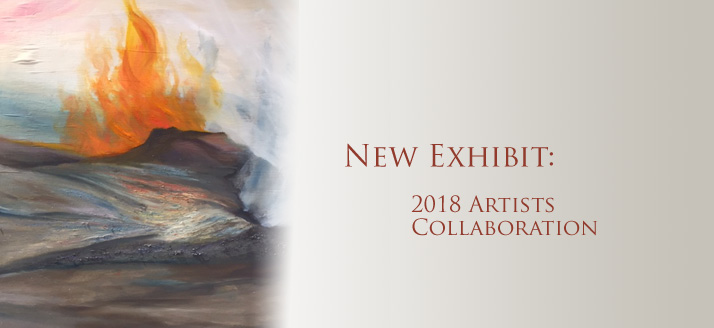 The Volcano Art Center Gallery is pleased to announce it's first exhibition since returning to its location in Hawaii Volcanoes National Park! The gallery will be hosting an exhibition of art pieces made by 16 artists at VAC's first Artists' Collaboration event.
Please join VAC at the opening reception on Saturday, October 13th from 5-7pm. The exhibition will be on display through Sunday, November 4th 2018 and will be followed by an on line auction for those members that can't attend the live event.
During the first week of June 2018, while the park gallery was closed and the earth was quaking from the decent of magma from Kilauea's summit, sixteen master artists of caring media came from all over the island to make art together for two days. Coordinated by Volcano artist, Elizabeth Miller, the artists who answered the creative call included; Henry Bianchini, Tai Lake, David and Doni Reisland, Lisa Louise Adams, Nash Adams Pruitt, Scott Pincus, Eric Wold, Joe Laceby, Ethan Froney, Amy Flanders, Rose Adare, Eve Furchgott, Matthew D'Avella, Mary Jo Lake and Jonah Lake.
The Niaulani Campus of the Volcano Art Center was filled with creative energy and the intoxicating sounds of saws, blacksmithing torches and much laughter as art making ideas took shape. On hand to assist in the wood shop area was Bill Hamilton, a member of the VAC Board of Directors. Several of the artists have been working diligently since June to finalize pieces for this exhibition.
A little background… the VAC COLLAB 2018 event was formatted after the "HAWAII ARTISTS' COLLABORATION" which takes place annually in Kona. Conceived of as a gathering place where artists/craftsmen, invited because of their expertise in various media, can recharge and invigorate their individual work by sharing knowledge, skills and ideas in the act of creating art together.
This October marks the 8th year that woodworker Tai Lake and family have been hosting "HAWAI'I ARTISTS' COLLABORATION" events in Holualoa. The Kona event involves 35-40 from Hawaii, the US mainland and several U.K. countries. Participating artists leave these events infused with new energy, greatly expanded ideas, and connections to take back to their own communities and individual studios. It was Tai's intent that "mini-collabs" would spring up in art communities throughout the island.
The idea of having a 2-DAY COLLAB event at the Volcano Art Center was tossed around for years, and this year amid earthquakes and lava fissures the timing seemed perfect!
The Volcano Collaboration Exhibit will also help highlight the annual KONA COLLAB art AUCTION, which will take place November 3rd from 4-8 pm at the Holualoa Inn. Interested in attending that event?
Tickets can be found by clicking here. 
"We invite everyone back into the gallery in Hawaii Volcanoes National Park to view this exciting exhibit," states gallery manager Emily C. Weiss. "During the chaos of the summer months, it was completely refreshing to witness these talented artists coming together and creating amazing works of art. The joy that was shared during this unique art making experience was so important for the artists and for our community. The Volcano Art Center was so pleased to host this event and look forward to more in the coming years."