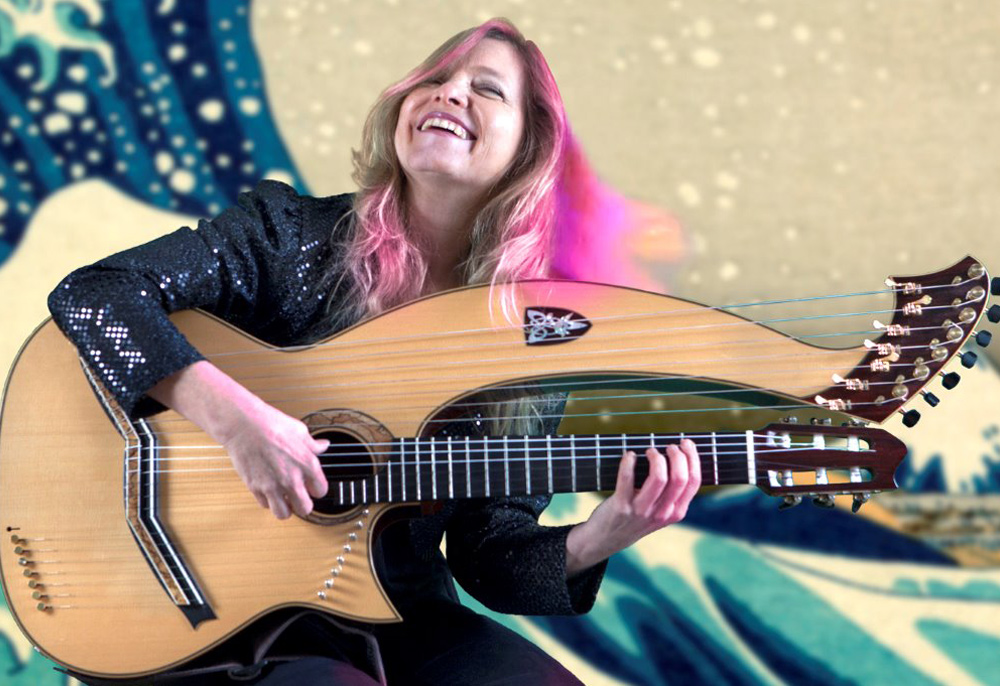 The Volcano Art Center's Sounds at the Summit concert series continues on Saturday, January 11, 2020, at 6:30pm at Volcano Art Center Niaulani Campus in Volcano Village featuring Muriel Anderson. 
Guitarist/Harp-guitarist Muriel Anderson takes you on a journey in music and stories, with a backdrop of visuals artfully compiled by award-winning photo-artist, Bryan Allen. It is a musical journey through space and around the world. Sometimes whimsical, always engaging, bringing together diverse cultures and settings.
This is some seriously powerful, deeply emotional music that will stay in your head and your heart forever. Muriel plays all styles with such ease and command that it's easy to forget how good she really is!
 – Tommy Emmanuel, C.G.P. 
Tickets are $25/$20 VAC Members.
Ticket holders will be able to purchase beer, wine, as well as pupus!
Tickets will be held at Will Call on the day of the show. OR, you may pick them up any day before the show at Volcano Art Center's Niaulani Campus Administrative Office, Monday through Friday, 9am-5pm.
OR Click the button below to purchase tickets online!

About Muriel Anderson
Muriel Anderson's obvious joy of music, humor and her comfort across genres of folk, classical, bluegrass, popular and international music is revered by guitarists worldwide. Muriel's innovative CD that lights up, "Nightlight Daylight" was chosen as one of the top 10 CDs of the decade by Guitar Player Magazine and her "Heartstrings" recording accompanied the astronauts on the space shuttle Discovery.
Muriel is celebrating the pre-release of  "Acoustic Chef" an international cookbook/CD with a tune to go with each recipe.  Muriel is the first woman to have won the National Fingerstyle Guitar Championship and has performed/recorded with Chet Atkins, Les Paul, Victor Wooten, and the Nashville Chamber Orchestra. She is the host of the renowned Muriel Anderson's ALL STAR GUITAR NIGHT® and founder of the MUSIC FOR LIFE ALLIANCE charity.