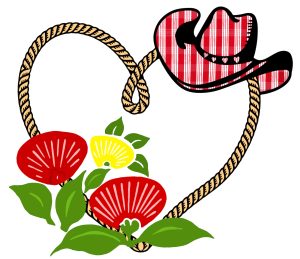 The Volcano Art Center wishes to acknowledge the following Event Sponsors!
Corcoran Pacific Properties – Ron Rigg, Venture Sotheby's International Realty – Pat Halpern, Volcano Retreat – Kathleen & Peter Golden, Jane & Paul Field, Kim Randall, DeLuz Chevrolet – Theresa Gennette, Big Island Toyota -Theresa Gennette, Data Processing Services Inc. – Kenneth A. Ah Lo,   Punaluu Bake Shop – Connie Kim.
Volcano Art Center announces our 17th Annual Love the Arts fundraiser at the Niaulani Campus on Saturday, April 9, 2022, from 2 – 6 pm. This annual gala is our main event to raise funds for Volcano Art Center which allows us to fund classes, exhibits, workshops, and offer the creative arts experience in this uniquely nurturing and inspiring environment. Our theme this year is celebrating Pa'ina Paniolo.
This event is highlighted by unique decorations, delicious food, beer, wines, live entertainment with Gone Country, and of course the live and silent auctions. Everyone will have an opportunity to bid on artwork, hotel stays, restaurants, local products, services, gift certificates to businesses and attractions.
Each year we ask local artists to contribute their artwork for this event, to be auctioned in order to raise the needed funds to sustain  VAC programs and classes.  These artists and businesses who give to the event do so with the knowledge that their donation will have a direct impact on the survival of the Art Center. The Volcano Art Center is an integral part of this unique community offering a sense of belonging to those who live and work around it.
The live and silent auctions are not to be missed, with unique offerings including original artwork, hotel stays, tours, and jewelry.View Live Auction Items Here
Tickets: $70/$65 VAC members