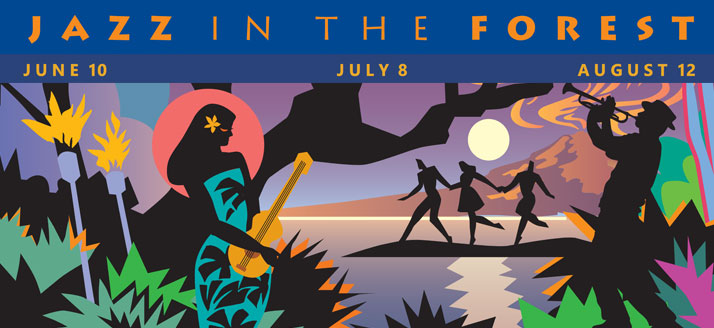 The 2017 Jazz in the Forest summer series kicks off with two performances (4:30pm & 7:00pm) on Saturday, June 10, and will feature Bub Pratt with Jean Pierre Thoma & the Jazztones. The Jazz in the Forest concert series offers an extraordinary opportunity to hear the highest caliber jazz – anywhere – up close and personal!
The Wine and Beer Room will be open for attendees to enjoy before and after the concert. And as usual, an area has been set aside for dancing, so you don't have to stay in your seat when the band starts to swing and you're moved to your feet.
Two shows will be offered, with a matinee at 4:30pm and an evening performance at 7:00pm. Tickets for the matinee show are $18 for VAC members ($20 non-members)! Ticket holders will be able to purchase Volcano Red Ale and Mauna Kea Pale Ale from Mehana Brewing Company & as well as wine before each performance. Great pupu by ʻŌhelo Café will also be available for purchase.
For more information or to register call Volcano Art Center at 808-967-8222
or
More About the Musicians
The Jazztones led by Jean Pierre Thoma on sax & Flute will feature special guest Guitarist, Vocalist and Virtual Trumpeter Bub Pratt, and Bassist Matt Spencer, as well as master drummer Steve Bader. Bub's invisible trumpet will be soloist, and also with duets including other instruments.
Bub Pratt is achieving renown as the creator and leader of the Kukuau Studio in Hilo, which is a center of all the arts, and hosts jazz sessions every week. The program for June 10 will include compositions from all periods of jazz history from blues through the big band era to modern jazz by Miles Davis and John Coltrane.
Jean Pierre Thoma is a world traveled professional musician on flute, saxophone clarinet and piano, with experience throughout America, France, Japan, India, and Israel. Holds 2 masters degrees in music, and has been a public and private school teacher as well as member of numerous jazz and classical ensembles, such as the Maui and Marin Symphonies. Leader of "The Jazztones" : "Raga Jazz" (with Sarangi, synth guitar & bass): member of "Royal Kona Harp Ensemble" (3 harps w/ 2 flutes & winds): "Volcano Trio" (2 flutes & piano): performer at Holy Cross Church in choir & as instrumentalist; and pianist at restaurants, and charity performances at Hospice and Life Care Centers. Now a music teacher in Hilo at The Pacific Academy of Music, and the Kukuau Studio, he happily lives in Hilo Hawaii.
Bassist Matt Spencer is a long time professional musician and multi -instrumentalist who has enjoyed a dynamic career primarily as a freelance musician, touring, recording and writing music with many different groups in many different styles. Playing bass, guitar and percussion, he covers a wide range of musical vocabulary from jazz to African, Brazilian to funk, and salsa to spiritual. Matt has led his own 10 piece salsa band, was Musical Director for the Cleo Parker Robinson dance company, toured with the Motet, Tony Furtado, and Kyle Hollingsworth, worked as a studio musician in LA, worked as a dance accompanist for many dance schools around the country.
Matt integrates the consciousness of spiritual awareness into the technique and knowledge of the art of music.
Guitarist Fred Hee is originally from Honolulu and now lives in Volcano HI. He began playing at age 17 while at Punahou School, and has been active ever since in America, Canada, and the Bahama Islands, including traveling with "Solid Gold", and playing in Hawaii with numerous groups. His activities following his education in computer science have led him to an interesting career with the telescopes of Hawaii.