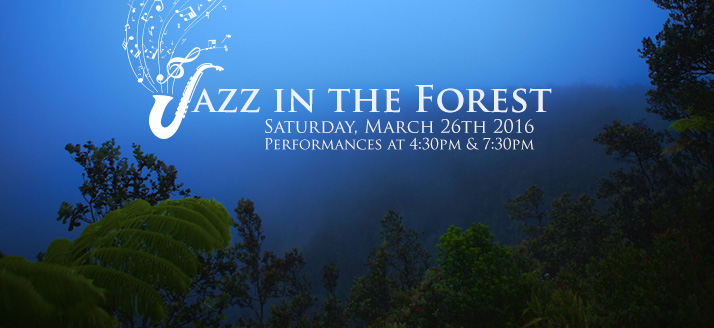 The Jazz in the Forest series continues with two performances (4:30pm & 7:30pm) on Saturday, March 26, and will feature vocalist Ron Murphy with Volcano Art Center's Jazz Ensemble. The Jazz in the Forest concert series offers an extraordinary opportunity to hear the highest caliber jazz – anywhere – up close and personal.
Ron Murphy for more than 4 decades has had a career that has taken him from the U.S. to Madrid to Moscow. He began his career in Boston singing with a group called the Montclaire's performing in such venues as Louie's Lounge, Basin Street South and Estelle's just to mention a few.
Returning to the Boston area he picked up his single career and began his independent label Life Records/ Murphy & Murphy.
His music is a combination of the American Song Book along with a Tribute to oe Williams called A Cup Of Joe, performing some of his most noted songs such as Here's to Life, The Woman's Got Soul, Close Enough for Love with Betty Carter, How Do You Keep the Music Playing, It Don't Mean a Thing If it Ain't Got that Swing and A Time for Love.
Along with the music of Joe Williams he performs the music of Billy Eckstein, I Apologize and My Foolish Heart not to mention the music of Johnny Hartman, Duke Ellington, Arthur Prysock, Frank Sinatra and many of the Ladies of Song, Billy Holiday, Sarah Vaughn, Ella, Bette Carter, Bette Carter and Dinah Washington.
He recently completed attending the University of Massachusetts and completed his training in alcohol and drug addiction counseling and is now attending the Weinert Center of Boston, Ma. studying piano. His life is music…His gift is his voice.
The Wine and Beer Room will be open for attendees to enjoy before and after the concert.
And as usual, an area has been set aside for dancing, so you don't have to stay in your seat when the band starts to swing and you're moved to your feet.
Two shows will be offered, with a matinee at 4:30pm and an evening performance at 7:30pm. Tickets are $20 for VAC members ($25 non-members) for BOTH SHOWS! Ticket holders will be able to purchase Volcano Red Ale and Mauna Kea Pale Ale from Mehana Brewing Company & as well as wine before each performance.
Tickets are available for sale at VAC's Administration Office in Volcano Village, VAC Gallery in Hawai'i Volcanoes National Park, and at Basically Books in Hilo. The last day to purchase tickets online, at VAC Gallery, or Basically Books is Friday, March 25. After that, tickets will be sold at the door if they are not sold out. Tickets will be held at Will Call on the day of the show. OR, you may pick them up any day before the show at Volcano Art Center's Niaulani Campus Administrative Office, Monday through Friday, 9am-5pm.
Buy tickets ONLINE here:

Get 'em while they're hot!